Over 70 meals for two, made fresh and always available
Easy and Simple to cook – No prep. Most dishes can be cooked in 5 to 8 minutes.
We've done all of the prep, chopping, and mixing. Use the microwave, oven and stove top. Steaks, chicken breasts, and fish from raw.
Tell us Your Preferences – Let us do your choosing
No  need to select dishes each week, just set Your Preferences and we will do the rest.
Filter in every way for calories, sodium, allergens, proteins, cooking method, and portion size.
 "Thumbs down" individual dishes and whole categories of dishes and never receive them.
 "Heart" dishes and get them more often.
So healthy, eat your way every day
Deliciously fresh and healthy, with lots of veg and lower in carbs.
We average 650 cals, with a third of our meals under 500.
Tell us Your Preferences and create your own personal menu: Diet types like Paleo, Lower Sodium, and lots of others. Also easily filter for allergens and ingredients you don't want.
The most Flexible, easy to change, meal delivery
It's easy to change your delivery day or your meal quantity each week to fit your schedule, we're as flexible as you are.
You can change your meals, skip, or pause, up to just 2 full days before your delivery.
Food so fresh it really will last up to 7 days, all the way through the weekend, until your next delivery.
Restaurant quality at only $31 for two
Georgie & Tom's gives you the same quality and ease, at home, every day of the week.
All meals are $31 for 2 people.
Receive 2 to 5 meals each week.
$155, $124, $93 and $62 every week.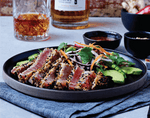 The most 5 Star Reviews - read what our customers say
More Questions?
How does Georgie & Tom's work?
We deliver fully prepared meals for two direct to your home, most of which can be cooked in 5-8 minutes with nearly no mixing, chopping or prep. You tell us your Preferences and we suggest a weekly order that you can change at any time up to the cut off 2 full days before delivery. We have nearly 70 recipes to choose from with simple cooking instructions including microwave, stove top and oven. You can change your delivery day and quantity flexibly every week, and you can skip or pause whenever you wish.
What type of recipes and meals do you offer?
With nearly 70 dishes Georgie & Tom's has the largest range of freshly made dishes always available in all the diet types you would expect: Low Carb, Paleo, Gluten Free, Pescatarian, Lower sodium, Vegan, Vegetarian etc. Our food is healthy enough to eat every day, averaging about 600 calories, and you can tell us your preferences by filtering our menu by diet type, cooking method, ingredients, allergens, etc so that the meals we suggest are always within your true personal preferences
Where do you deliver?
Everywhere between Massachusetts and Washington DC.
Can I skip and Pause?
Yes you can easily Skip any week or Pause indefinitely at no charge by the click of a button 2 full days before your delivery
Does Georgie & Tom's give nutritional information
Yes of course. Simply click on any recipe to see the full ingredient listing, nutritional information, and allergens
Why should I choose Georgie & Tom's?
We think Georgie & Tom's is now the leading quality fully prepared meals service in America. We achieve the highest customer reviews averaging 4.7 out of 5.0 stars on each dish. Our food is the easiest to cook with nearly no chopping mixing or prep so that you can mostly cook in 5 – 8 minutes, unlike kits. We offer the largest number of easy to cook recipes, nearly 70 available every day, with the ability to tell us your Preferences so that every week you only get dishes you love. We offer the most flexibility with latest cut off, 2 days, not 5; and the flexibility to change your delivery day and order quantity every week if you wish. Georgie & Tom's is healthy enough to eat every day, lower in carbs, higher in fresh veg and averaging 600 calories to help you maintain your healthy bodyweight.
How much does Georgie & Tom's cost?
Every restaurant quality meal is $31 for two delivered fully prepared, direct to your home. Shipping is Free.
Does Georgie & Tom's help keep me healthy?
Yes. We make eating well easy. Our food is the most delicious but also lower in carbs, higher in fresh veg, and averages 600 calories per portion, just right to maintain a healthy body weight. We offer every main diet type including lower carb, paleo, gluten free, pescatarian, Mediterranean, vegan, vegetarian and many others