76 meals for two, made fresh and always available
Easy and Simple to cook – No prep. Most dishes can be cooked in 5 to 8 minutes.
We've done all of the prep, chopping, and mixing. Use the microwave, oven and stove top. Steaks, chicken breasts, and fish from raw.
So healthy, eat your way every day
Deliciously fresh and healthy, with lots of veg and lower in carbs.
We average 650 cals, with a third of our meals under 500.
Tell us Your Preferences and create your own personal menu: Diet types like Paleo, Lower Sodium, and lots of others. Also easily filter for allergens and ingredients you don't want.
Flexible delivery day each week
It's easy to change your delivery day or your meal quantity each week to fit your schedule, we're as flexible as you are.
You can change your day, skip, or pause, up to just 2 full days before your delivery.
Food so fresh it really will last up to 7 days, all the way through the weekend, until your next delivery.
Tell us Your Preferences – Let us do your choosing
No  need to select dishes each week, just set Your Preferences and we will do the rest.
Filter in every way for calories, sodium, allergens, proteins, cooking method, and portion size.
 "Thumbs down" individual dishes and whole categories of dishes and never receive them.
 "Heart" dishes and get them more often.
Restaurant quality at only $31 for two
Georgie & Tom's gives you the same quality and ease, at home, every day of the week.
All meals are $31 for 2 people.
Receive 2 to 5 meals each week.
$155, $124, $93 and $62 every week.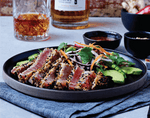 The most 5 Star Reviews - read what our customers say
More Questions?
How does Georgie & Tom's work?
We deliver fully prepared meals for two direct to your home, most of which can be cooked in 5-8 minutes with nearly no mixing, chopping or prep. You tell us your Preferences and we suggest a weekly order that you can change at any time up to the cut off 2 full days before delivery. We have 76 recipes to choose from with simple cooking instructions including microwave, stove top and oven. You can change your delivery day and quantity flexibly every week, and you can skip or pause whenever you wish.
Where do you deliver?
Everywhere between Massachusetts (and parts of Vermont and New Hampshire) in the North; and Washington DC in the South. Not North Virginia.
Including Boston, New York, Long Island, Connecticut, New Jersey, Pennsylvania, Delaware and Maryland.
Type in your zip to check
here
.
Allergens and dietary needs?
Yes you can filter for multiple Allergens and dietary needs. When you become a customer you have a Your Preferences area where you can exclude anything you don't want. Simply thumbs down a dish or a whole category. You can use as many filters as you like to do this.
Bigger families?
Yes. Simply order 2 of each meal to get 4 portions. If you are 3 enjoy leftovers!
Is it very Flexible?
Very! You can change your delivery day easily every week, change quantity, Skip or Pause. Our cut off is 2 days, not 5. Only get what you need, exactly when you need.
Do you have single portions?
Not yet! However, some single customers choose to order and cook half of their meal at a time. This is easy to do.