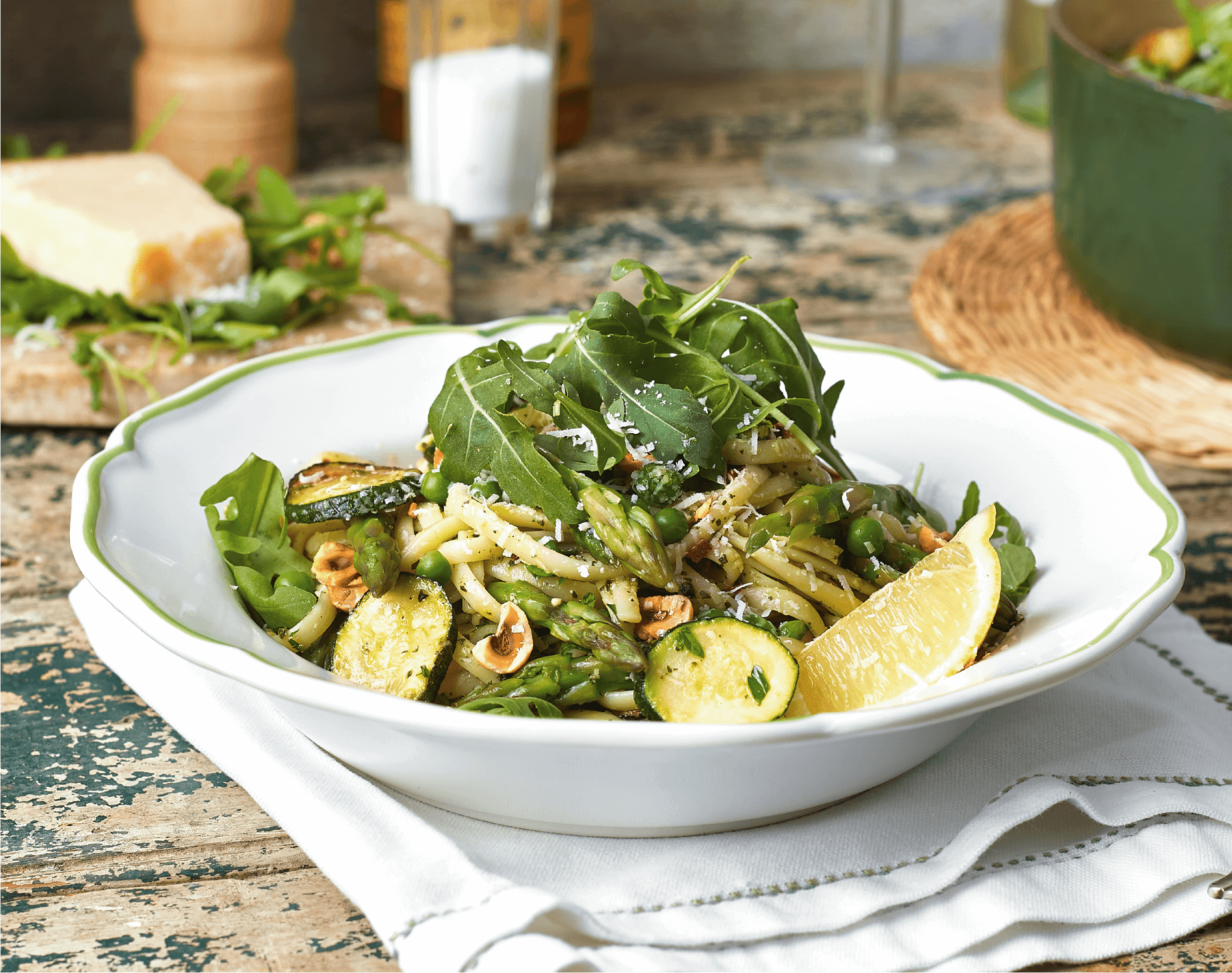 Pesto Primavera
Asparagus, zucchini & pea linguine with basil pesto, parmesan, lemon & toasted hazelnuts.
8 minutes
Shelf-life: Day of delivery plus 4 days
Mediterranean, Soy free, High in fibre,
Not suitable for vegetarians due to Parmesan containing animal rennet
Not suitable for home freezing
How to Cook Print
For best results Stove top
Heat 1 tbsp of oil in a large frying pan over medium heat, add Asparagus, zucchini & peas, cook for 3-4 minutes or until soft with a slight bite
Add linguine to pan,mix with vegetables, cook for a further 2 minutes.

Add pesto to pan, mix well and heat for a further 30 seconds, season with salt & pepper to your taste.
Divide linguine & vegetable between 2 plates, top with arugula. Serve with a squeeze of quarter of the lemon, Parmesan & hazelnuts
Microwave instructions
Remove film from both trays, reserve pesto, lemon, hazelnuts, arugula and parmesan.
Season vegetables with salt and pepper and a splash of oil. Place both trays in the microwave for 3-4 minutes or until pipping hot.
Pour both trays in a larger bowl and add pesto and mix together.
Serve between two bowls. Finish with arugula, hazelnuts, parmesan and a squeeze of quarter of the lemon.
Ingredients
Linguine, Zucchini, Peas, Asparagus, Lemon, Basil pesto, Olive Oil, Parmesan, Hazelnuts, Arugula, Garlic, Parsley, Red chili, Lemon zest, Salt.
Allergens: Gluten, Milk, Treenuts
Not suitable for vegetarians due to Parmesan containing animal rennet
Nutrition Facts
Calories 740, Fat 43g, Saturated fat 7g, Carbohydrates 63g, Total sugars 9g, Protein 24g, Fibre 7g, Sodium 640mg
Best ever
Fabulous dish, plenty of vegetables, excellent combination, delicious pesto.
Excellent dish!
Delicious pesto with vegetables and pasta.
Bland
Was bland and missing something seriously unfortunately was expecting much more that's okay not every time is a hit
Yummy!
Very tasty! I didn't want to share! The favors blend well. A quick easy dish.
Some of the best food that I have ever had
Delicious food but customer service not so good. Two times they left out an ingredient to a dish; one was turkey and in this dish the arugula. I've tried a number of times to contact them by email with no response to my concerns. I've contemplated discontinuing the service however the food is just soooo good. I will wait and see.
This selection was the bomb. Pesto is usually too strong but not in this dish. Everything complemented all of the other thoughtful ingredients. I highly recommend this dish.