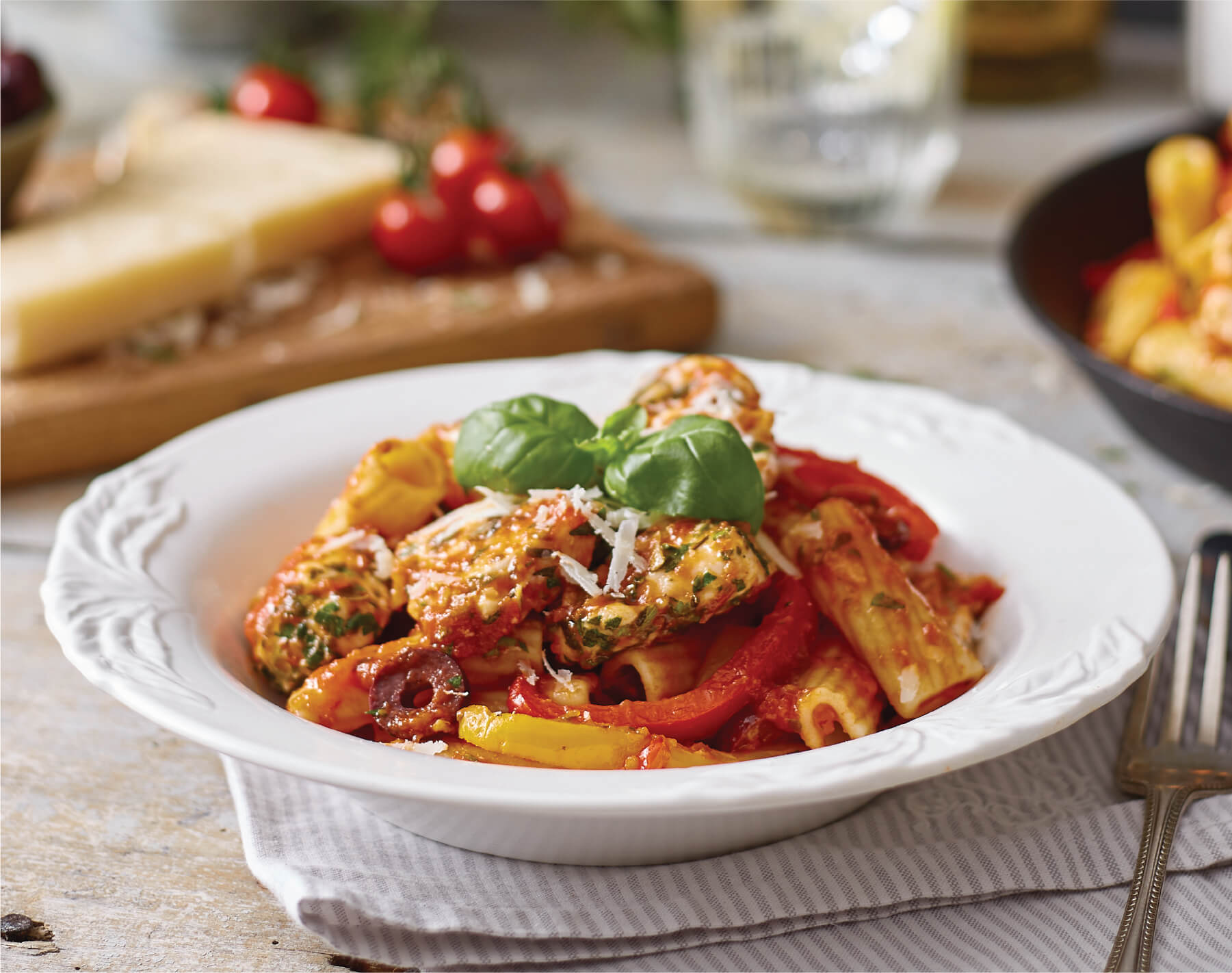 Chicken cacciatore
Garlic & herb marinated chicken in a rich Marinara sauce, sweet roasted peppers & olives on a bed of pasta served with Parmesan
5 minutes
Shelf-life: Day of delivery plus 5 days
Mediterranean, Soy Free, High in protein, High in fibre
Suitable for home freezing.
How to Cook Print
Stove top for best results
Heat a dry frying pan over a medium heat
Reserve Parmesan, open film & transfer contents from wooden tray to the frying pan
Mix well, warming through for 3 minutes or until piping hot
Serve with a sprinkling of Parmesan
Microwave
Reserve Parmesan, open film, microwave wooden tray on full power for 6 minutes until piping pot
Serve with a sprinkling of Parmesan
Ingredients
Tomatoes, Chicken breast fillets (All natural, hormone free, from south eastern United states), Pasta, Onion, Olive oil, Red bell pepper, Yellow bell pepper, Slow roast tomato paste, Black olives, Carrot, Garlic, Parmesan, Parsley, Red chilli, Salt, Agave syrup, Oregano, Black pepper, Rosemary, Lemon juice, Basil, Red chilli flakes, Thyme.
Allergens: Gluten, Milk
Dairy free if you don't serve with parmesan
NEW recipe now made with wheat pasta
Nutrition Facts
Calories 690, Fat 34g, Saturated fat 6g, Carbohydrates 57g, Total sugars 10g, Protein 38g, Fibre 7g, Sodium 1030g
Great little dinner.
We enjoyed the dish a lot. Not what you would expect for an Italian dish. More of a fusion with Cajun kick. I like spicy so that's not an issue. It had what looked like some red jalapeño chile slices in there as well, the olive gave it a nice twist and cut the heat with nice a touch of twang.
Will get again
Flavorful and easy to prepare on stovetop. I added trickle of water as suggested by another. Not spicy in my opinion - the peppers are sweet bell peppers, not hot. Husband and teens both gave thumbs up too.
Too spicy
Hot peppers do not make Italian dishes! Marcella Hazan's recipe for to,ago sauce yield spectacular flavor without resorting to load of hot pepper. This dish was simple to make but inedible. Not recommended.
Spicy
As an addendum to my review of 2/5. The dish was very spicy. My wife didn't eat it and shoveled all to me. I also picked around the dish and sorted out out of the way the spicy peppers. Note to self..Never order again.
Tasty
This dish was very tasty; the olives add a nice layer of flavor. But it seemed a kind of dry once heated, so I sprinkled a bit of water over it, and heated a little longer with a lid over it, and that did the trick.