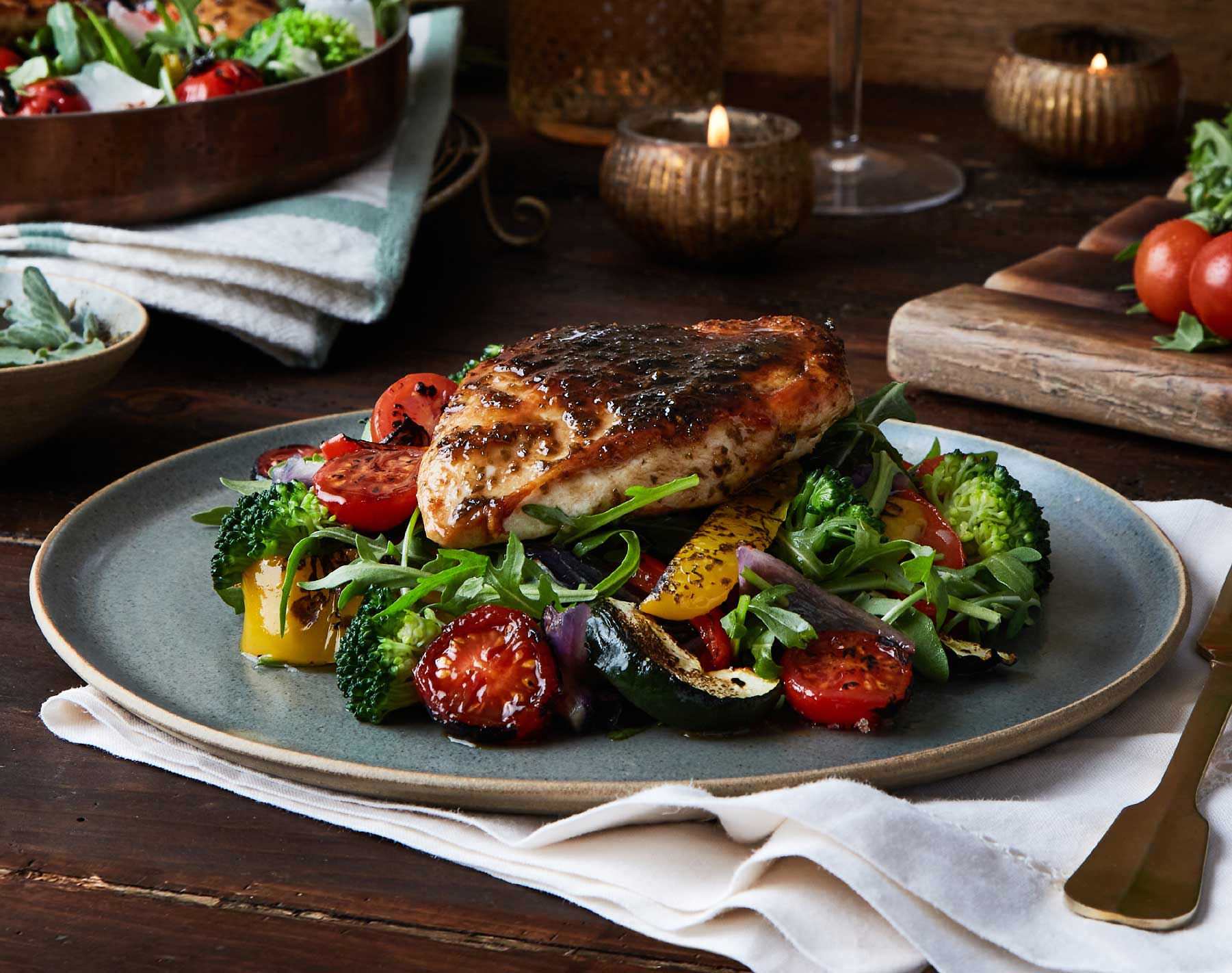 Balsamic chicken
Ready to roast chicken breasts in a balsamic glaze on a bed of Mediterranean vegetables served with fresh arugula and parmesan.
14 minutes
Shelf-life: Day of delivery plus 5 days
High Protein, Mediterranean, Low calories, soy free, lower sodium, Gluten-Free
Chicken Breast and glaze suitable for freezing.
Dairy free without sachet of parmesan.
How to Cook Print
For best results oven cook.
1. Preheat oven to 390F.
2. Place Chicken breasts in the middle of a baking sheet. Place Mediterranean vegetables, tomatoes & broccoli on baking tray around the chicken breasts. Drizzle with 1 tbsp of oil, season everything with salt & pepper. Pour half of the balsamic glaze over both the chicken breasts and surrounding vegetables.
3. Bake for 14-16 minutes or until chicken is cooked through and the vegetables are soft.
4. To serve divide the vegetables between 2 bowls, top with arugula, chicken & parmesan then finish with the remaining balsamic glaze.
Cooking tip:
Our chicken breasts are hand-cut so cooking times may vary due to thickness. You can check your chicken is fully cooked by ensuring it reaches 165F.
Ingredients
Chicken (All natural, hormone free from South East United states), Tomato, Red pepper, Yellow pepper, Red Onion, Zucchini, Broccoli, Balsamic vinegar, Arugula, Honey, Parmesan, Olive oil, Garlic, Dijon mustard, Lemon, Oregano, Basil, Salt, Thyme
Allergens: Milk
Contains: Mustard
Nutrition Facts
Calories 490, Fat 24g, Saturated fat 4.5g, Carbohydrates 30g, Total sugars 19g, Protein 38g, Fibre 5g, Sodium 490mg
Balsamic Chicken
Two thumbs up here. Very flavorful. with no heat to numb the palate. This dish is definitely on our rottion.
Balsamic Chicken
I confess that I licked my plate. Another great sauce. Often it is the complexity of the sauces in various recipes that make the dishes come alive with flavor.
Dry chicken
We may have overcooked the chicken by no more than 5 minutes. It came out a little dry, certainly not succulent
Excellent meal
Tasty - sauce was interesting! Healthy!
Wonderful packaging and taste for my first meal! 😋😋
I was surprised that the balsamic wasn't that off putting for flavor.
Chicken so tender----