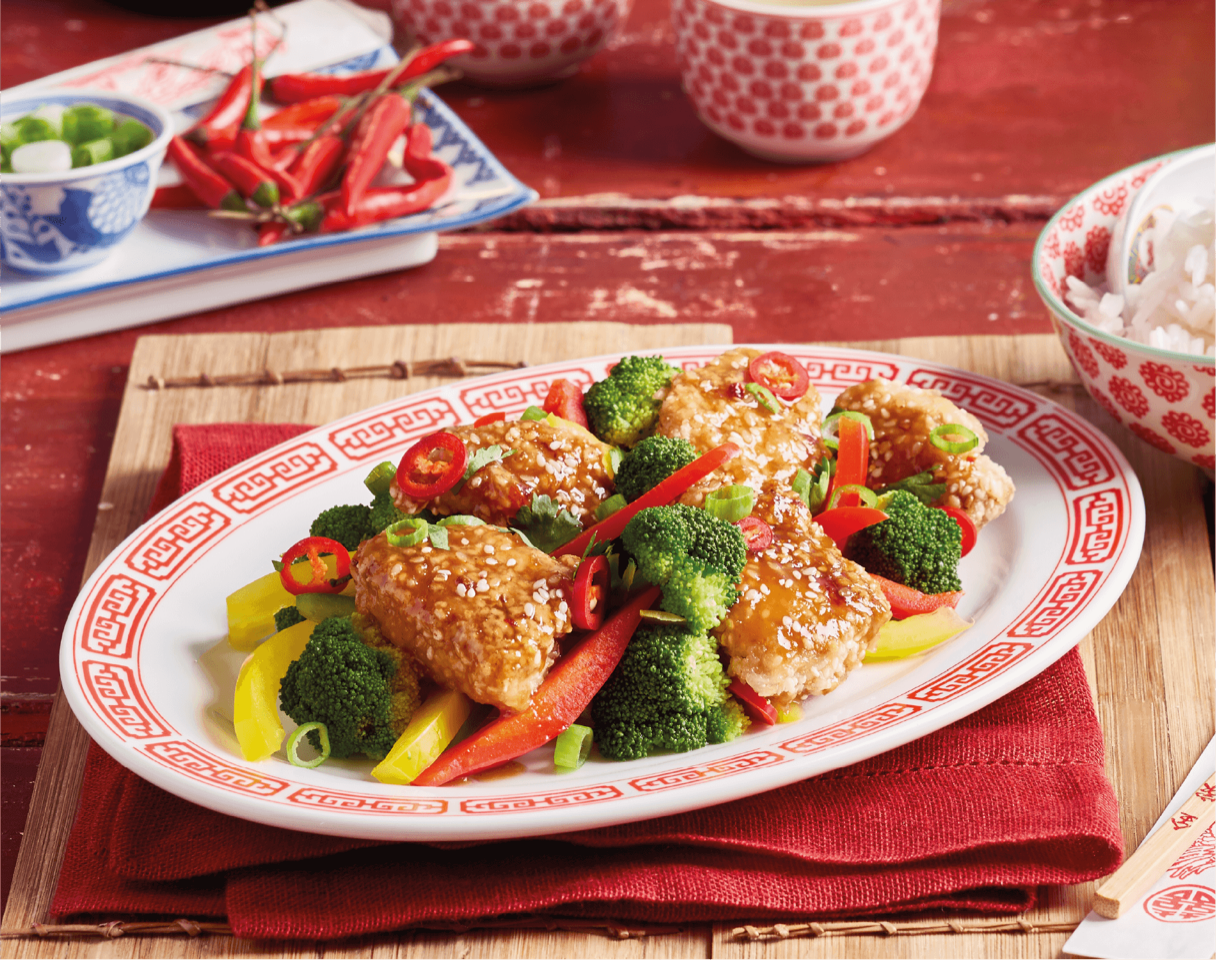 General Tso's Chicken
Crispy sesame chicken in a sweet and sour hoisin & mirin sauce with Jasmine rice, broccoli and mixed peppers. Garnished with scallions, chili, cilantro and a squeeze of fresh lime juice.
Dairy Free, High protein diet, Mediterranean diet
How to Cook Print
How to Cook
Transfer raw marinated General Tso's chicken into a bowl. Season with JUST pepper add General Tso coating pot and mix until evenly coated.
Heat 2 tbsp oil in a non stick frying pan on high heat. Add Chicken fry chicken for 4 minutes on each side.
Add Peppers, Broccoli and ¾ of General Tso sauce to frying pan with chicken. Fry for 2 minutes or until vegetables are cooked
Remove all pots but leave parchment paper ontop of Jasmine rice then microwave for 2-3 minutes or until piping hot.
Place chicken & vegetables on bed of rice, pour remaining sauce over the chicken. Garnish with pot of scallions, chili and cilantro and a squeeze of half a lime over the chicken.
Ingredients
Ingredients list: Chicken (All natural, hormone free from South East United states), Jasmine rice, Broccoli, Lime, Hoisin sauce, Green Peppers, Red pepper, Yellow pepper, Soy sauce, Corn starch, Sugar, Rice wine vinegar, Ginger, Sesame seeds, Sesame oil, Sunflower oil, Scallion, Garlic, Mirin, Salt, Red chilli, Cilantro, Fish sauce, Red chili flakes
Allergens: Gluten, Fish, Sesame, Soybeans
Nutrition Facts
Nutritional information per portion
Cals 730, Fat 23g, Sat Fat 3.5g, Protein 42g, Fibre 4g, Carbohydrates 88g, Total Sugars 27g, sodium 1850mg,
Very good, tasty
Plentiful, crispy yet tender chicken - needed a bit more broccoli.
Great!
I think I've had General Tso's a few times in my life, so I don't have a basis for comparison. I really liked this dish because G&T used chicken breast and normally it's thigh or dark meat. I followed the exact cooking instructions. The meat was tender and had a nice crispy surface. The flavors were great and rice turned out perfect reheated in the microwave. It tasted better and healthier than I remember ordering from any restaurant. As others have said, more vegetables would be appreciated!
tasty and easy
Very good, although I would have liked more vegetables. There was a lot of chicken, which was very tender. Flavor was a little sweet for my taste but the chili helped.
Really, really good!
The General Tso's Chicken is delicious! We will definitely put this in our regular meal rotation. Chicken was tender and flavorful; sauce was superb. Super easy to prepare. Portions were just right for two people. Like this dish a lot.
Great flavor
We loved the flavor and so easy to prepare. We would like to see more vegetables though.