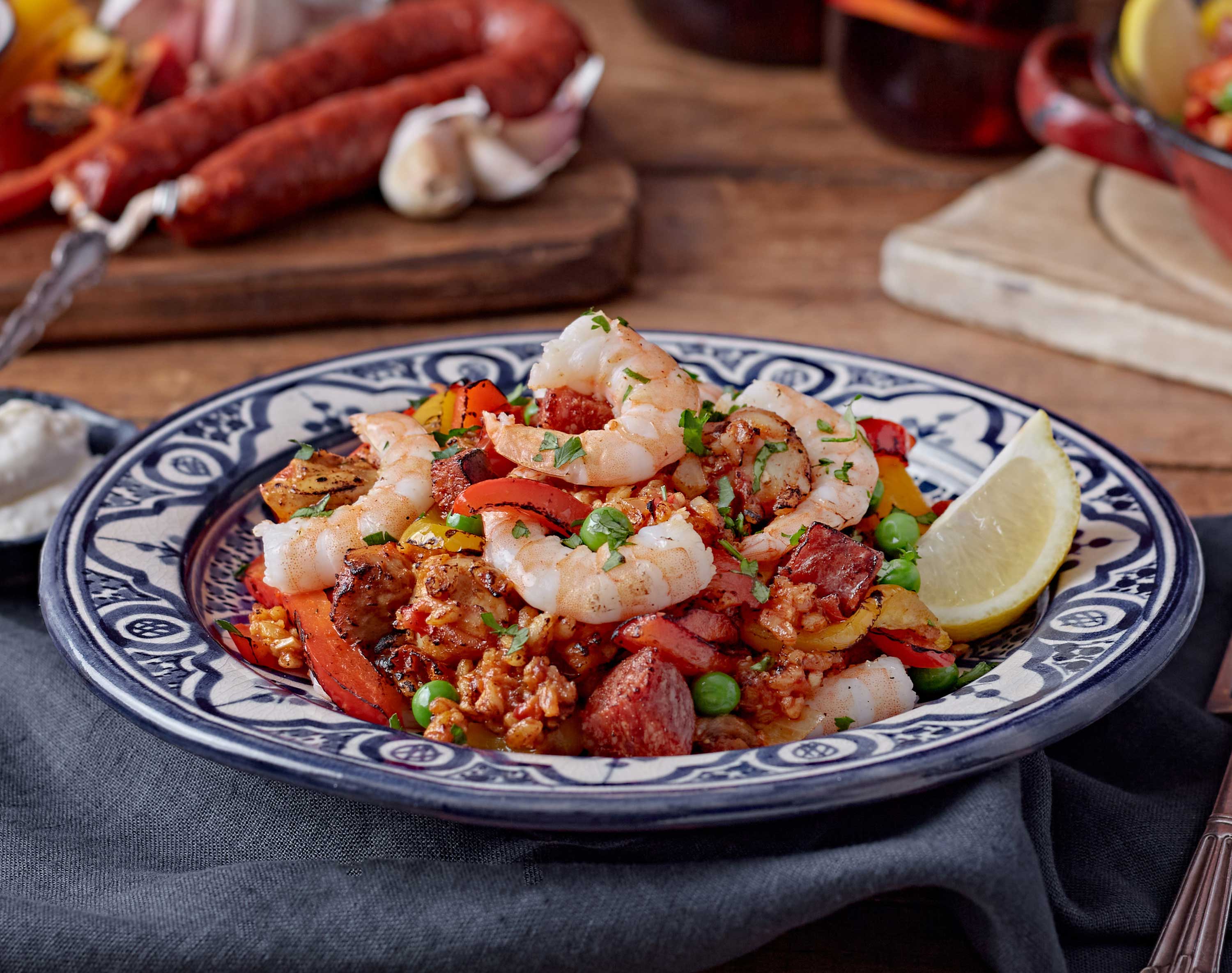 Shrimp & chorizo paella
Shrimp & smoky chorizo paella with roasted peppers, peas and aioli
7 minutes
Shelf-life: Day of delivery plus 4 days
Mediterranean diet, Gluten Free, Soy Free, High fibre, Dairy free
Suitable for home freezing, with the exception of the aioli and shrimps
How to Cook Print
To maximise freshness put the shrimps straight into the freezer on arrival. Defrost when needed in a couple of minutes in the microwave.
Stove top for best results
Heat 1 tbsp oil in pan on medium heat on stove top. Season with salt and pepper and add defrosted raw shrimps (drain liquid) to pan & cook for 2-3 minutes.
Add the paella rice & diced chorizo with a tbsp of water from the tray to the pan & cook for a further 4-5 minutes.
Serve with aioli.
Microwave instructions
Remove film from tray of Paella and add a tbsp of water. Place defrosted raw shrimps (drain liquid) into a bowl and season with salt, pepper and a tbsp of oil. Plastic wrap bowl.
Microwave both the tray and bowl for 7-8 minutes until pipping hot and the shrimps are cooked through.
Serve between two bowls with aioli.
Cooking tip: For best results use a non-stick frying pan to cook the paella to prevent sticking.
Ingredients
Shrimp (All natural hormone & antibiotic free, farmed in South East Asia), Red pepper, Arborio rice, Chicken (All natural, hormone free from South East United states), Peas, Mayonnaise - Reduced fat, Yellow pepper, Chorizo, Onion, Tomato, White wine, Olive oil, Slow roast tomato paste, Carrot, Garlic, Lemon zest, Smoked paprika, Sugar light brown, Parsley, Lemon juice, Salt, Turmeric, Black pepper, Saffron
Allergens: Crustaceans, Egg & Soy
Nutrition Facts
Calories 680, Fat 33g, Saturated fat 6g, Carbohydrates 61g, Total sugars 9g, Protein 33g, Fibre 7g, Sodium 1090mg
Just like the paella I had in Spain
What a treat! This was so yummy! Just like the paella I had in Spain several years ago. I would have liked a little more sauce, so I added some crushed tomatoes. But all in all A++++
Lovely flavors
Full of spices & fresh, highly recommend. The shrimp was raw so you quickly cook it & add in the other items to create the paella. Delicious!
Outstanding!
Among the best paellas we have had. We used stove-top prep, cooked the shrimp for 3 minutes. A little longer (4 min?) might have been better. Thanks for a great first meal!
Delightful
Spectacular. G&T did it again. The dish was very good. My only "fault"was that there were too many peas and not enough peppers. This should mot be considered a complaint. Will order it again and again.
Great tasty dish
Dish turned out great. Would order again for sure.