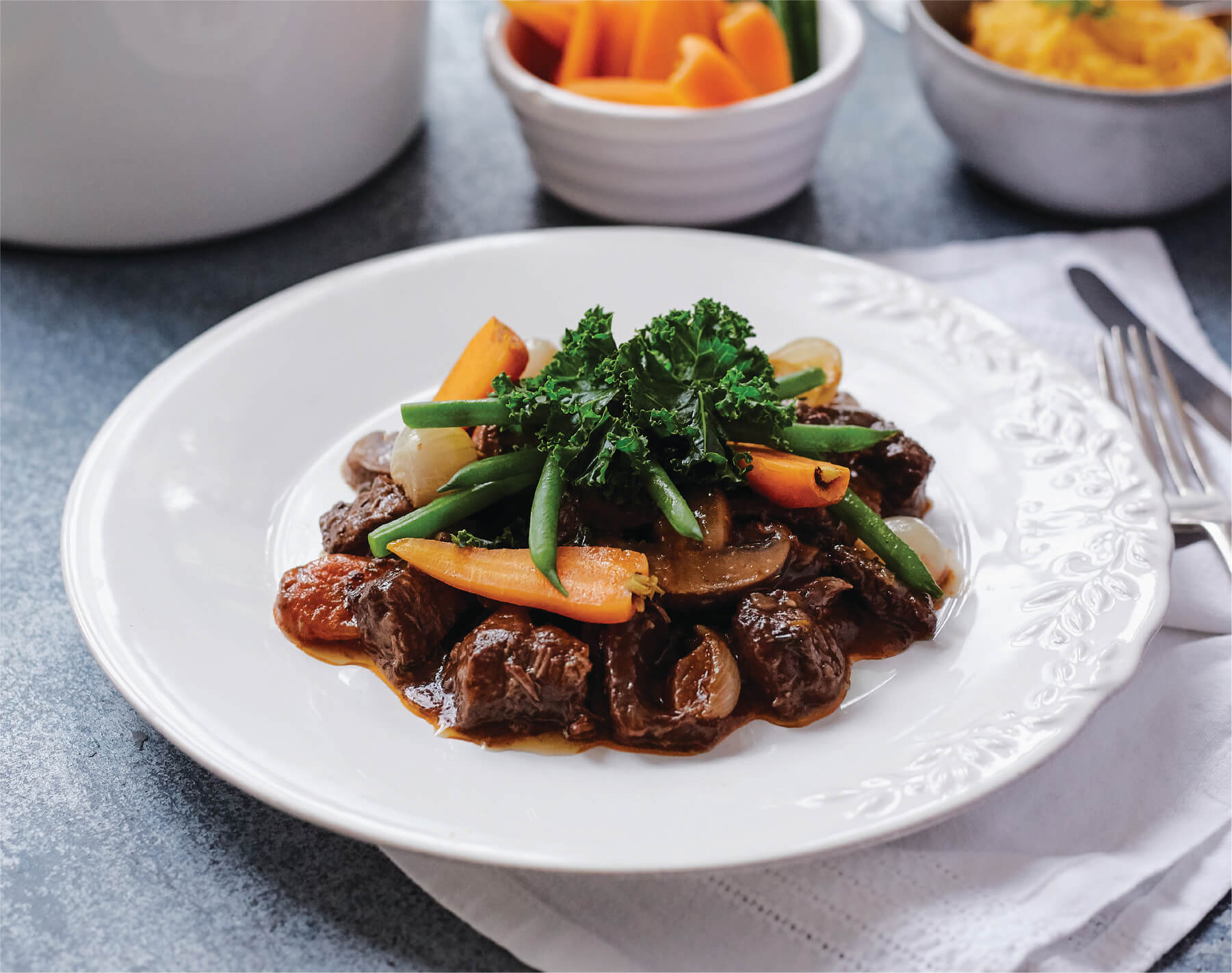 Beef in red wine with root vegetable mash
A rich beef in red wine stew with Roasted red onions, seasonal vegetables and root vegetable mash
7 minutes
Shelf-life: Day of delivery plus 5 days
Mediterranean diet, Gluten free, High in fibre
Suitable for home freezing
How to Cook Print
Microwave for best results
Remove lid from pot of beef in red wine stew & pot of root vegetable mash. Place both lids back on loosely.
Microwave pot of beef stew on full power for 4 minutes, remove from microwave, stir & place back in microwave along with pot of mash for a further 2 minutes.(Lids loosely on both pots) Ensure stew & mash are piping hot. Remove from microwave keeping lids on to keep hot.
The Vegetables: For best results steam the vegetables over boiling water on the stove top or panfry in oil seasoning to taste before eating. Alternatively you can can microwave the vegetables: Empty bag of vegetables into a microwaveable bowl with 1 tablespoon water, microwave for 3-4 minutes or until cooked to your liking. Season to taste.
Serve stew on a bed of mash with vegetables
Ingredients
Beef (All natural, USDA choice from mid west United States), Carrot, Butternut squash, Parsnip, Rutabaga, Red wine, Red Onion whole, Broccoli, Collards, Onion, Olive oil, Cremini mushrooms, Butter, Beef stock, Parmesan, Tomato puree, Corn starch, Garlic, Sugar light brown, Salt, Smoked paprika, Porcini powder, Black pepper, Thyme, dried
Allergens: Milk, Soybeans
Nutrition Facts
Calories 590, Fat 33g, Saturated fat 10g, Carbohydrates 37g, Total sugars 11g, Protein 27g, Fibre 8g, Sodium 1220mg
Easy and Delicious!
This dinner was soooo delicious and easy to prepare. I loved the taste of the parsnips in the root purée! My only change was that I air fried the veggies for 3 minutes.
I would really love the option to increase the portions of a particular dinner on an occasional basis so I could serve it to company. The dinners are that good! I've just started my subscription but so far this and the Cod Bouillabaise are clearly company worthy!
Super flavorful and beyond simple!
Based upon other reviews I wasn't expecting much from this meal, but it was truly delicious and filling! Tons of beef in the super flavorful sauce, truly delicious veggie mix along with the root veggie mash. My super picky hubs thought it was potatoes! Thanks Georgie & Toms for a staple for sure!!
Almost loved it
This was a great health option for me so I was looking forward to it. I enjoyed the tenderness of the meat and loved the veggie mash - which I thought was the best part- but I found that it wasn't as robust in taste as some of the other options. Healthier doesn't mean less tastier, especially with the company. Many options are tasty and healthy. I did have to put some salt on it and I know for health reasons they can be selective about the salt content, but that didn't really help. I rave about this company, but to be honest, I was disappointed with this meal but expect others to be wonderful, as most have been.
Phenomenal
This is probably the 10th or 12th dish I have tried from Georgie and Toms. I was not disappointed at all. The flavor was perfect and I absolutely loved the onions. The root veggie mash along with the other veggies made it a healthy pick for me that I will make again and again. Overall a perfect 5 stars.