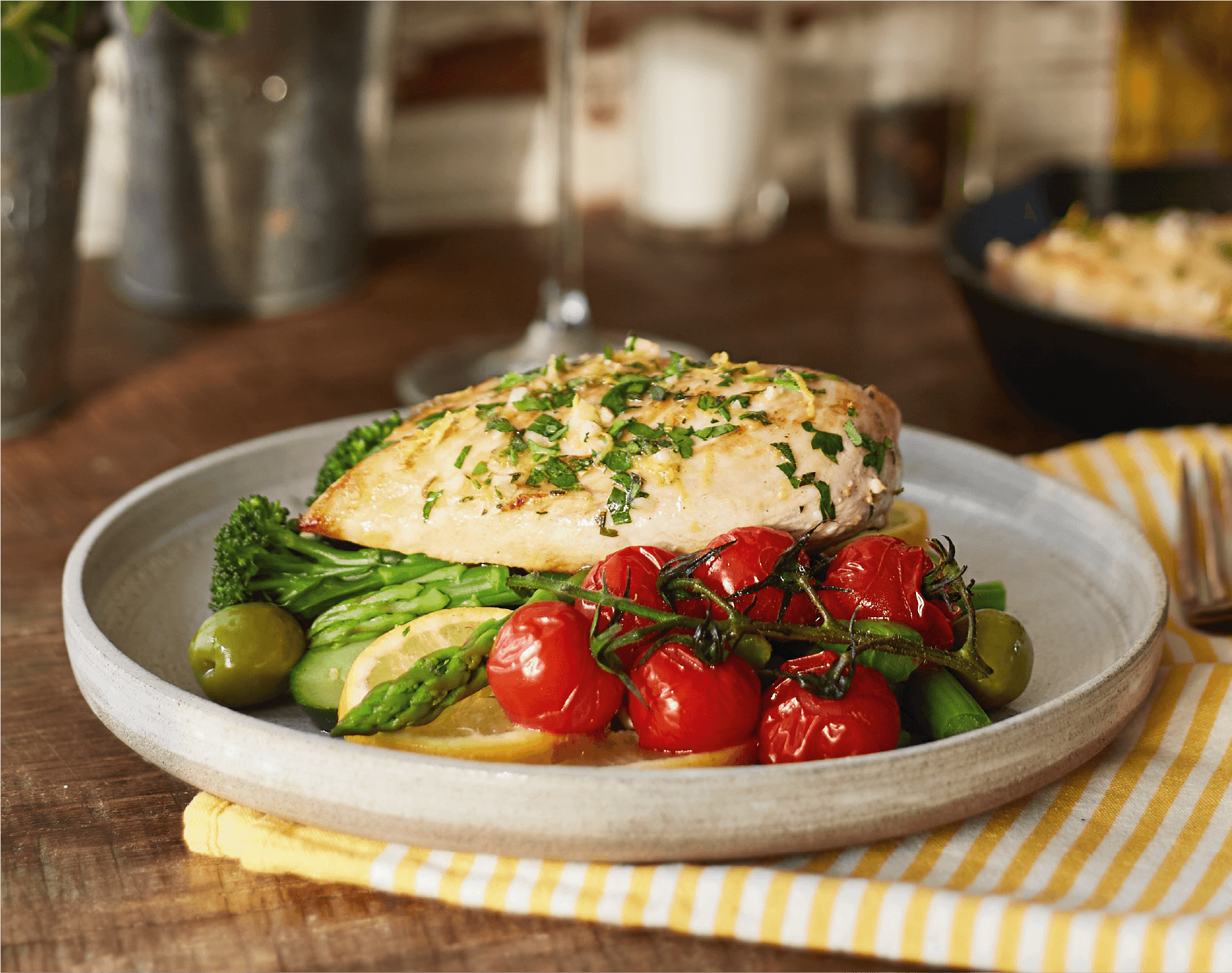 Mediterranean lemon chicken
Lemon, garlic and herb marinated chicken with olives, seasonal vegetables and vine ripen cherry tomatoes
8 minutes
Shelf-life: Day of delivery plus 5 days
Low calorie, Carb conscious diet, Mediterranean diet, Paleo diet, Gluten Free, Soy Free, Dairy free, High in Protein
Suitable for home freezing
To maximise freshness put raw chicken straight into the freezer on arrival. Defrost when needed in a couple of minutes in the microwave.
How to Cook Print
For best results stovetop
Heat oil in a large frying pan, Fry chicken on each side for 4-5 minutes or until chicken is cooked through.
Add lemon olive marinade to the pan and cook for a further 1 minute
Remove film from tray of vegetables, sprinkle with tbsp of water and season, microwave on full power for 2-4 minutes depending on your microwave. Alternatively steam over a pot of boiling water or pan fry on the stove top.
Serve by drizzling over the remaining marinade from the pan
Cooking tips:
Our chicken breasts are hand-cut so cooking times may vary due to thickness. You can check your chicken is fully cooked by ensuring it reaches 165F.
Ingredients
Chicken breast (All natural, hormone free, from South Eastern United States), Tomato, Asparagus, Zucchini, Yellow squash, Lemon Juice, Green olives, Extra virgin olive oil, Garlic, Agave syrup, Dijon mustard, Lemon zest, Oregano, Rosemary, Salt, Black pepper
Nutrition Facts
Calories 470, Fat 30g, Saturated fat 4.5g, Carbohydrates 14g, Total sugars 7g, Protein 36g, Fibre 4g, Sodium 660g
Lemony with a nice portion of vegetables
This meal had plenty of vegetables and I really liked the variety of green veggies, such as broccolini and asparagus plus red and yellow from tomatoes and summer squash. The green olives were a nice touch. There was enough protein from the chicken to make this a satisfying though not overly filling dinner. I felt it was very healthy. It was a bit too lemony for my taste so it won't be on a frequent rotation, if at all. I was able to cook everything in the air fryer, which makes me happy and has less cleanup.
Fantastic!
Delicious. Low calorie and low carb. Fully satisfying.
Very good
Good choice of vegetables.
I added some lemon juice for a more
lemony flavor.
Terrific Low-calorie dinner
This was delicious. Lots of healthy veggies, great lemon flavor. I used a big sauté pan for the chicken, and halfway through added the broccolini and tomatoes to the other side of the pan, then just steamed the asparagus and zucchini. I noticed some reviews say a starch was needed, but I disagree - I ordered this specifically because it was a low-carb option. Lots of food, but not lots of calories. When we order something without a starch (this dish or the balsamic chicken, e.g.), I just make sure we've got some cooked brown rice or cous cous on hand, so there's a little starch for the one of us who wants it.
Delicious
Light and flavorful! It is on my "go to" list. I would highly recommend it.