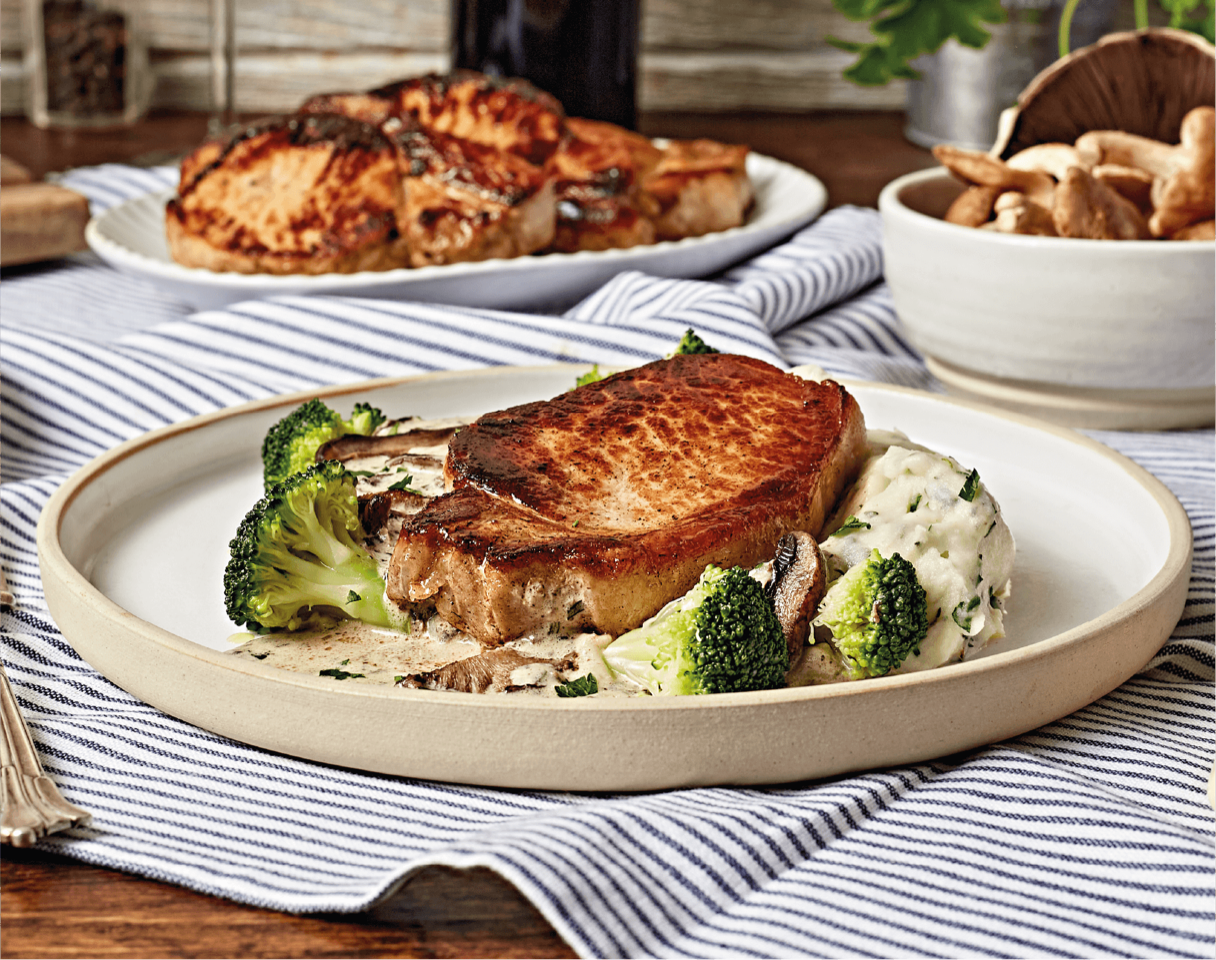 Creamy pork & mushroom
Ready to pan-fry pork loin in a rich creamy mushroom sauce served with garlic mash and seasonal vegetables.
High Fibre, Gluten Free, soy free, Mediterranean diet
How to Cook Print
How to Cook
Remove defrosted pork from skin pack and season with salt & pepper. Heat 1 tbsp oil in non stick frying pan, fry pork on a high heat for 3-4 minutes per side or until cooked.
Remove film from tray, leave parchment on mash. Empty bag of seasonal vegetables ontop of parchment . Sprinkle 1 tbsp of water over vegetables, season with salt & pepper.
Remove lid from pot of creamy mushroom sauce & place back on loosely.
Microwave tray of mash / vegetables & pot of creamy mushroom sauce together for 4-5 minutes or until pipping hot. Serve pork on bed of mash with sauce & vegetables (Alternatively you can steam or pan fry your seasonal vegetables)
Cooking Tips
For best results use a non-stick frying pan for the pork loins.
Our Pork loins are hand-cut so cooking times may vary due to thickness. You can check your pork is cooked by ensuring it reaches a minimum of 145F.
Ingredients
Ingredients list: Pork (All natural from United States), Potatoes, Cream, Carrot, White wine, Broccoli, Collards, raw, Cremini mushrooms, Butter, Onion, Cheddar cheese, Garlic, Chicken stock, Sunflower oil, Parsley, Parmesan, Corn starch, Lemon zest, Water, Salt, Dijon mustard, Dried tarragon, Black pepper, Dried thyme
Allergens: Milk
Contains: Celery, Mustard
Nutrition Facts
Nutritional information per portion
Cals 820, Fat 53g, Sat Fat 28g, Protein 39g, Fibre 7g, Carbohydrates 40, Total Sugars 5g, sodium 720mg,
Another winner
Excellent meal. Tarragon is the lost spice that no one really uses anymore, love it. Super easy meal to make and delicious.
Love it
The mushroom sauce was amazing and went terrifically with the pork.
Delicious Pork Dish
Fabulous mushroom sauce, makes the dish, very creamy. Oh happy day, garlic : ). Fresh vegetables. Sure to order again.
Delicious
Pork was tender, creamy mushrooms partnered with the pork perfectly.
Oh Look More seed oils.
Just another food company that adulterates their product with toxic industrial seed oils. Nothing to see here.