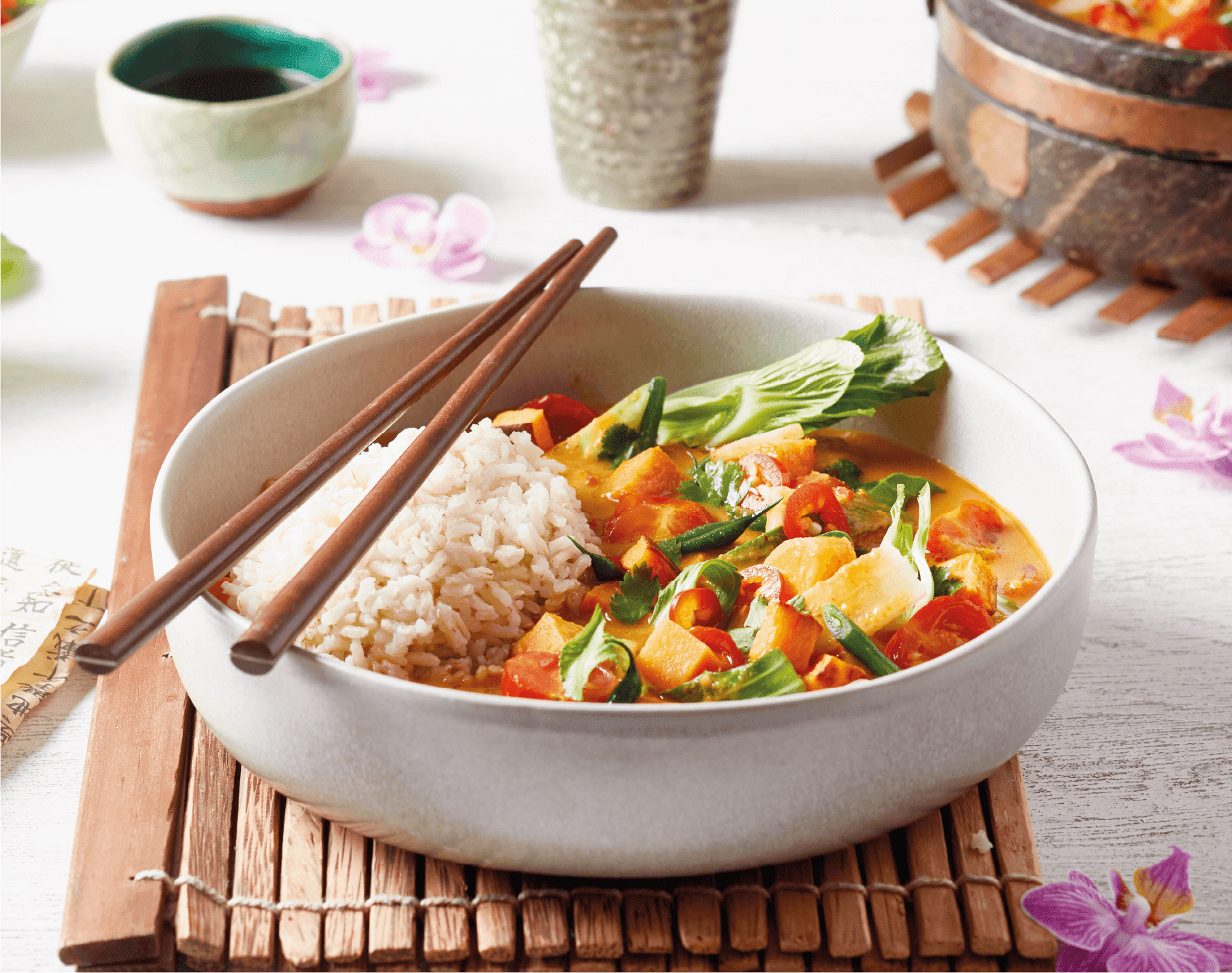 Sweet potato and cherry tomato curry
Fragrant Red Thai Roast sweet potato and coconut curry with cherry tomatoes and haricot vert red Thai curry with Jasmine rice
7 minutes
Shelf-life: Day of delivery plus 5 days
Vegan, Vegetarian, Mediterranean, Dairy free, Gluten free, High Fibre
Suitable for home freezing
How to Cook Print
Microwave for best results
Remove film from tray of rice & vegetables. Empty pot of Sweet potato and cherry tomato curry into a large bowl and place vegetables on top. Microwave for 5 minutes then stir.
Sprinkle tbsp of water and season rice. Place in microwave with bowl of curry and microwave for an additional 3 minutes. Ensure piping hot before eating.
Ingredients
Coconut milk, Sweet potato, Cherry tomatoes, Jasmine rice, Red pepper, Red Thai curry paste, Green beans, Baby Bok Choy, Bamboo shoots, Olive oil, Lemongrass, Shallot, Ginger, Sugar, Sunflower oil, Red chilli, Garlic, Lime juice, Cilantro, Tamari, Salt, Thai basil, Coriander ground, Lime leaf, Black pepper
Nutrition Facts
Calories 590, Fat 30g, Saturated fat 17g, Carbohydrates 71g, Total sugars 16g, Protein 9g, Fibre 6g, Sodium 620mg
I don't like things too spicy
I take out the red peppers when I can and when I did this dish tasted much better. It's really good. The vegetables are wonderful.
Savory and a little sweet and very yummy
I'm a big coconut curry fan and loved this dish. My husband found it a little too sweet for himself so I happily ate both servings. I did skip the white rice portion of the meal. Nice balance between different types of vegetables. The sweet potatoes were tender, and the green beans and peppers had a nice little crunch to them. I loved the cooked tomatoes. They were done perfectly. I thought the dish was very healthy. I picked out the spicy Thai chilies and my husband did eat those.
Great curry
Delicious with perfect portion sizing. We microwaved the rice & greens but heated the curry on the stove.
Bok Choy????MIA
Never got the bok choy. The dish itself was lousy. Note to self...NEVER AGAIN
Drop the tomatoes
Cooking cherry tomatoes and they turn into mush. Everything else was great when we removed the tomatoes.