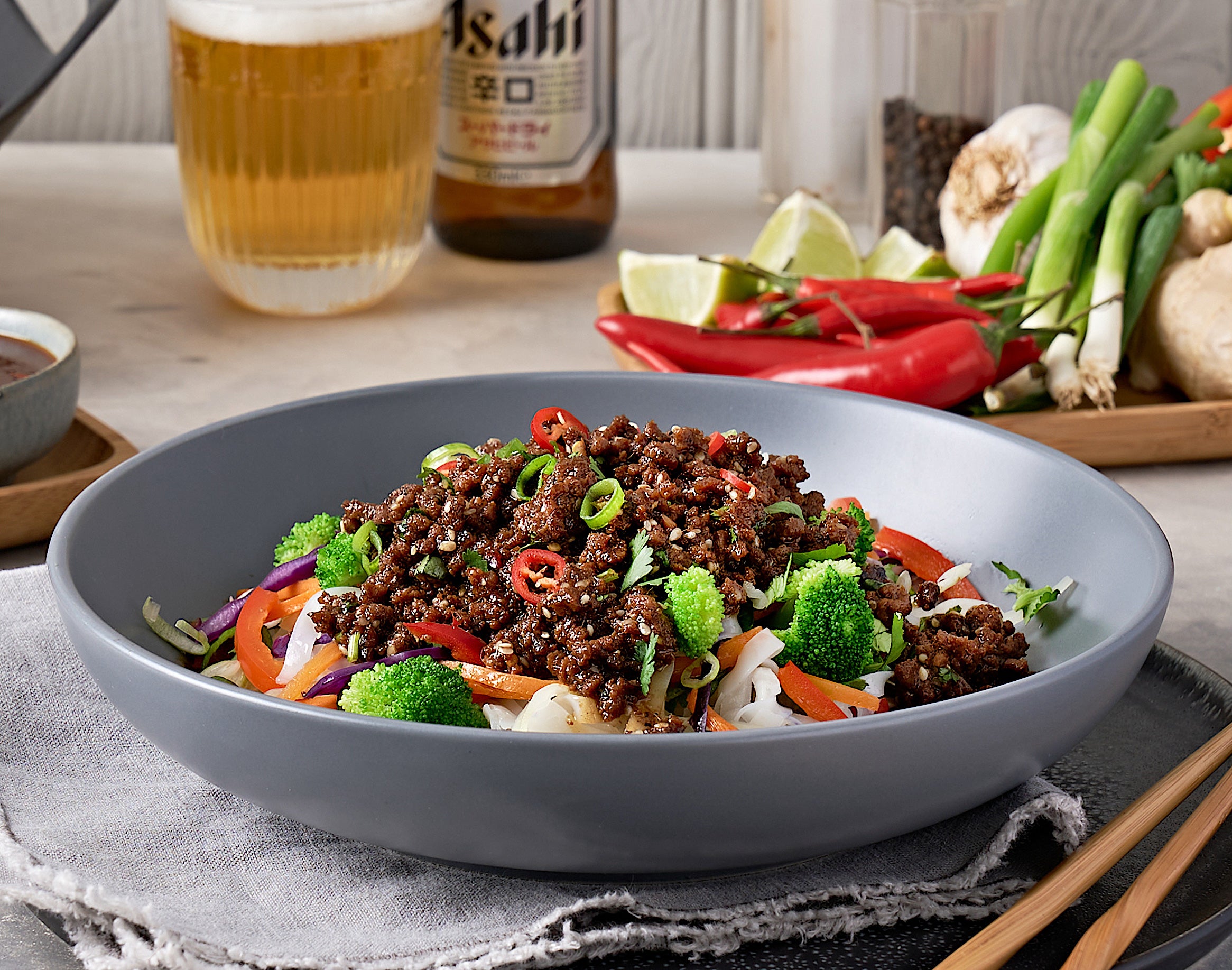 Sticky Ginger Beef
Beef in a sticky honey, ginger & soy glaze served on stir fried rice noodles, broccoli and shredded vegetables. Finished with scallions, cilantro, chilli, and a squeeze of fresh lime.
8 minutes
Shelf-life: Day of delivery plus 4 days
High in fibre, Dairy free, Mediterranean diet

Sticky ginger beef pot suitable for home freezing.
How to Cook Print
For Best results stovetop
Remove film from tray, reserve lime and scallion, chili, & cilantro pot.

Heat 1 tbsp oil in a pan, fry broccoli for 2 minutes.

Heat

sticky ginger beef

to a separate dry frying pan for 3 minutes

Add other

vegetables

to

broccoli

pan and cook for a further 1 minute.

Add

noodles

to the vegetable pan with 1 tbsp of

water, mix well & fry for a further 1 minute.

Plate vegetables & noodles, top with sticky ginger beef, garnish with

scallion, cilantro, red chilis & squeeze of 1/4 of a lime.
Spice warning (If you would prefer a less spicey dish please refrain from adding the chillies in the finishing pot)
Ingredients
Beef (All natural, USDA choice from Midwest United states), Rice noodles, Lime, Broccoli, Honey, Soy sauce, Red pepper, Ginger, Scallion, Hoisin sauce, Sesame oil, Garlic, Carrot, Red cabbage, White cabbage, Sugar light brown, Rice wine vinegar, Lime juice, Sunflower oil, Cilantro, Red chilli, Sesame seeds, Red chili flakes, Salt
Allergens: Gluten, Sesame, Soy
Nutrition Facts
Cals 750, Fat 32g, Sat Fat 6g, Carbohydrates 91g, Protein 34g, Total sugars 36g, Fibre 5g, sodium 1500mg
Among my favorites. Great flavors and lovely crispy vegetables.
First Meal, I'm Impressed
Very Disappointed In This Meal
We usually enjoy all of our meals but the texture of the meat in this meal was very unappetizing. Not very many veggies and mushy noodles. Hardly enough for two.
Soooo Good
Very tasty and a good amount for 2.
The beef was ground.
Love the touch of spicy
The veggies were fresh and the noodles instead of rice gave it a varied texture
Good but too spicy
This recipe was also a bit too spicy and a little too sweet.