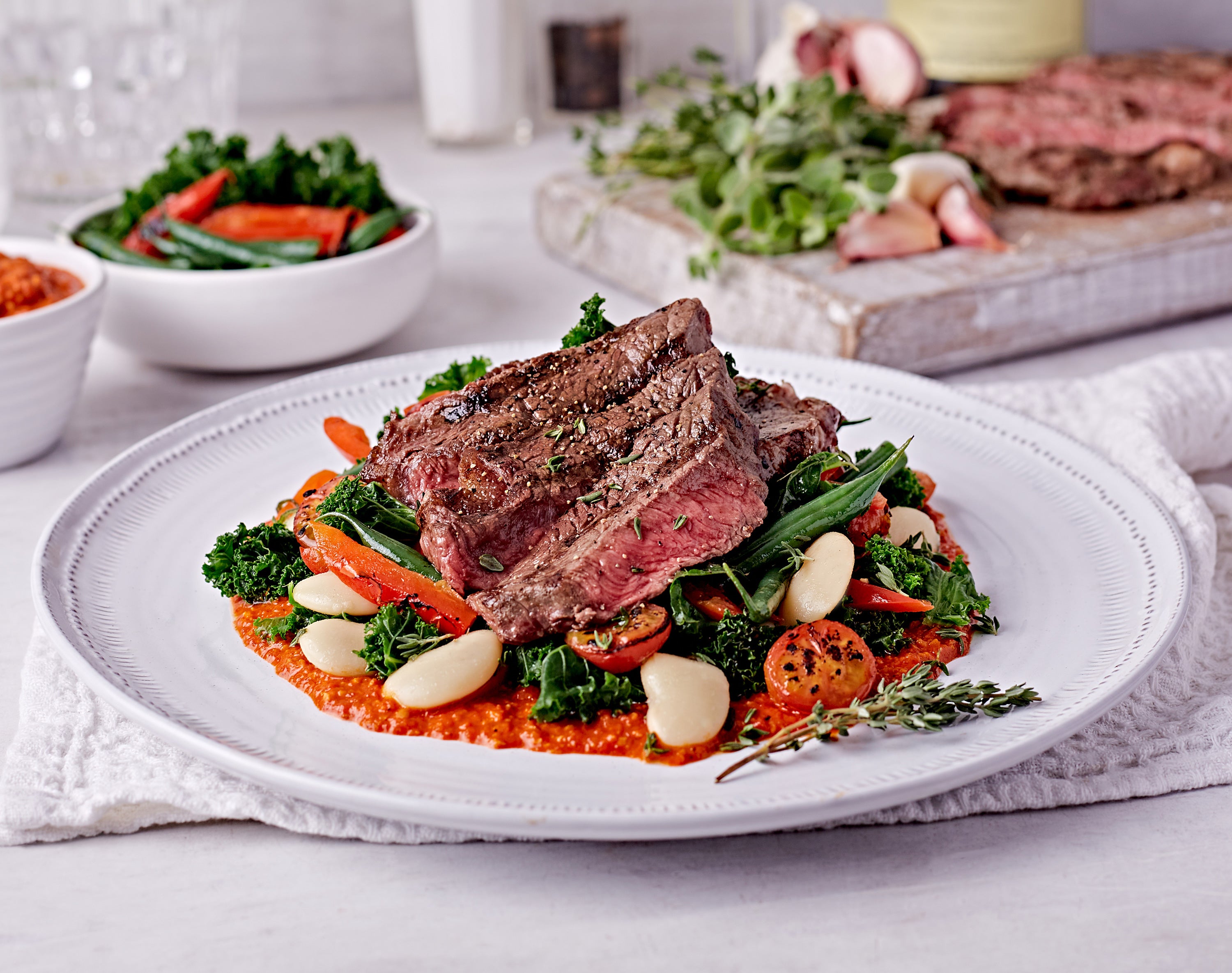 Steak romesco
Pan seared sirloin steak with a warm red pepper, string bean, kale & butter bean salad dressed in a romesco sauce
8 minutes
Shelf-life: Day of delivery plus 5 days
Carb conscious, Mediterranean, Gluten Free, Soy Free, Dairy free, High in Protein, High in fibre
Steak & romesco sauce suitable for home freezing
To maximise freshness put the raw steak straight into the freezer on arrival. Defrost when needed in a couple of minutes in the microwave
How to Cook Print
For best results stovetop
Season steak with salt & pepper, Heat oil in a pan and cook steak to your liking, rest steak for 3-4 minutes before serving
Add 1/2 tbsp more oil to your empty used steak pan, tip vegetables & beans into pan, season with salt & pepper. Fry for 3-5 minutes until cooked to your liking. Alternatively you can microwave the vegetables & beans in the wooden tray by spooning over 1 tbsp water, seasoning with salt & pepper & then microwaving for 2-3 minutes depending on your microwave.
Serve steak sliced on a bed of the warm salad and dress with Romesco sauce.
Cooking tips:
Our steaks are hand-cut so cooking times may vary due to thickness. Cook steak to your liking with the below temperature guides;
Rare 120F, medium rare 130F, medium 140F, well-done 160F
Rest steak for 5 minutes before eating to maximise tenderness
Ingredients
Sirloin steak (All natural, USDA Prime, from Midwest United States), Red peppers, Butterbeans, Tomato, String beans, Kale, Extra virgin olive oil, Olive oil, Garlic, Almonds, Lemon, Shallot, Oregano, Smoked paprika, Sugar, Thyme, Salt, Red wine vinegar, Cayenne pepper, Cumin.
Nutrition Facts
Calories 540, Fat 33g, Saturated fat 6g, Carbohydrates 24g, Total sugars 8g, Protein 37g, Fibre 8g, Sodium 440mg
Very healthy
Vegetables exceptionally fresh and varied. All ingredients excellent. Kale was too chewy, combination with green beans, while healthy, was odd. Something about that sauce was incompatible (was there bacon flavor in it?). Would not order again because thankfully there are so many other healthy choices.
Love this disk
Simply a great steak dinner.
Wasn't too thrilled😒
The veggies or the romesco sauce need more seasoning. Leave the kale out
The steak was so good!
This is the second time we have had this meal. The first time the prime steak was very good, but it was very thin. This time it was 5 ounces of prime beef, very thick. We love the Romesco sauce, as well.
Prefer time for steak
I have been huge fan of delivered meals and I prefer when the instructions provide a time for cooking meats/chicken etc.
So far these are delicious and fun