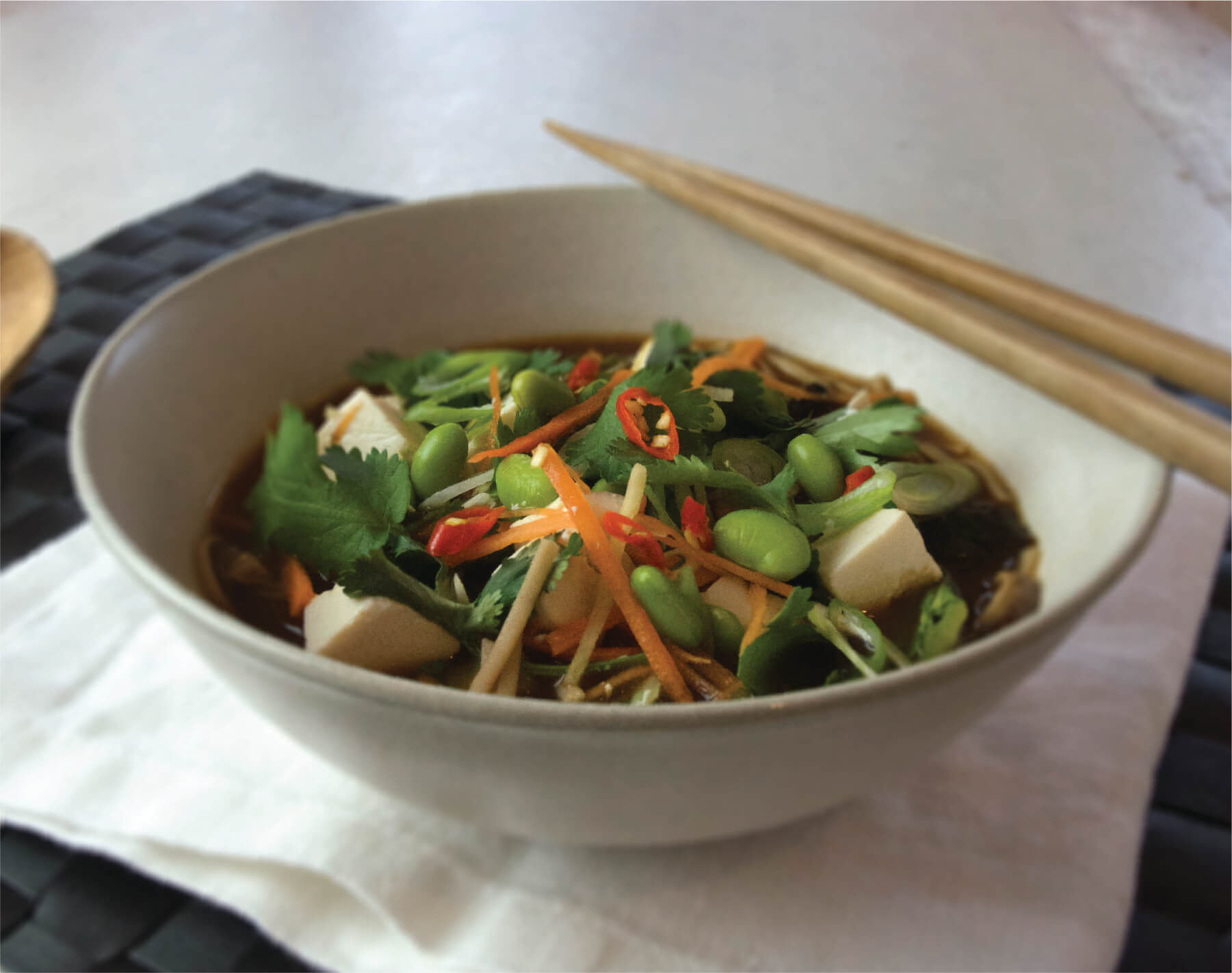 Shiitake mushroom ramen
Shiitake mushroom & miso ramen with tofu, edamame and buckwheat noodles
6 minutes
Shelf-life: Day of delivery plus 4 days
Vegetarian & Vegan, Mediterranean, Dairy free, High protein, low calorie
Suitable for home freezing
How to Cook Print
Stove top for best results
Empty pot of liquid mushroom ramen into a large pot and simmer
Empty vegetables and noodles into the pot with ramen, bring to the boil.
Divide between 2 bowls
Microwave
Empty pot of liquid mushroom ramen into a microwaveable bowl, microwave for 5 minutes.
Empty vegetables and noodles into the bowl with ramen & microwave for a further 2-3 minutes.
Divide between 2 bowls
Ingredients
Tofu, Soba noodles, Shiitake mushrooms, Soya beans, Vegetable stock, Miso paste, Bok choy, Carrot, Tamari, Ginger, Shoaxing rice wine, Olive oil, Cilantro, Red chilli
Allergens: Gluten, Soy
Contains: celery
Nutrition Facts
Calories 300, Fat 7g, Saturated fat 1g, Carbohydrates 42g, Total sugars 3g, Protein 17g, Fibre 4g, Sodium 910mg
Lovely, light, and flavorful soup
This was a tasty soup. I would definitely order it again, however, it didn't really feel like dinner for two people. Perhaps a side dish instead? A couple of improvements that I would suggest: more vegetables & tofu and less rice noodle will make it feel healthier to me. And I'm trying to cut down on my salt, so I will be looking for more dishes with a lower sodium profile.
Amazing!
This recipe was so fresh and the flavor was phenomenal! No joke so so good.
Much Too Salty
Briny. Contains tough mushroom stems. Noodles have no texture. Would appreciate more items with lower salt.
Our Go-To dish! Absolutely lovely (but not a generous portion)
We had this a few times before...and it's a "crowd pleaser" every time. Very consistent and intense (good) mushroom flavor.
One little negative feedback: the dish is on the small-side. e.g. two hearty eaters WILL be left longing for more. And you can't stretch it out to cover three, you will need to sacrifice another G&Ts.
So yummy!
Another amazing vegetarian option! And so easy! I added a little water to the broth to make a little extra...and it was still sp flavorfu!