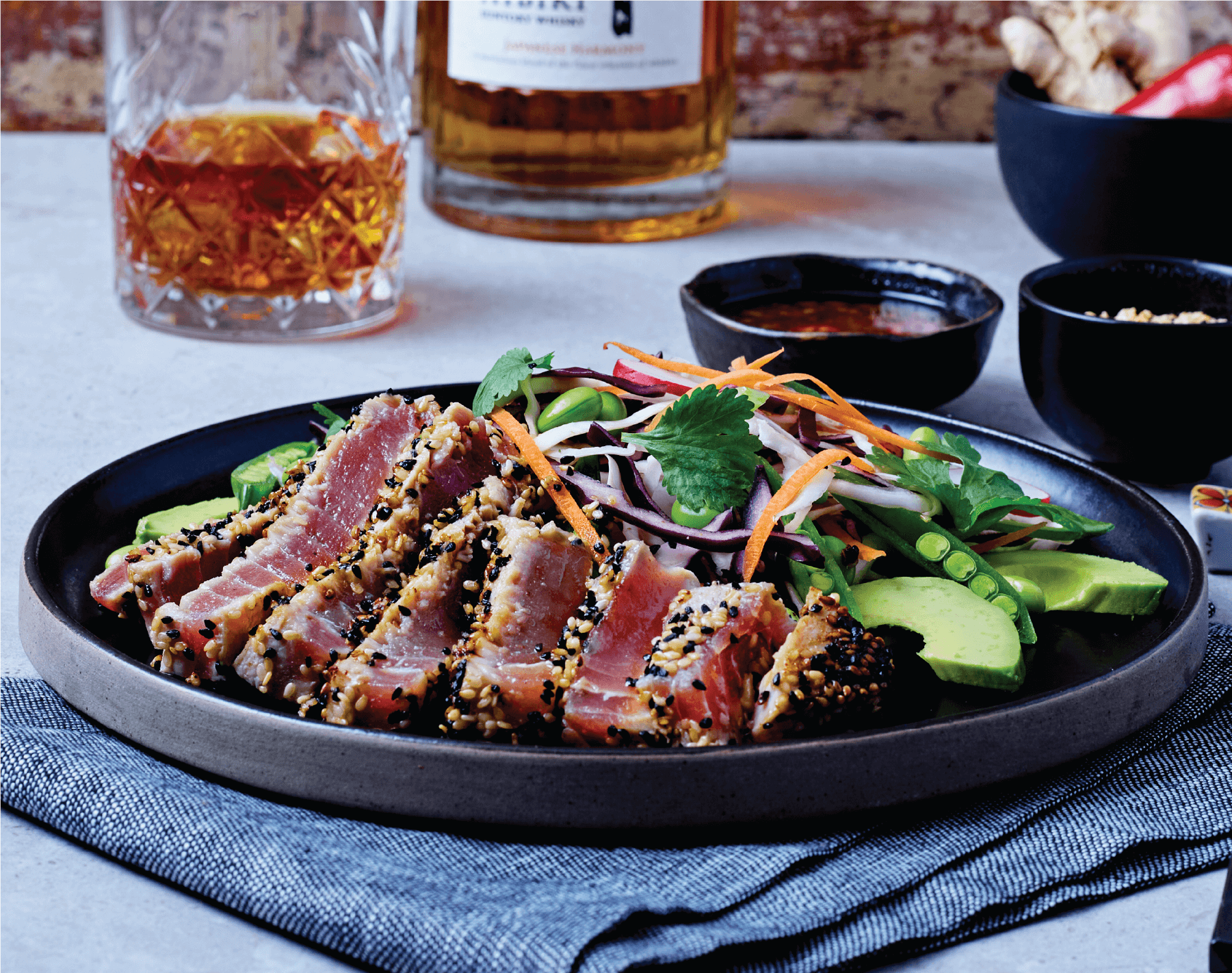 Sesame tuna
Sesame coated Yellow fin tuna with a miso ginger marinade served with avocado & fresh vegetable slaw. All dressed with a soy, ginger & sesame dressing.
6 minutes
Shelf-life: Day of delivery plus 5 days
Carb conscious, Mediterranean, Pescatarian, Dairy free, High in Protein, High in Fibre
Tuna & soy, ginger & sesame dressing suitable for freezing.
To maximize freshness put the tuna straight into the freezer on arrival. Defrost when needed in a couple of minutes in the microwave.
How to Cook Print
For best results stovetop
1. Tip sesame seeds into a plate. Spread ¼ of the miso marinade onto one side of one tuna steak. Press the tuna steak down into the sesame seeds, (miso marinade side down) to coat in sesame seeds. Repeat on other side of tuna and then replicate on 2nd piece of tuna.
2. Heat oil in a pan over medium heat. Sear tuna for 2 to 3 minutes on each side or to your liking.
3. Reserve cilantro, add radishes to the slaw & slice avocado.
4. Serve the tuna with the slaw, avocado, drizzling the soy, ginger & sesame dressing over all ingredients. Finish with reserved cilantro.
Cooking tips:
For best results use a non-stick frying pan for the tuna stovetop instructions.
Our tuna fillets are hand-cut so cooking times may vary due to thickness. Cook to your liking using the below temperature guide: Rare (like photo) 90F, pink: 125F, medium: 135F, well done: 145F
Bone warning: All our fish is deboned, however sometimes a bone can be missed. We apologise if you are the unlucky one who finds a bone.
Ingredients
Tuna (Yellowfin, Wild line caught from North & South USA), Avocado, White cabbage, Red cabbage, Edamame, Sugar snap peas, Carrot, Honey, Radish, Ginger, Sesame oil, Lime juice, Soy sauce, White sesame seeds, Black sesame seeds, Olive oil, Scallion, Miso paste, Red chilli, Cilantro, Garlic, Shaoxing rice wine.
Fish, Gluten, Sesame, Soy
Nutrition Facts
Calories 790, Fat 47g, Saturated fat 8g, Carbohydrates 40g, Total sugars 19g, Protein 51g, Fibre 13g, Sodium 730mg
Fresh and Delicious
I was hesitant about getting a dish with raw fish given that it's still the summer months and worried about shipping. But glad I did. This was delicious. Everything was so fresh and flavorful. The tuna was great quality. Will definitely add this to our rotation.
Love! Great taste!
Perfect! The sauce was amazing!
Great taste, fresh fish
Fish was perfect, flavors were great. Echoing some other reviews more of the miso paste would have been nice as well as perhaps a bit more slaw. Would order again.
My Favorite
One of my favorite dishes. Tuna is fresh and super easy to cook. The dressing is light and tangy. I'm not a fan of cilantro so I just leave it out. I've already ordered this dish twice.
Tuna as fresh as if you just bought in a fish market
This was a delicious dish. The fish was very fresh and I cooked it to my desired amount of searing. The salad was excellent and the avocado may be better if eaten by itself as an appetizer
because it doesn't add much to the cole slaw.