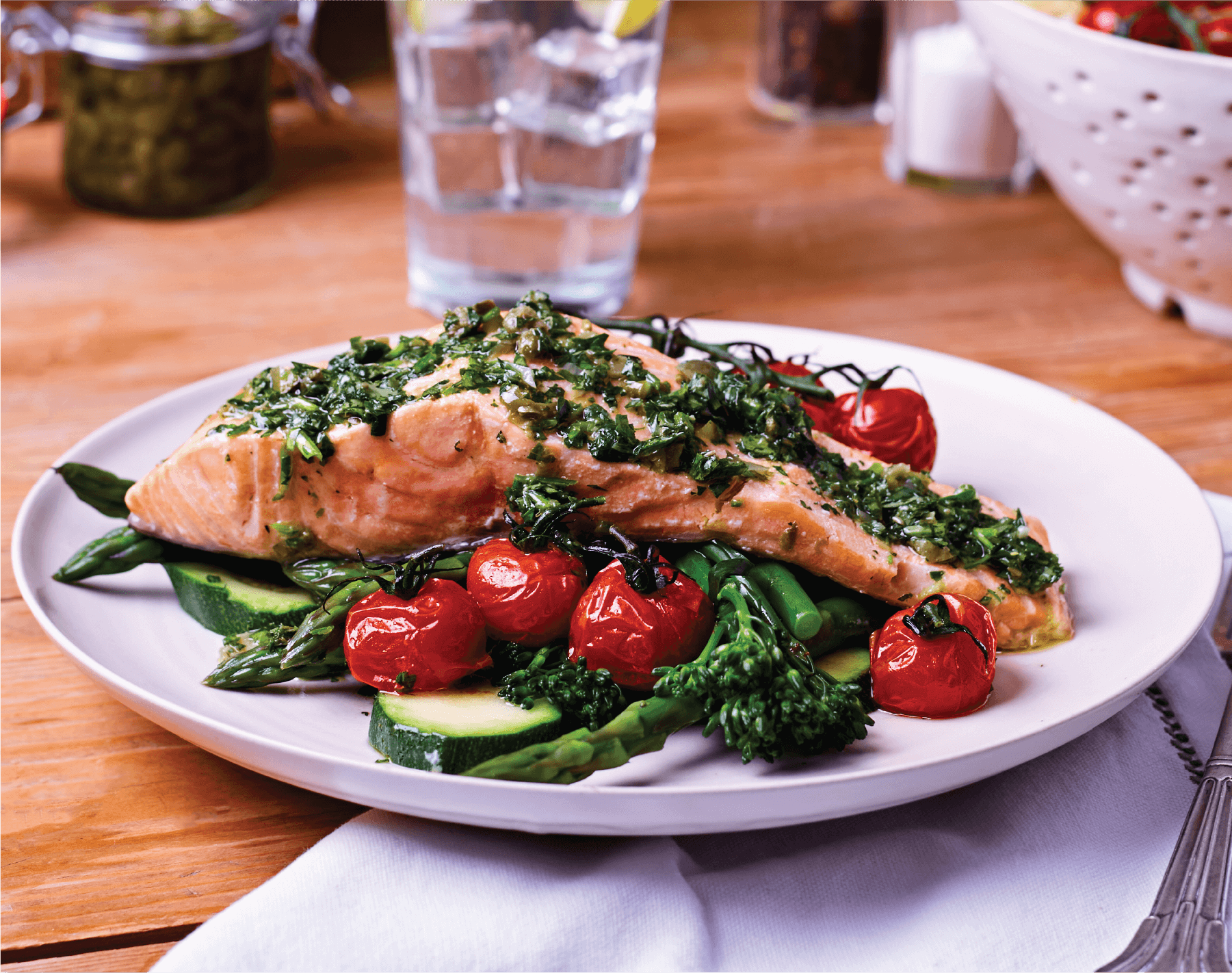 Salmon salsa verde
Salmon with seasonal vegetables, vine ripened cherry tomatoes and lemon salsa verde
8 minutes
Shelf-life: Day of delivery plus 5 days
Carb conscious, Mediterranean, Paleo, Pescatarian, Gluten Free, Soy Free, Dairy free, High in Protein
Suitable for home freezing
To maximise freshness put the raw salmon straight into the freezer on arrival. Defrost when needed in a couple of minutes in the microwave.
How to Cook Print
For best results stovetop
Remove salsa verde from fridge to allow it to become liquid again
Pat salmon dry on paper towel, season with salt and pepper. Heat oil in a pan, and cook the salmon to your liking
Remove film from tray of vegetables, sprinkle with 1 tablespoon of water and season with salt & pepper. Microwave on full power for 2-3 minutes depending on your microwave or alternatively steam over a pot of boiling water or pan fry on the stove top.
Serve with salsa verde
Microwave instructions
Remove salsa verde from fridge to allow it to become liquid again
Remove film from tray of vegetables and place in large bowl.
Pat salmon dry on paper towel, place on top of vegetables and season with salt and pepper and cover with plastic wrap. Microwave for 3- 4 minutes or until salmon is cooked through and vegetables are hot.
Serve the salmon and vegetables between two plates and dress with salsa verde.
Cooking tips:
For best results use a non-stick frying pan for the salmon stovetop instructions.
Our salmon fillets are hand-cut & cooking times may vary due to thickness. Cook to your liking using the below temperature guide: Pink: 125F, medium: 135, well done: 145F
Bone warning: All our fish is deboned, however sometimes a bone can be missed. We apologise if you are the lucky one who finds a bone.
Ingredients
Salmon (Faroe Islands farmed), Tomato, Yellow squash, Zucchini, Asparagus, Extra virgin olive oil, Olive oil, Capers, Gherkins, Cilantro, Parsley, Basil, Agave syrup, Garlic, Mint, Dijon mustard, White wine vinegar, Lemon, Salt, Black pepper
Allergens: Fish
Contains mustard
Nutrition Facts
Calories 550, Fat 38g, Saturated fat 6g, Carbohydrates 12g, Total sugars 7g, Protein 39g, Fibre 4g, Sodium 410mg
Delicious
This dish was so easy to make, restaurant worthy flavor and delightful presentation. I feel like I went out tonight, a Saturday night, but I was happier to be home with this meal.
So tasty!!
Really easy to make and wonderful flavors. The salmon was really good.
Healthy and satisfying
My husband and I both enjoyed the salmon with salsa Verde and vegetables. The salmon size was filling without over filling us. And the variety of vegetables (asparagus, tomatoes, and summer squashes), was tasty and nutritious. We felt very proud of ourselves for having such a healthy dinner. We have ordered this dish several times and it never fails. It is on our go to list for Meals.
Disappointed☹️
We had the 'Salmon Salsa Verde'. Having never had ' Salsa Verde' before we were not sure what to expect. It was decidedly underwhelming. The ingredients list had no mention of rice; Vine ripened cherry tomatoes and lemon Salsa Verde were listed but were missing. We received 'Soy, honey and ginger dressing'.
Meh
It was ok - just not great. Could use a rice or better yet, garlic mashed potatoes with the veggies.