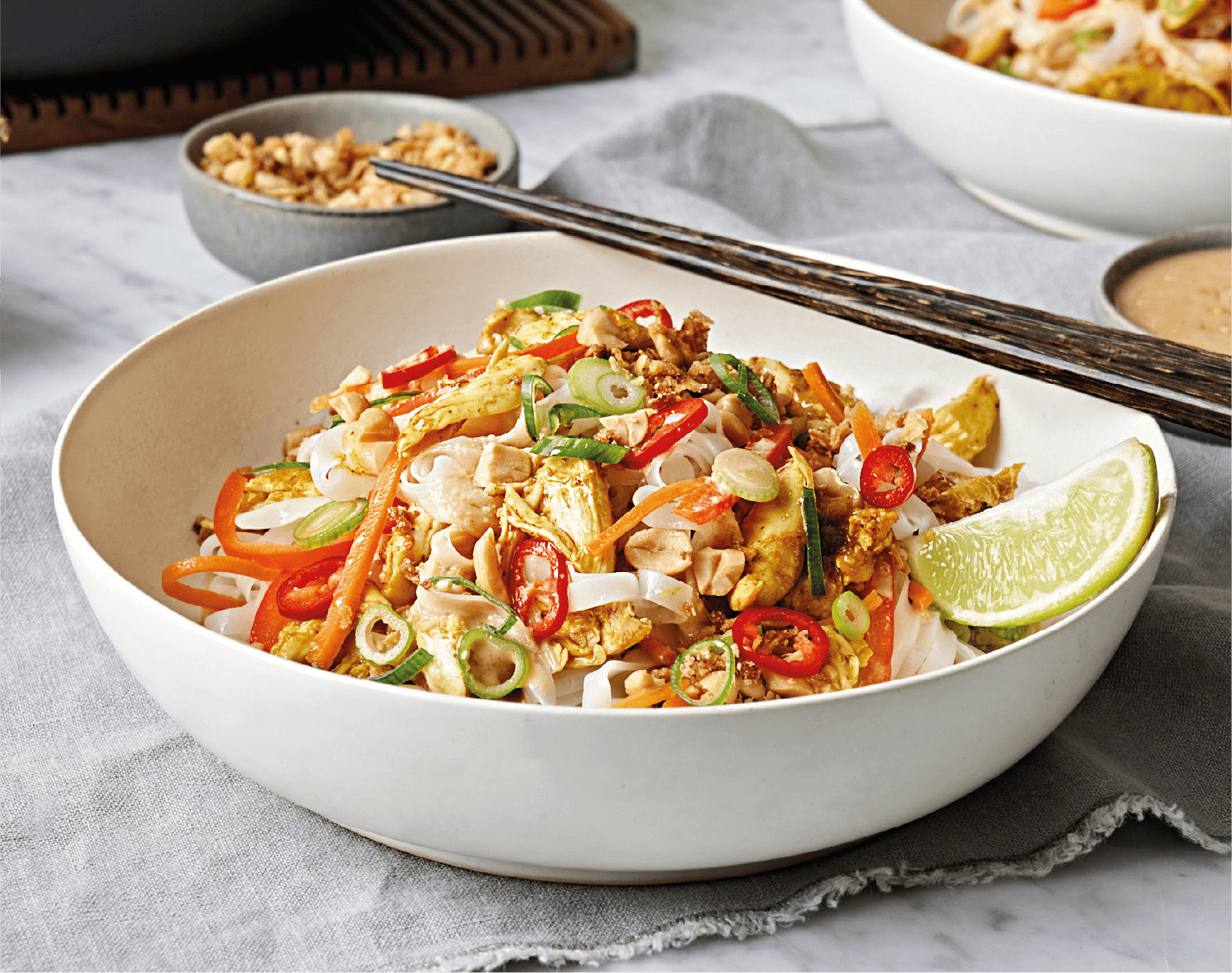 Peanut chicken noodles
Ready to stir fry Thai peanut marinated sliced chicken with rice noodles, shredded vegetables in a soy & tamarind sauce. Finished with a squeeze of lime, peanuts and crispy onions.
8 minutes
Shelf-life: Day of delivery plus 4 days
Marinated chicken suitable for home freezing
How to Cook Print
How to Cook
For best results stovetop

Heat 1 tbsp oil in non stick frying pan over medium heat.

Add raw peanut marinated chicken

cook 3-4 minutes.

Add

stir fry vegetables

to pan with chicken and cook for a further 3 minutes

Add

rice noodles and pad Thai dressing

to pan, cook for further 1-2 minutes until dressing coats all ingredients.

Plate and serve with a squeeze of

lime, scatter over scallions, chili & cilantro, peanuts & crispy onions

Cooking tip: For best results use a non-stick frying pan or wok.

Spice warning (If you would prefer a less spicy dish please refrain from adding the chillies in the finishing pot)




Ingredients
Ingredients list: Chicken (All natural, hormone free from South Eastern United States), Pad Thai rice noodles, Carrot, Lime, Onion, Sugar light brown, Red pepper, Collards, raw, Fish sauce, Tamarind nectar, Soy sauce, Peanut butter Smuckers, Peanuts salted, Crispy fried onions, Sunflower oil, Scallion, Coconut milk, Lime juice, Sesame oil, Ginger, Red chilli, Red Thai curry paste, Cilantro, Lemongrass, Garlic, Peanut oil, Salt, Red chili flakes, Garam masala, Turmeric, Coriander ground, Black pepper
Allergens:
Gluten, Fish, Peanuts, Soybeans
Contains Sesame
Nutrition Facts
Nutritional information per portion
790 Cals , Fat 30g, Sat Fat 6g, Protein 37g, Fibre 7g, Carbohydrates 94g, Total Sugars 32g, sodium 1950mg,
Fabulous and fun dish
Every ingredient was fresh and delicious. Marinade on chicken was fabulous. It was great fun to continuously add layers of flavorful vegetables and seasonings. Can hardly wait to order again, and would love to serve to company.
OK
I've had other Georgie and Tom's meals that I preferred.
Yum!
Will definitely order again. The chicken was very tender, and I balanced red the sweetness by mincing the chili and mixing it into the dish.
Delicious
As with all G&T meals, the flavor on this one was really good. Easy to prep as well.
Tasty
Very good, easy to prepare. A winner