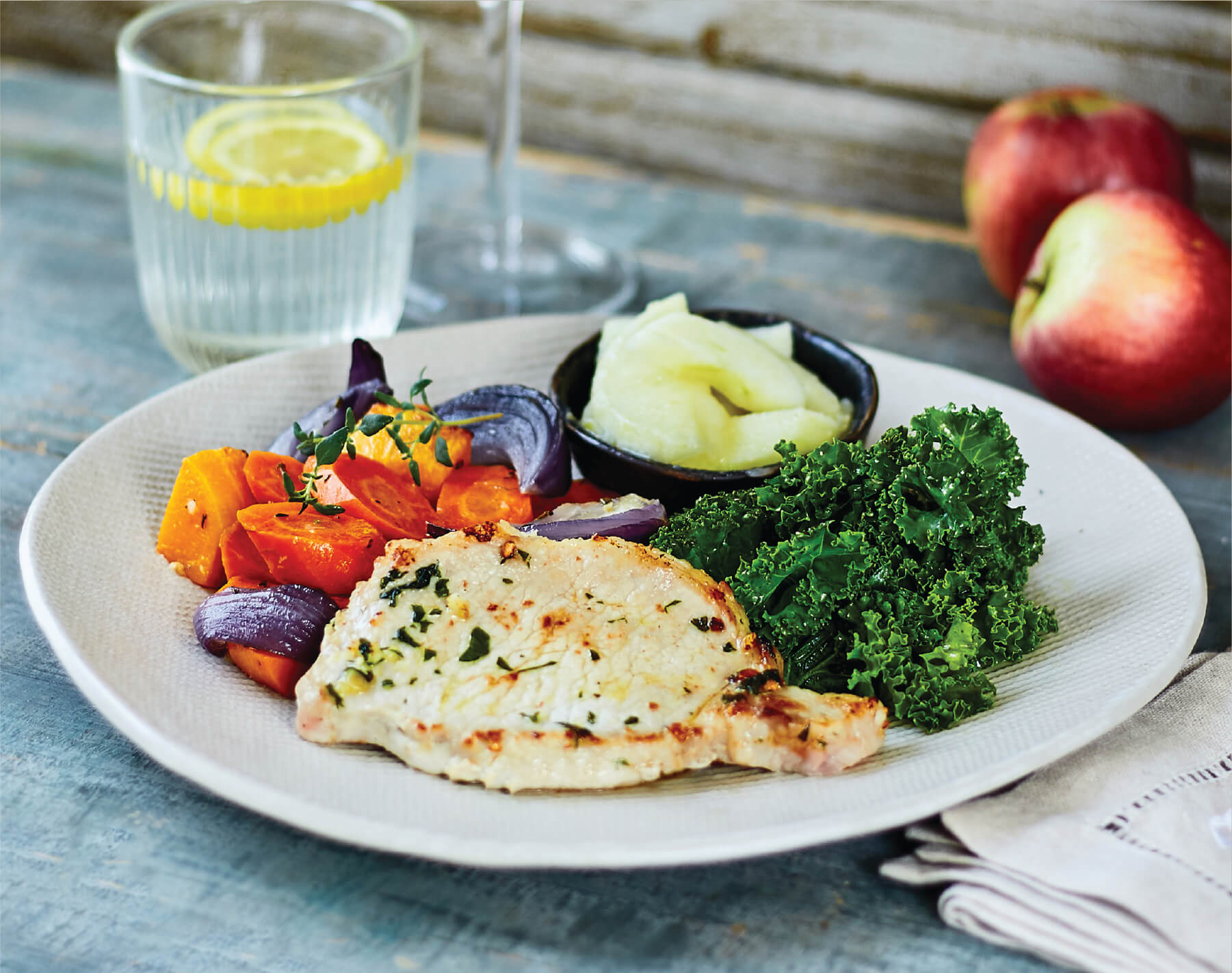 Pan seared pork & apple
Garlic butter seared pork with roasted root vegetables and sauteed apples
8 minutes
Shelf-life: Day of delivery plus 5 days
Mediterranean, Gluten Free, Soy Free, High in protein, High fibre
Suitable for home freezing with the exception of the baby kale
To maximise freshness put the raw pork straight into the freezer on arrival. Defrost when needed in a couple of minutes in the microwave.
How to Cook Print
For best results stovetop
The Root vegetables
For best results:
Preheat oven to 400F. Transfer tray of vegetables to baking tray, leave rosemary whole,
season with salt & pepper, roast for 15-20 mins or until soft.
For speedy results:
Season vegetables in tray with salt & pepper, leave rosemary whole, microwave on full power for 6-7
minutes or until soft
Season pork with salt & pepper. Heat a dessert spoon of oil in large pan. Cook pork for 3 minutes on each side. Add the garlic butter for the last minute of cooking, basting the pork. Remove pork from the pan to rest.
Add kale to the pork pan, tossing in the residual garlic butter for 1 minute or until cooked to you liking.
Serve pork with cold apple saute, root vegetables & kale
Cooking tips:
For best results use a non-stick frying pan for the pork loins.
Our Pork loins are hand-cut so cooking times may vary due to thickness. You can check your pork is cooked by ensuring it reaches a minimum of 145F.
Ingredients
Pork loin (All natural from United States), Apples, Butternut squash, Carrot, Sweet potato, Red onion, Baby kale, Butter, Sugar, Olive oil, Lemon zest, Lemon juice, Garlic, Rosemary, Parsley, Thyme
Nutrition Facts
Calories 630, Fat 37g, Saturated fat 13g, Carbohydrates 40g, Total sugars 21g, Protein 33g , Fibre 6g, Sodium 200mg
This is a Wonderful Meal
Quick to prepare... perfect portion ... (on larger side) and quality ingredients!
The kale is amazing and absorbs the wonderful garlic butter without being overly saturated or greasy. I was surprised
that such a small quantity of butter could pack such a punch!
The apples are really not apple sauce but thin slices of apples with a delicious lemon flavor which is neither tart or sweet.
I would love the option to order more apples! They are totally amazing.
I am not a pork fan, but this meal is tops in my opinion. Only issue was there was no rosemary but luckily I had some fresh on hand.
Outstanding!
This was one of the best dinners we have tried. Tasty, easy and unique.
Fabulous again the 2nd time
Perfect portion of pork to veggie ratio. I'm trying to get more veggies! But enough pork to satisfy our hunger and feel happily content after dinner. The garlic butter is perfect.
Wow. A tasty blend of different flavors. Loved it.
Every bite had different combination of flavors, such as buttery, lemonade, sweet, savory, salty, and so much more. A filling and nutritious dinner that was easy to prepare. We will be ordering this one again and again.
Great flavors
Great flavor and cooks quickly. Will have again.