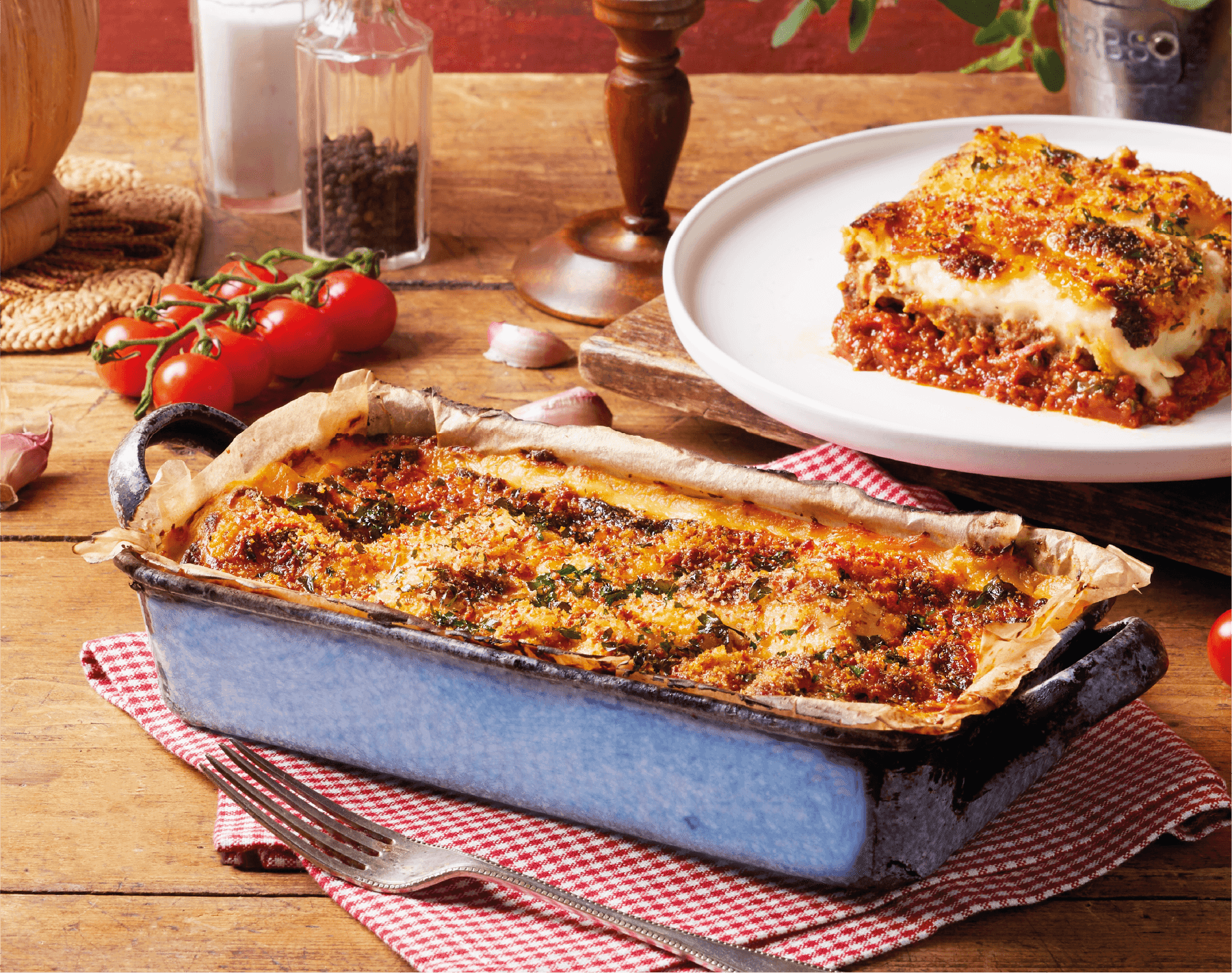 Lasagna
Rich beef and pork ragu lasagna topped with a luxurious cheese sauce with a cheddar cheese and parsley breadcrumb topping.
30 minutes
Shelf-life: Day of delivery plus 5 days
Mediterranean, High in Fibre, High protein
Suitable for home freezing
How to Cook Print
Oven cook for best results & a golden brown topping
Preheat oven to 425F, remove sleeve & film from wooden tray of lasagna. Place wooden tray in oven (Place in middle of the oven to prevent tray from catching), bake for 35-40 minutes or until golden brown
Remove from oven & allow to stand for a minimum of 10 minutes to firm up before serving
Serve using a fish spatula onto two plates.
Ingredients
Tomatoes, Beef (All natural, USDA Choice, from Midwest United States), Milk 2% fat, Lasagna sheets (No Egg), Cheddar cheese, Pork (All natural from United States), Cremini mushrooms, Onion, Carrot, Slow roast tomato paste, Red wine, Tomato puree, Red pepper, Cream, Garlic, Olive oil, Wheat flour, Butter, Beef base, Vinegar, balsamic, Corn starch, Sugar, Dijon mustard, Panko breadcrumbs, Soy sauce, Salt, Basil, Parsley, Black pepper, Oregano dried, Smoked paprika, Nutmeg
Allergens: Gluten, Milk, Soybeans
Contains mustard
Nutrition Facts
Calories 840, Fat 45g, Saturated fat 15g, Carbohydrates 63g, Total sugars 15g, Protein 44g, Fibre 7g, Sodium 1290mg
Beautiful Rendition
Tasty, Satisfying! The reviews had my expectations on the lower side. That ended after the first bite. I really enjoyed it and didn't miss anything from another lasagna I've had. I appreciate it not being greasy. For best result, you have to let it sit for at least 10 minutes, per the instructions. Promise it's worth the wait. **I cooked it in the wooden container that I sat into a same shaped ceramic dish.
Lasagna with a twist.
Lasagna was very good. A different twist without the mozzarella cheese, which I would have preferred. But it was good. Would have liked more tomato sauce too. I baked it in a Pyrex dish.
Great Lasagna
We really like this lasagna. It's got a lot of meat, nice texture to the noodles, and quite adequate portion. We cooked it in a Breville convection oven, 410 for 38 min. Let sit for about 5 min that seems about perfect.
Great Flavor-Mushy Noodles
Our fourth G&T meal was not as stellar as the others. I make homemade lasagne with bechamel sauce as well and thought G&T's flavors were really nice in this dish except that I would prefer mozzarella or parmesan over cheddar cheese. The noodles were not as thin or plentiful as I would have liked. I think that there were only two pasta sheets which were thick and mushy. The mouthfeel wasn't the best experience. The tray and parchment paper burnt in the oven. I should have removed the lasagne and heated it up in a baking dish. Won't be ordering this version, again.
Just OK but tasty
We expected a traditional lasagna. This one was different and tasty but just OK. It saved me a lot of work making a home made version. But where were the noodles?