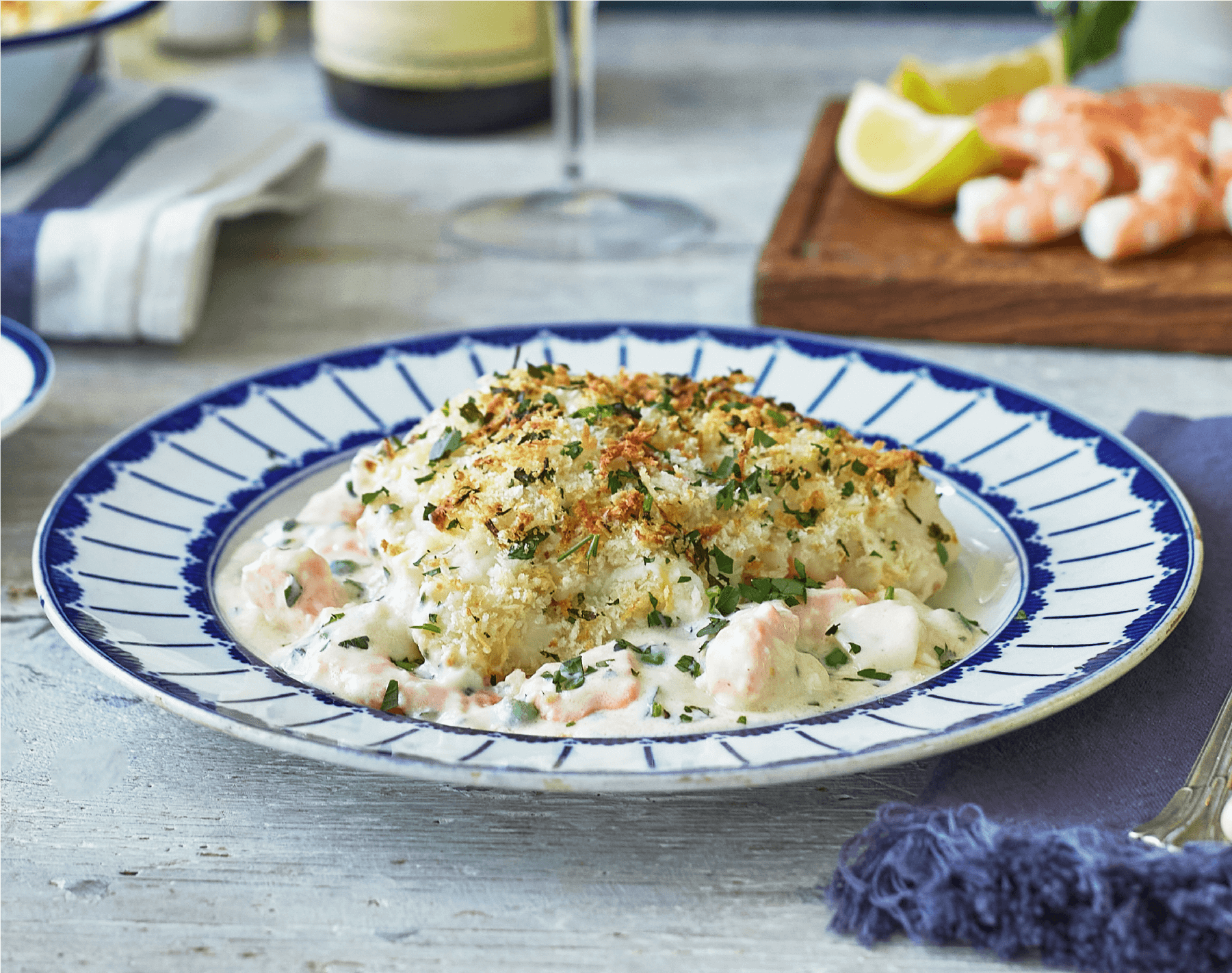 Fish pie
A traditional creamy fish pie with salmon & smoked haddock with hidden peas & spinach topped with buttery mash potato & a cheddar cheese crumb.
30 minutes
Shelf-life: Day of delivery plus 4 days
Mediterranean diet, Pescatarian, High in protein, Soy free
Suitable for home freezing
How to Cook Print
Oven cook for best results & brown topping
Preheat oven to 425F, remove sleeve & film from tray of fish pie. Place tray in oven & bake for 30-35 minutes or until mash is golden brown.
Remove from oven & allow to stand for a minimum of 5 minutes before serving to firm up.
Portion & serve into 2 portions using a fish spatula.(Add extra seasoning to your taste)
Bone warning: Our fish is filleted & deboned, however sometimes a bone can be missed. We apologise if you are the unlucky one that finds a bone.
Ingredients
Potatoes, Milk 2% fat, Salmon (Faroe Island farmed) , Cream, Cod (long line caught, wild Alaskan, MSC certified), Smoked haddock (Atlantic ocean, cold smoked), Butter, Peas, Cheddar cheese, Wheat flour, Potato Flake, Fish base, Spinach, Lemon zest, Parsley, Cornflour, Panko breadcrumbs, Salt, Black pepper
Allergens: Crustaceans, Fish, Gluten, Milk, Soybeans
Contains clams & celery
Nutrition Facts
Calories 680, Fat 40g, Saturated fat 23g, Carbohydrates 45g, Total sugars 7g, Protein 37g, Fibre 5g, Sodium 1050mg.
Yummy!
Wasn't sure what to expect but this dish is delicious. I love the different types of fish.
Fish pie
This dish is absolutely wonderful and beyond easy!
Oh so good
This is my first meal from G&T. I wasn't going to order this dish, but after reading the reviews, I couldn't resist trying it — as a sort of test to see if I could trust the reviews for future selections. It's fabulous and it's more than enough for 2. There are so many selections to choose from but sooner or later, I know I will order this again.
Excellent
Since I'm not a big fan of fish I was pleasantly surprised with this meal. I'm a party of one so there was plenty for leftovers, which I enjoyed as much for the second meal as for the first.
Favorite so far!
I love this meal. Out of the three I had so far, this is may favorite and I will order again. Its is so comforting and I love the fish, and the sauce was delicious!