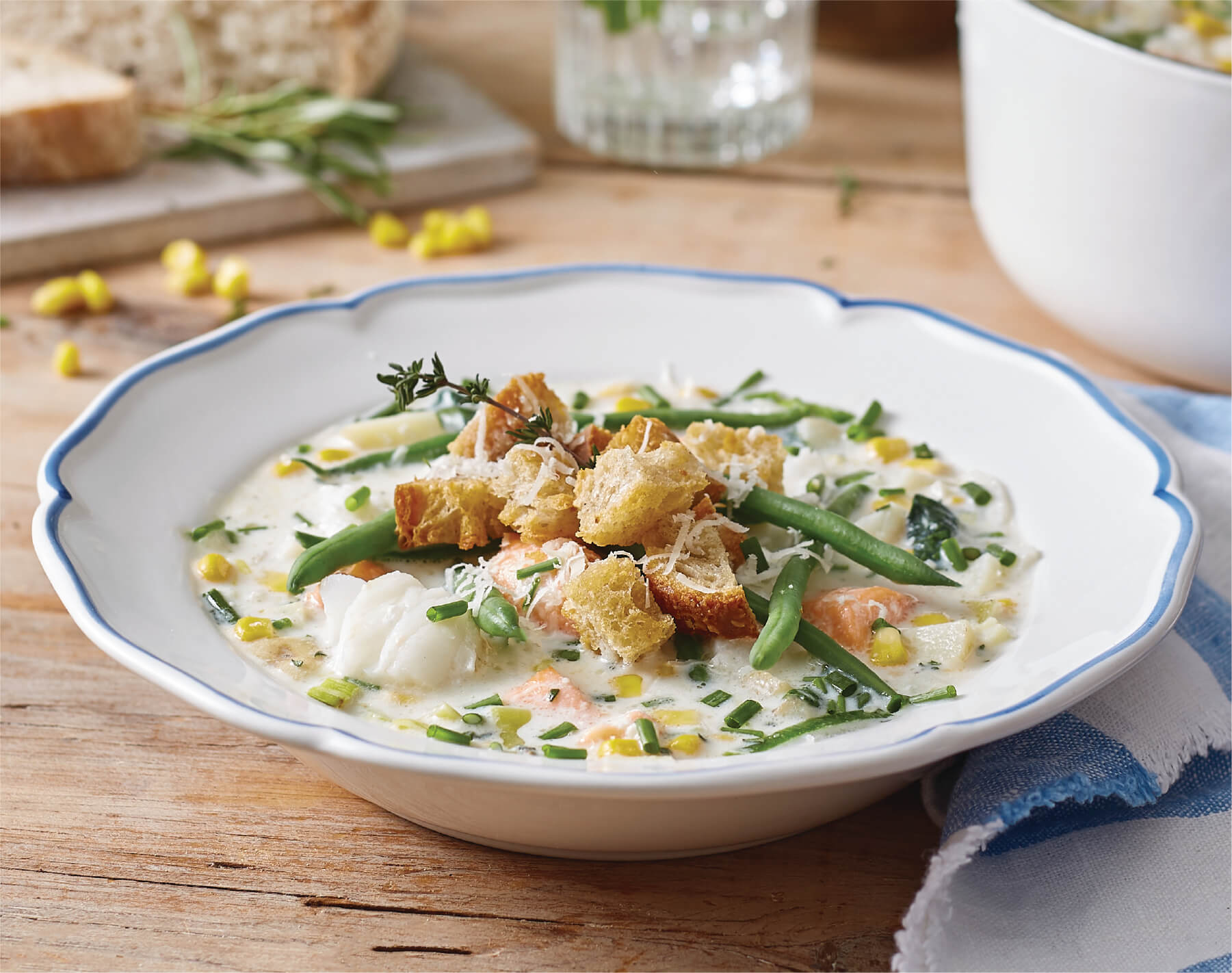 Fish Chowder
Creamy cod & salmon chowder with leeks, sweetcorn, & spinach garnished with homemade sourdough croutons
If you have received an order prior to Sunday the 26th of February, you will have received our old recipe. For more information and cooking instructions, please follow this link.
6 minutes
Shelf-life: Day of delivery plus 4 days
Mediterranean, Pescatarian, High protein
Gluten free without croutons.
Suitable for home freezing, with the exception of the croutons
How to Cook Print
Stove top for best results
Transfer the 2 pots of fish chowder to a stove top pot, warm through gently on a medium heat to a simmer for 5 - 7 minutes until piping hot. Remove any bay leaves & discard. DO NOT BOIL as this will cause curdling.
Turn off the heat, add spinach & stir to wilt
To serve divide fish chowder between 2 bowls & top with croutons (Add extra seasoning to your taste)
Bone warning: Our fish is filleted & deboned, however sometimes a bone can be missed. We apologise if you are the unlucky one that finds a bone.
Ingredients
Milk 2% fat, Cod (long line caught, wild Alaskan, MSC certified), Salmon (Faroe Islands farmed), Potato, Leeks, Onion, sweetcorn, Cream, Sourdough bread, Spinach, Olive oil, Fish stock, Butter, Garlic, Lemon zest, Chives, Salt, Thyme, Rosemary, Bay leaf, Black pepper
Allergens: Crustaceans, Fish, Gluten, Milk, Soy
Contains clams
Nutrition Facts
Calories 610g , Fat 32g, Saturated fat 13g, Carbohydrates 45g, Total sugars 12g, Protein 31g, Fibre 4g, Sodium 1160mg
Excellent
Perfect comfort food for a dreary day. Wasn't sure how husband would like it, but he lapped it up. Only complaint is that the recipe gets 'stuck' after scanning the QR code, and I've had to look up the recipe on the computer. This has happened with the last 3 meals. But I will definitely order the chowder again!
Lots of delicious fish
Beautiful combination of flavors, generous contents.
Delicious but watch out for the sodium!
This was delightful and quite satisfying, but it's too salty and the sodium content is way too high. The dish would taste better with less salt!
I was a little worried.
I was a little worried that my husband would not think it was enough for dinner. But that was not the case at all. The chowder is so rich and flavorful! The herbs come through…..the fish and potatoes are plentiful.
Comfort food
This was good - even my boyfriend liked it and he doesn't like chowder . A nice meal, great flavor, croutons were perfect. Would serve with a fresh crusty loaf of bread next time.