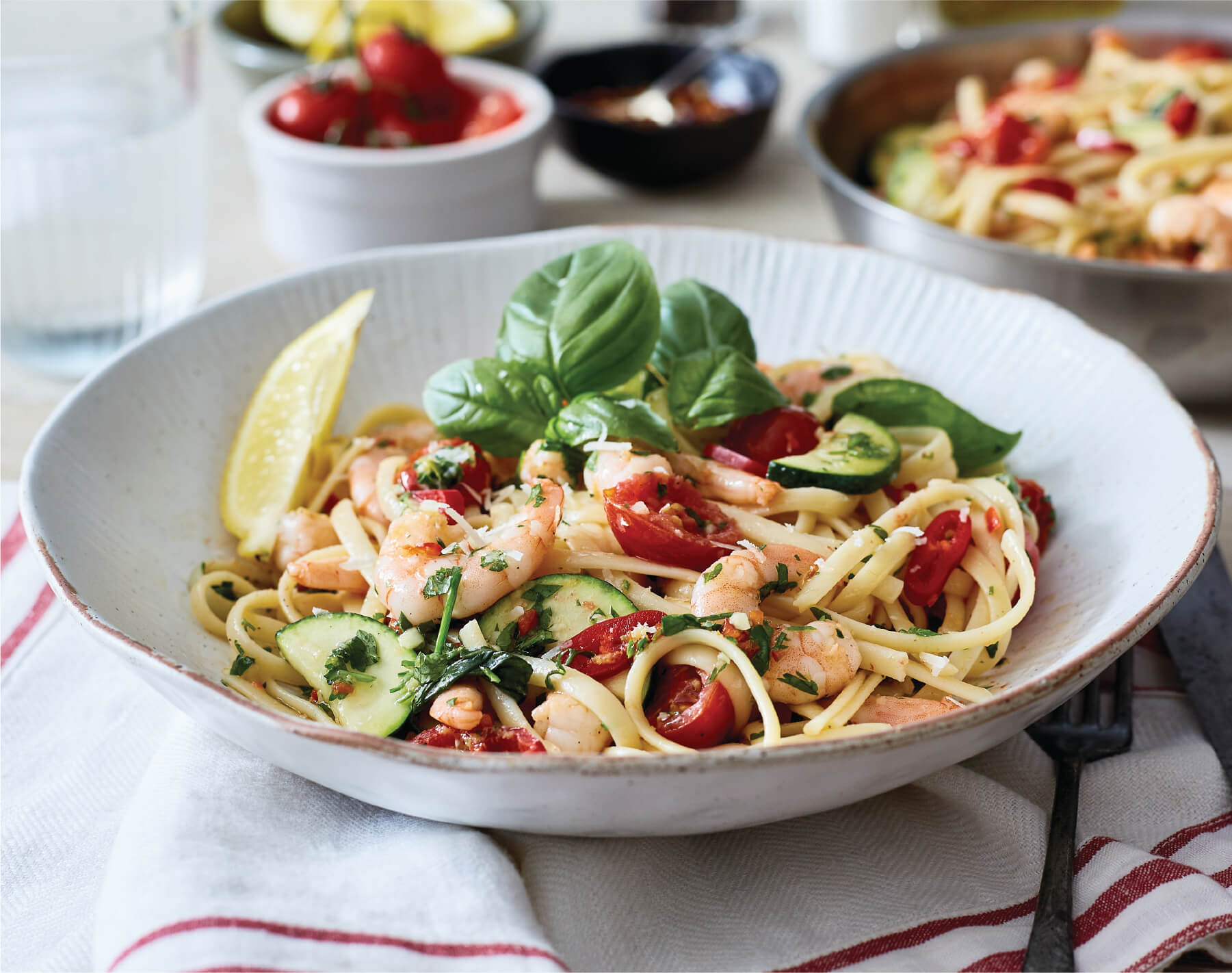 Chili, garlic shrimp linguine
Chili, garlic & lemon shrimp linguine with slow roast tomatoes and zucchini
8 minutes
Shelf-life: Day of delivery plus 4 days
Mediterranean, Pescatarian, Soy free, High fibre, High protein.
Suitable for home freezing, with the exception of the lemon and shrimps
How to Cook Print
To maximise freshness put the shrimps straight into the freezer on arrival. Defrost when needed in a couple of minutes in the microwave.
For Best results stovetop
Heat 1 tbsp of oil in a large frying pan over medium heat, add defrosted raw shrimps (drain liquid), cook for 2 minutes.
Add the tomatoes & zucchini to the same pan, cook for a further 3 - 4 minutes. As the tomatoes cook squash with the back of a wooden spoon.
Add linguine & garlic butter, mix well & cook for a further 2 minutes to warm through
Take pan off the heat, add arugula mix to wilt, season with salt & pepper, squeeze over juice 1/2 lemon. Finish with a further 1/4 lemon to your taste.
Microwave instructions:
Transfer tomatoes & zucchini, linguine, garlic butter & defrosted raw shrimps (drain liquid) into a large microwavable bowl.
Microwave for 7-8 minutes or until pipping hot.
Season with salt & pepper, squeeze 1/2 lemon , add arugula & mix through to wilt. Finish with a further 1/4 of a lemon to your taste.
Cooking tip:
For best results when stovetop cooking use a non stick frying pan to prevent prawns an pasta from sticking.
Ingredients
Shrimp (All natural hormone & antibiotic free, farmed in South East Asia), Zucchini, Linguine, Lemon, Olive oil, Slow roast cherry tomatoes, Butter, Garlic, Arugula, Red chilli, Parsley, Lemon zest, Salt, Dried red chilli flakes
Allergens: Crustaceans, Gluten, Milk
Nutrition Facts
Calories 600, Fat 27g, Saturated fat 9g, Carbohydrates 56g, Total sugars 5g, Protein 34g, Fibre 4g, Sodium 410mg
It's a winner!
Super tasty and easy to make. Just the right amount of kick.
I would have enjoyed a few more shrimps, but we will certainly be ordering this one again.
Delicious
We love this dish, it is simply delicious, and quick. I order it almost every week. However, I would like to see more significant portions. There is not quite enough for the two of us.
Fantastic! Shrimp so juicy and succulent 😄😋😋
I'm a bit late in reviewing the meals I've been subscribing to since June but here is one of my favorites --- the chili seasoning adds just
the right "kick". I love the linguine choice instead of plain old spaghetti for pasta
SCRUMPTIOUS!
Fantastic flavors; perfect seasonings; healthy and filling while being in perfect calorie range per portion. One of my go-to favorites.
My favorite!
This is my very most favorite of all of the G & T meals - absolute love it - super flavors and just enough spiciness! My only asks - add more arugula and make the portions bigger - a little too small for two.