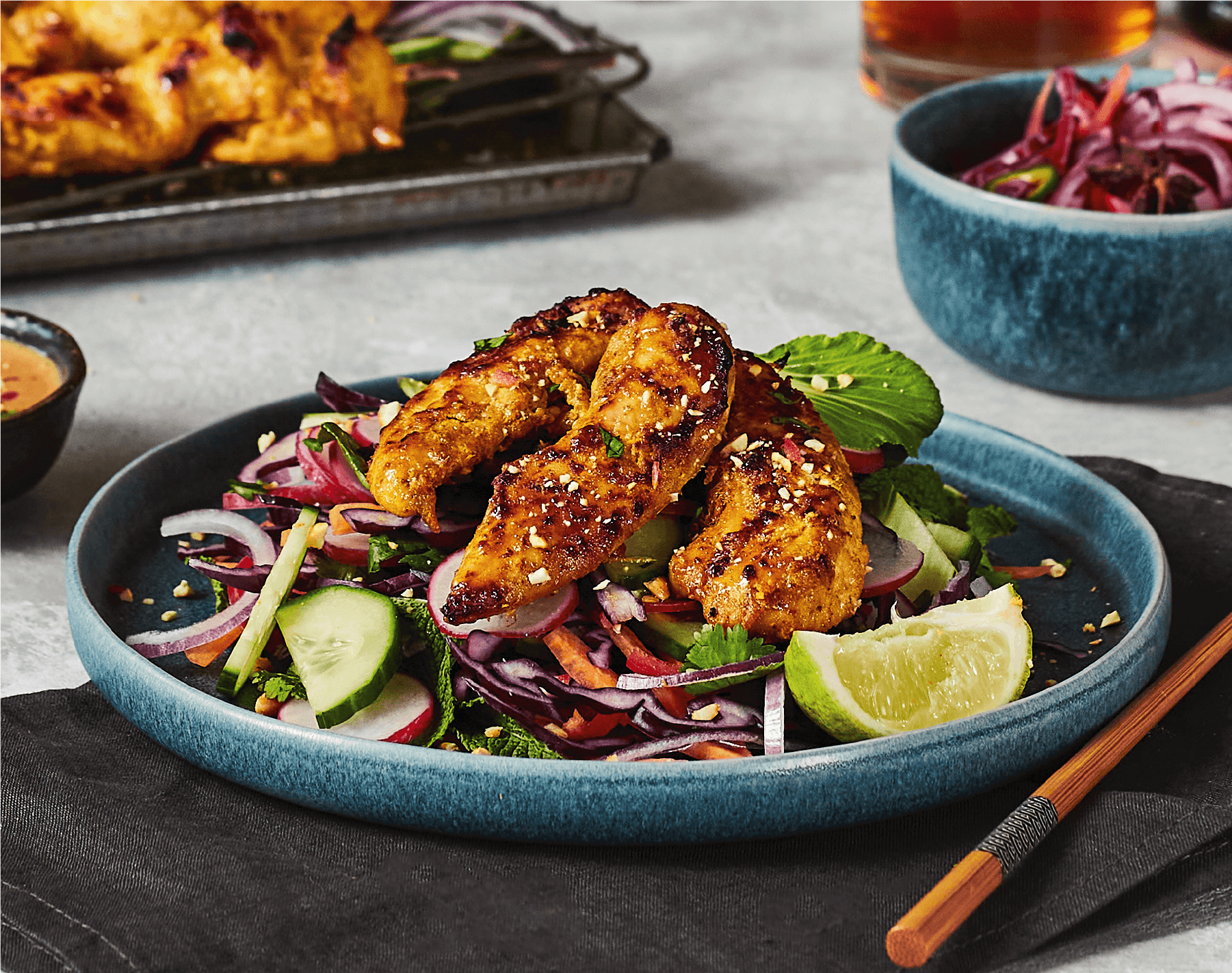 Chicken Satay
Chicken breast fillets marinated in Thai spices served with our homemade peanut satay dressing on a bed of cucumber slaw & pickles
Broiler or Stove top, Raw protein
8 minutes
Shelf-life: Day of delivery plus 4 days
Mediterranean, Dairy free, High in protein, High in fibre
Chicken & satay dressing suitable for home freezing.
How to Cook Print
For best results Broil
Remove the satay dressing from the fridge 10 minutes before eating to loosen at room temperature
Preheat broiler to maximum, transfer raw marinated chicken satay to baking tray (drain any liquid). Season with salt & pepper, cook for 3-4 minutes on each side or until chicken is fully cooked. (Alternatively you can pan fry chicken in oil or cook in the oven for approximately 8-10 minutes at 350F or until cooked.)
Transfer slaw & herbs to a mixing bowl. Slice cucumber lengthwise & into half-moons, add to bowl with slaw & mix well
Top salad with cooked chicken, spoon over satay dressing, pickled vegetables, peanuts finishing with a squeeze of 1/4 lime.
Ingredients
Chicken breast fillets (All natural, hormone free, from South Eastern United States), Peanut butter, Coconut milk, Soy sauce, Honey, Lime, Cucumber, Red cabbage, Carrot, Bok choy, Dry roasted peanuts, Red onion, Red Thai curry paste, Lime juice, Ginger, Garlic, Brown sugar, Peanut oil, Sunflower oil, Lemongrass, Sesame oil, Onion powder, Cider vinegar, Fish sauce, Garam masala, Coriander, Cilantro, Mint, Turmeric, Red chilli, Crushed red chilli, Salt, Pepper
Allergens: Crustaceans, Fish, Gluten, Peanuts, Sesame, Soy
Nutrition Facts
Calories 670 , Fat 33g, Saturated fat 7g, Carbohydrates 41g, Total sugars 24g, Protein 51g, Fibre 7g, Sodium 1030mg
Good, not Great
Not a fan of coconut (didn't intentionally order this), but there's not much coconut taste. It was fine, but not great, and not something we would order again, for sure. Also, the instructions said to cook the chicken on each side for three to four minutes, but they were small strips, not breasts, so not sure the recipe was written before they switch to strips from breasts.
Wonderfully tasty and filling
My husband and I really enjoyed this flavorful and satisfying meal. I cooked the chicken in our air fryer in a little dish. When I served the salad, I gave my husband all of the red chilis and he loved them. The peanut sauce was divine. We have added this to our re-order list.
Chicken satay
Wasn't sure what to expect when I opened it, very odd mixture for slaw ( so I thought). It was fabulous! Chicken was very tender, the satay dressing had great flavor. Slaw was perfect for the dish. It's a bit spicy but too much. Really enjoyed!
Not sure why 5 stars
Not sure why this is purely 5 stars, I didn't add the pickled vegitables maybe that would have made it better but they smelled bad. The meal was good but I had the other one like this that was better yesterday and this one is not as good not as many flavors so just a 4
DELICIOUS
Wow! I loved everything about this meal. It wasn't too spicy for me.