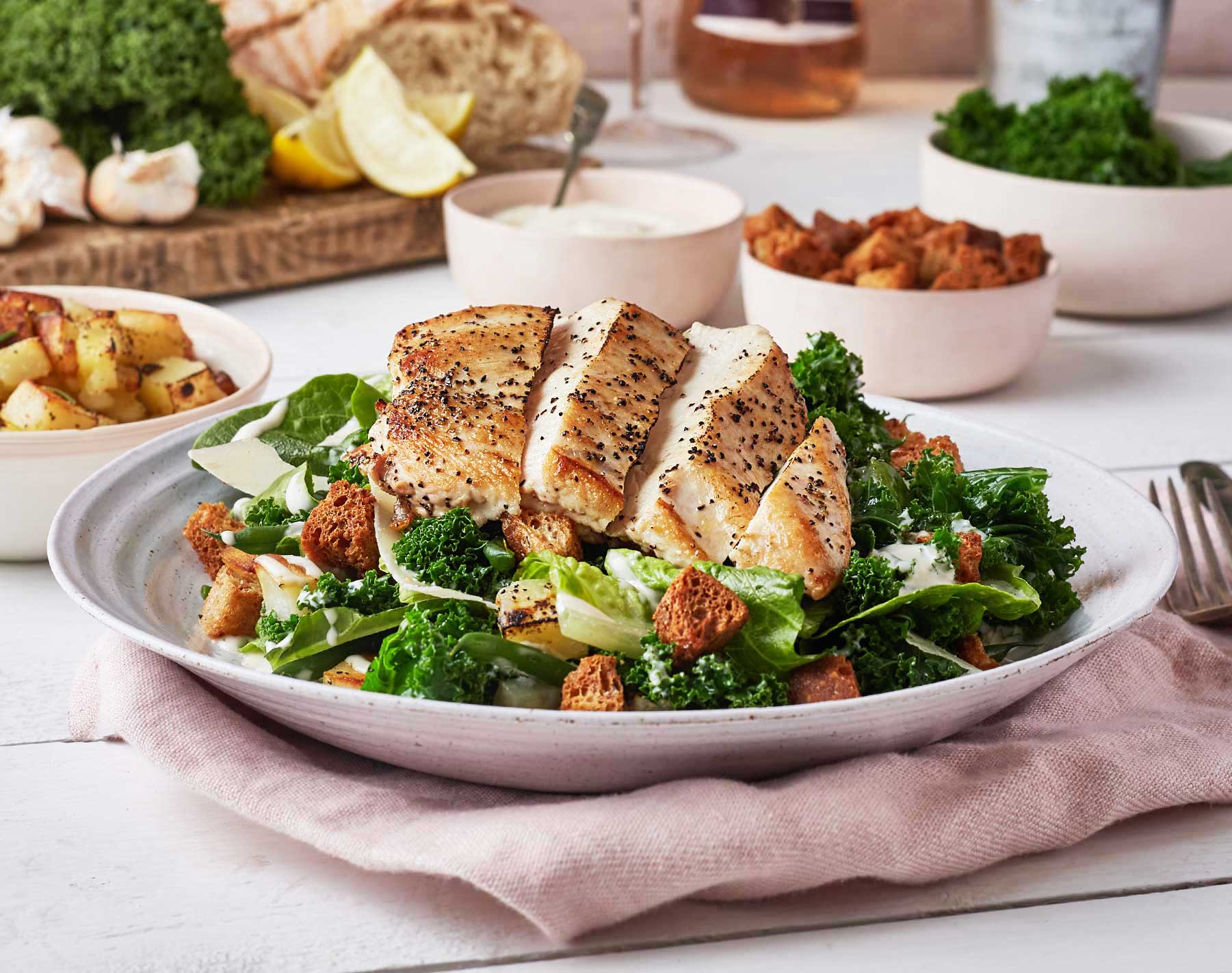 Chicken Caesar
Pan seared chicken breasts with a romaine and kale salad dressed in our homemade Caesar dressing, sour dough croutons and a side of rosemary & garlic homestyle potatoes
8 minutes
Shelf-life: Day of delivery plus 4 days
High Protein, High fibre, Soy free, Mediterranean diet
Gluten Free without sourdough croutons.
How to Cook Print
For best results stovetop
Remove Caesar dressing pot from fridge 10 minutes prior to serving so it's pourable.
Heat 1 tbsp oil a pan over a medium - high heat on stovetop. Season chicken with salt & pepper. Fry chicken for 4-5 minutes on each side or until cooked through. Remove from pan and allow to rest.
In the same pan add the garlic & rosemary potatoes and fry for 3-4 minutes or until potatoes warmed through.
Place romaine and kale in a bowl, add ¾ of the Caesar dressing and toss leaves in the dressing. Slice the chicken breast and place on top of the lettuce. Drizzle the remaining dressing over chicken and lettuce. Sprinkle with garlic & rosemary croutons & parmesan. Serve with a side of potatoes.
Cooking tip:
Our chicken breasts are hand-cut so cooking times may vary due to thickness. You can check your chicken is fully cooked by ensuring it reaches 165F.
Ingredients
Chicken (All natural, hormone free from Southeast United states), Potatoes, romaine, Mayonnaise - Reduced fat, Kale, Sourdough Bread, Parmesan, Olive oil, Yoghurt, Garlic, Lemon zest, Worcestershire sauce, Anchovy, Rosemary, Dijon mustard, Salt, Black pepper
Allergens: Eggs, milk, fish, gluten
Contains: Mustard
Nutrition Facts
Calories 640, Fat 34g, Sat Fat 7g, Protein 42g, Carbohydrates 42g, Total sugars 4g, Fibre 5g sodium 1270mg
Fun twist on a classic salad!
I thought the potatoes in the salad sounded odd, but I loved it! Surprisingly filling and delicious.
Smashing Caesar
Hit a bullseye with this salad. More than enough chicken, juicy and tender. Nice sturdy combination of romaine and kale. Sauce is spot-on, anchovies, garlic, parm, lemon and texture are great. I added a bit of Worcestershire and black pepper, just a preference. Will order again for sure.
Great healthy meal
Salad was great! Loved the added garlic rosemary potatoes. Filling, year healthy meal.
Great little twist on a caesar
My husband and I loved this Caesar. We loved the ratio of kale to romaine, dressing was tasty and potatoes added a pleasant texture!
False advertising doesn't take 8 minutes took 35 min
Needed more dressing bland and took 35 min not 8 false advertisement