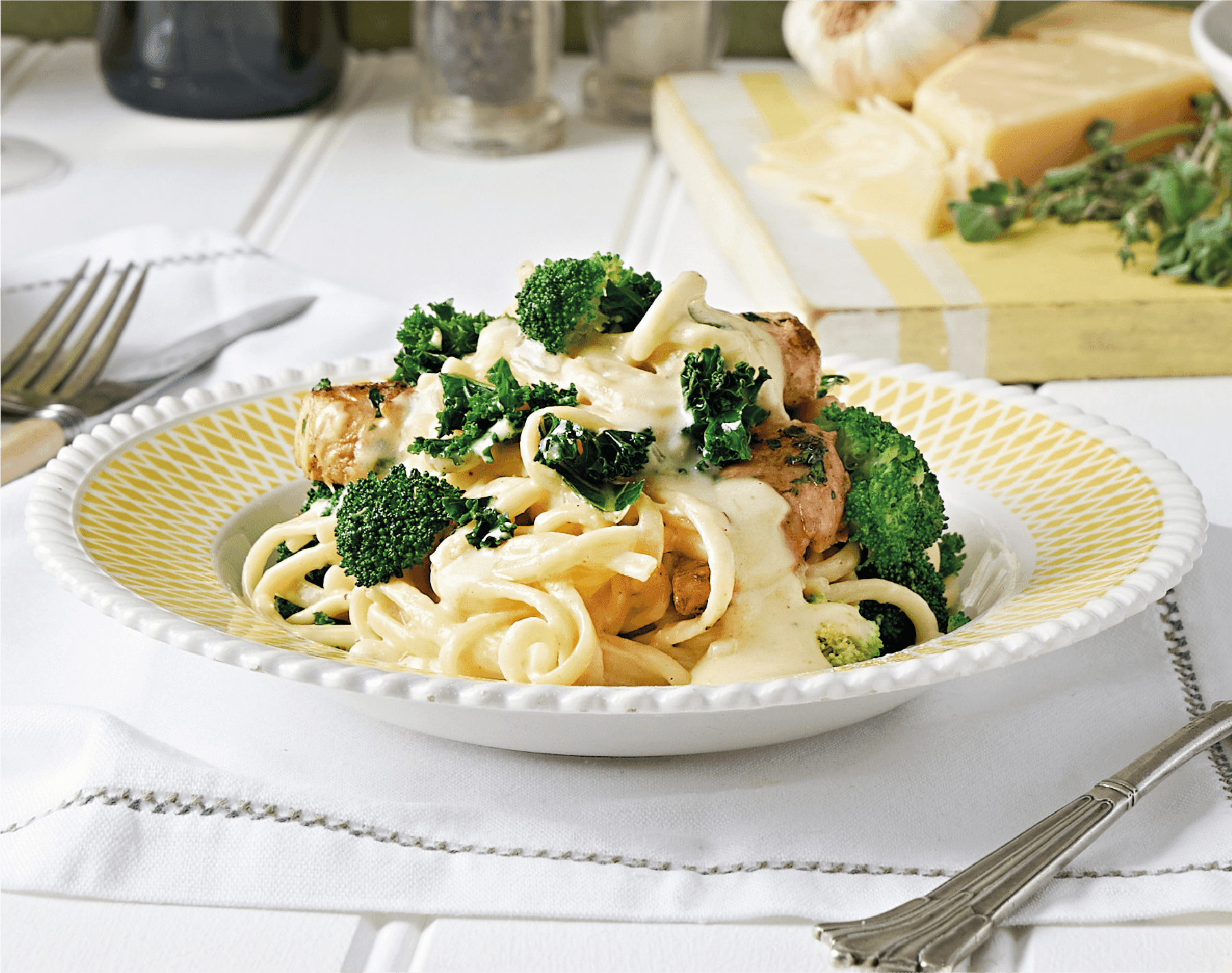 Chicken Alfredo
Ready to pan sear garlic marinated chicken breast on a bed of linguine in a creamy alfredo sauce with broccoli. Finished with wilted spinach and grated parmesan.
7 minutes
Shelf-life: Day of delivery plus 4 days
High Protein, Soy Free, Mediterranean diet
Suitable for home freezing except from the spinach.
How to Cook Print
For best results stovetop
Heat 1 tbsp of oil in a non-stick pan on high heat, add r

aw marinated chicken alfredo

and

broccoli,

to

the pan, stir fry for 4-5 minutes until cooked

Reserve Parmesan then pour 1 tbsp of water over linguine in tray. Remove lid from

pot of alfredo sauce,

place lid back on loosely, microwave both pot of alfredo sauce and tray of linguine together for 3 minutes or until piping hot.

Take pan of chicken & broccoli off heat, add spinach, stir to wilt.

Divide linguine between two plates, top chicken and vegetables. P

our over alfredo sauce and garnish with

parmesan

.
Ingredients
Chicken (All natural, hormone free from South Eastern United States), Linguine, Broccoli, Cream, Milk 2% fat, Spinach, Parmesan, Cheddar cheese, Extra virgin olive oil, Butter, Garlic, Corn Starch, White wine, Salt, Sugar, Lemon zest, Italian dried herbs, Black pepper
Allergens: Gluten, Milk
Contains Celery
Nutrition Facts
Calories 840, Fat 46g, Saturated fat 23g, Carbohydrates 56g, Total sugars 4g, Protein 50g, Fibre 2g, Sodium 790mg
Yum
This dish is one of my favorites from Georgie and Tom's kitchen. Creamy and seasoned mildly.
Tasty Meal!
Super easy to make - I love the garlic sauce - tasty and plenty of it. I did add a bit more chicken than they give you not because there wasn't enough (the portion size was just right for two people) I just wanted a bit more chicken. I also cooked the chicken a bit longer than recommended - I like a little bit of brown to the chicken. I will order this dish again for sure!
Yummy
I had come home from wrist surgery and wanted an easy dish to prepare. This was great but I found that it needed a little more sauce. Other than that it was a lovely dinner and we both enjoyed it! We will have it again.
Very good!
Tastes just like one of our local genuine Italian restaurant dishes. We really like this dish. Spinach instead of kale was a great upgrade. Wish the portion size was larger but really good overall!
Love the new recipe!
I'm so glad I gave this a second chance after the recipe changed. I didn't care for the first time I tried it. The smaller pieces of marinated chicken are much better. Overall delicious!