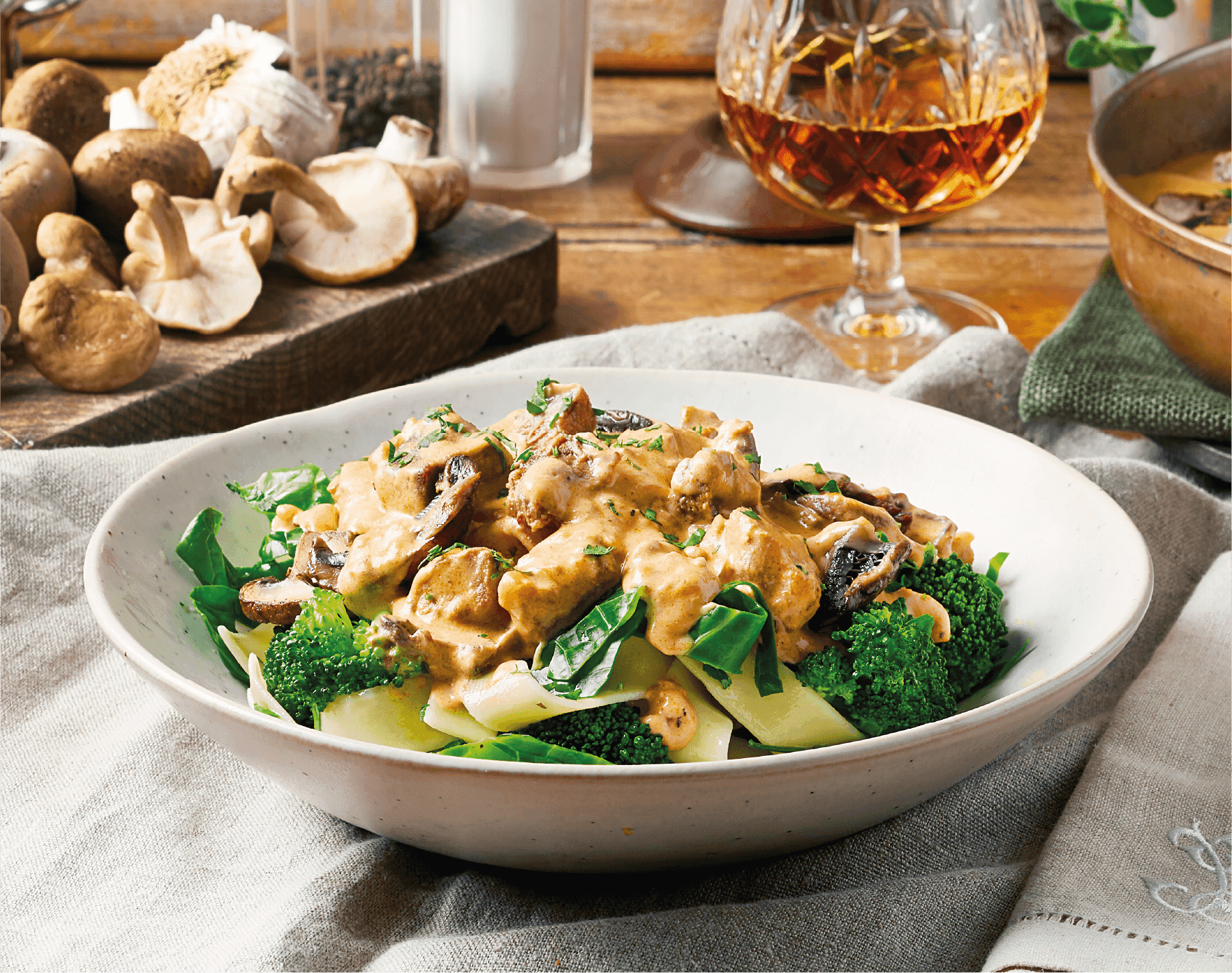 Beef Stroganoff
Slow cooked beef in a luxurious brandy, mushroom & Dijon mustard cream sauce on a bed of pappardelle pasta & broccoli
8 minutes
Shelf-life: Day of delivery plus 5 days
Mediterranean diet
Pot of beef stroganoff & tray of pasta & broccoli suitable for home freezing
How to Cook Print
For best results microwave
Remove lid from the pot of beef stroganoff, place back on loosely. Microwave for 3 minutes on high.
Give the pot of beef stroganoff a stir, place lid back on loosely then return to microwave for a further 2 - 3 minutes or until piping hot. Remove from microwave, leave lid on to keep hot.
Remove film from tray of broccoli & pappardelle pasta. Leave parchment paper in tray. Sprinkle 1 tbsp water over broccoli & season with salt & pepper. Microwave tray for 2-3 minutes until broccoli cooked and pasta piping hot.
Serve beef stroganoff on bed of pasta & broccoli. (Add salt & pepper to your preference)
Ingredients
Beef (All natural, USDA choice from mid-west United States), Cream, Pappardelle (Egg pasta), Cremini mushrooms, Onion, Broccoli, Collards, Brandy, Yoghurt, Butter, Red wine, corn starch, Dijon mustard, Olive oil, Sunflower oil, Garlic, Parsley, Salt, Lemon zest, Sugar light brown, Beef base, Smoked paprika, Sauce, Worcestershire, Black pepper, Thyme, dried
Allergens:
Gluten, Fish, Milk, Soybeans, Egg,
Contains: mustard
Nutrition Facts
Cals 820, Fat 44g, Sat Fat 23g, Protein 36g, Fibre 4g, Carbohydrates 62g, Total Sugars 6g, sodium 1200mg
Better Cooking Directions...
Hi,
This is a review about the beef stroganoff, but it applies to other menu items as well...My problem is with your cooking directions. I can't tell you how many times I messed them up, b/c I misread them. Quite possibly, that's my fault. I'm an intermediate-level cook. I think one problem is that the directions need to be spelled out clearly, step-by-step, with the novice cook in mind. In the case of the beef stroganoff, here's what happened. I followed the directions as written....Lift lid from the pot of beef stroganoff, microwave with lid loosely placed, microwave on high for 3 minutes. Stir and return to microwave for 2-3 minutes. What happened was that the plastic top had begun to melt. I took it out of the microwave and the plastic was partially melted and too hot to hold. I dropped it and it spilled all over the counter. BIG, HUGE mess. I would have given directions (b/c microwaves very in intensity) to place (and maybe loosely cover) in a microwave-safe container....
Also, not everyone likes broccoli half raw. I am one of these people. Might include in the directions time to cook, depending on your preference...
I have worked for years in the EdPub industry. For one job, I was tasked to write (ADP was the client) directions for using a software products related to stocks "that a monkey could understand." I interviewed tech people, wrote down every single step I had to take to complete certain tasks. Everyone was pleased with the products.
Cooking directions should be geared to the least experienced cooks. Experienced cooks know how to sift through directions to get what they need.
My two cents.
Sheila
Hurray for the broccoli!
This is one of our favorites, especially because we got all broccoli this time. Kale is not a favorite. My husband says beef stroganoff is traditionally served over mashed potatoes, but I picture it with egg noodles, so either way we really like it.
Didn't love
This was the first G&T meal I didn't love. It had an odd taste and smell to it. My husband was ok with it....I gave him mine. Reading these reviews, I wonder if we got an off batch. Oh well. Lots of other yummy options. And it only came with broccoli. No kale.
Delicious!
This dish was delicious! We would not change a thing!
Great Dish Easy to Put Together
I agree there could be a little more meat in this dish other than that I love kale and broccoli. I personally prefer more protein (meat).