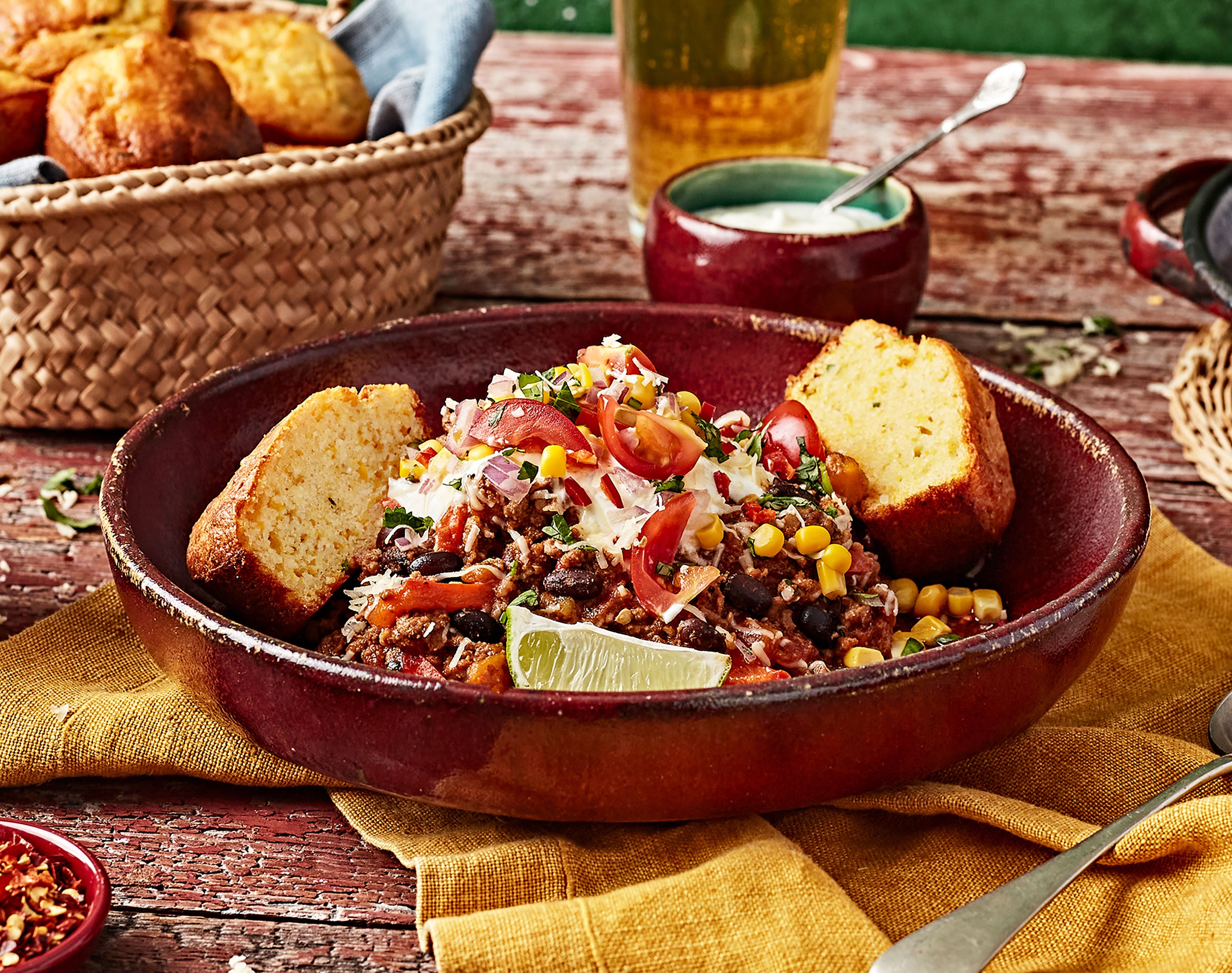 Beef chili
Slow-cooked beef & black bean chili with brown rice, homemade cornbread muffins, tomato & corn salsa garnished with cheese & fresh lime
8 minutes
Shelf-life: Day of delivery plus 5 days
High in fibre, Mediterranean diet
Pot of chili suitable for home freezing
How to Cook Print
How to cook
1. Remove lid from pot of chili, place back on loosely & microwave for 4 minutes on high, remove & stir.
2. Remove all contents from wooden tray except for brown rice, Add 1 tbsp water to the rice. Microwave tray of rice with pot of chili for an additional 3 minutes.
3. Slice tomatoes into 1/4's, mix with corn and scallions, squeeze over 1/2 lime & season to make salsa.
4. Microwave corn muffins for 30 seconds until warm & moist. (Alternatively for best results you can warm corn muffins for 10 minutes in the oven at 350F.)
5. Serve chili over rice topped with salsa, cheddar cheese and a squeeze of 1/4 lime
Ingredients
Beef (Ground All natural, USDA choice from Midwest United states), Brown rice, Black beans, Red pepper, Tomatoes, Lime, Sweetcorn, Tomato, Onion, Cheddar cheese, Sunflower oil, Tomato puree, Carrot, Celery, raw, Wheat flour, Milk 2% fat, Sugar, Scallion, Fine polenta, Egg whole, Garlic, Corn starch, Salt, Beef base, Cilantro, Smoked paprika, Baking powder, Cumin, Chili powder, Coriander ground, Orange juice, Garlic powder, Cayenne pepper, Chipotle powder, Black pepper, Oregano dried
Allergens:
Egg, Gluten, Milk, Soybeans
Contains: celery
Nutrition Facts
Calories 690, Fat 29g, Saturated fat 7g, Carbohydrates 77g, Protein 30g, Total sugars 14g, Fibre 9g, Sodium 1150mg
Terrific Fall Comfort Meal
I really recommend the Beef Chili! It is a incredible variety of texture and flavors. It will become a favorite of mine for sure.
I don't even like chili!
We just ordered Beef Chili for the third straight week. It's fantastic! Having the salsa mixture with corn to put on top is a wonderful idea. If the rice doesn't tone it down enough for you, serve sour cream on the side which will deal with the spiciness. This is our favorite Georgie & Tom dinner, or lunch, or brunch, or . . .
Yummy dish
This chili dish is over the top!! I keep ordering it because it is that yummy and very filling. Highly recommend!
Nice dish for lunch or dinner
I liked this dish for lunch or light dinner . Flavors are very good . The cornbread is nice touch .
Delicious
Perfect combo of flavors and textures. I greatly enjoyed it .