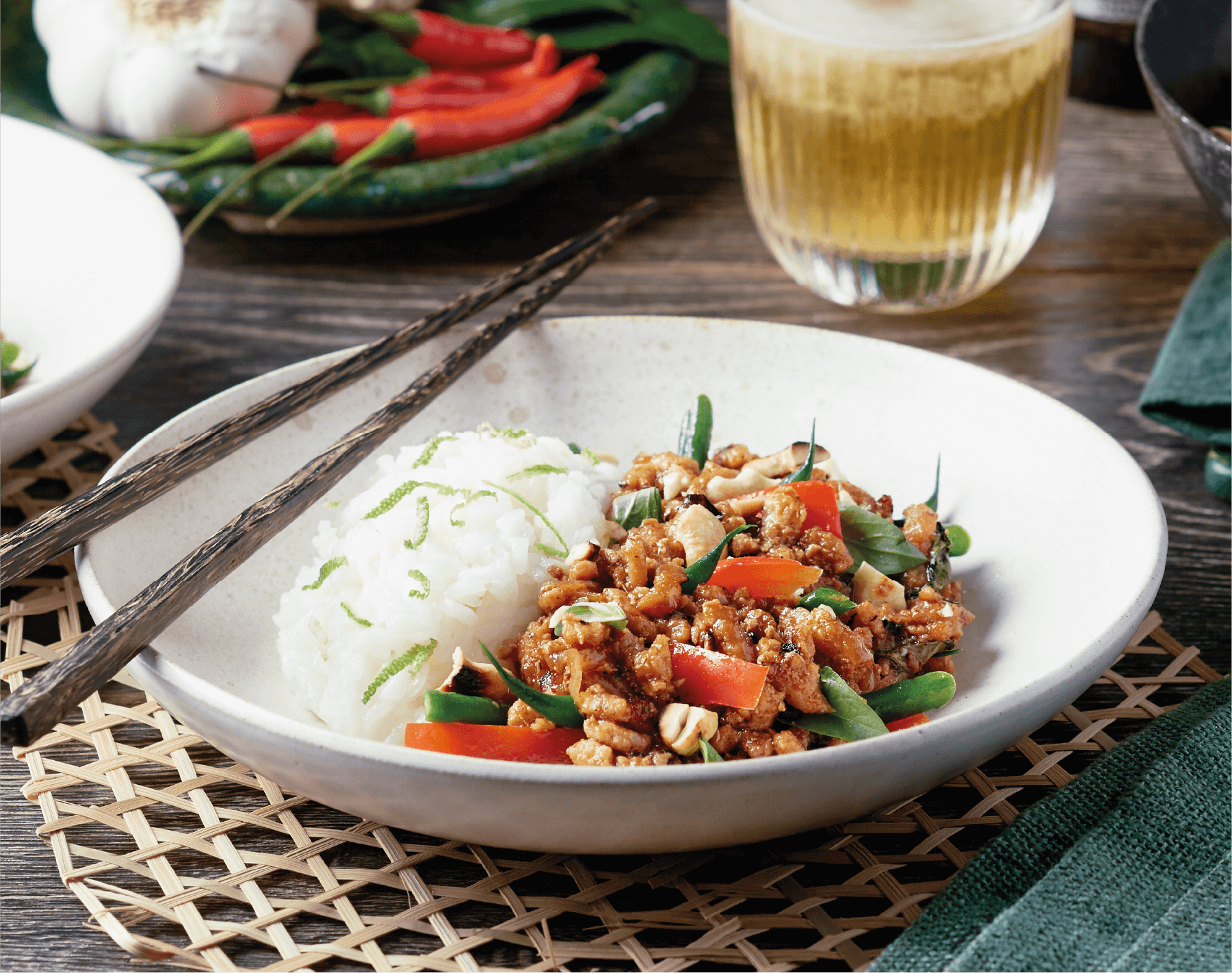 Thai Basil Chicken
Ground chicken stir fried in a sweet and sour soy and fish sauce dressing with Thai basil, red peppers, scallions, and haricot verts. Served with lime and coconut rice and toasted cashews.
7 minutes
Shelf-life: Day of delivery plus 4 days
Dairy free, Mediterranean diet
How to Cook Print
For best results stovetop
Remove film from wooden tray, reserve cashews and pot of cilantro, scallions & chili.
Heat 1 tbsp oil in a large frying pan on high heat. Fry vegetables and Thai basil for 1-2 minutes.
Add pot of Thai basil chicken to same pan & cook for a further 2 minutes or until pipping hot.
Microwave tray of rice with a tbsp of water for 2-3 minutes (leave parchment paper ontop of rice) or until pipping hot.
Serve Thai basil chicken with rice on side, garnished with cashews, cilantro , scallions & chili.
Microwave instructions
Remove film from tray, reserve cashews & pot of cilantro, scallions and chili.
Add 1 tbsp of water to tray of vegetables & rice. Place in microwave with pot of Thai basil chicken (lid on loosely). Microwave together for 6-7 minutes or until pipping hot.
Serve Thai basil chicken with rice on side, garnished with cashews, cilantro, scallions & chili.
Spice warning (If you would prefer a less spicy dish please refrain from adding the chilies in the garnishing pot)
Ingredients
Ingredients list: Chicken (All natural, hormone free from Southeast United states), Jasmine rice, Red pepper,
Haricot vert, Coconut milk, Cauliflower, Soy sauce, Cashew nuts, Thai basil, Sugar light brown, Scallion, Lime
juice, Sunflower oil, Fish sauce, Onion, Honey, Ginger, Garlic, Red Thai curry paste, Red chilli, Tomato
puree, Cilantro, Lemongrass, Salt, Lime leaf, Red chili flakes
Allergens: Gluten, Fish, Soybeans, Tree Nuts
Nutrition Facts
Nutritional information per portion
640 Cals, Fat 28g, Sat Fat 8g , Protein 30g, Fibre 4g,Carbohydrates 67g, Total Sugars 20g, Sodium 1650mg,
Quick and tasty
This meal was the easiest to prepare of any I've tried, and I will order it again. The chicken is minced, which I didn't mind -- like the texture of lamb -- but it definitely needs the crunch from the nuts.
Great flavor - looks weird
Like others have mentioned because this is ground chicken it turns out looking a little weird (sloppish) but if you get past that the flavor is very good. Agree this would be a 5/5 if switched to small chopped or cubed chicken.
Good but way to salty
The chicken and rice were good but very salty.
Good flavors but didn't like ground chicken.
Cut up chicken would have been better. Also would update the instructions to hold the Thai basil as it got too wilted.
ok, but not great
The spice level in it was fine, and tons of thai basil, but using ground chicken - no. We did not care for the consistency or how it tasted - just use large chunks instead please!!