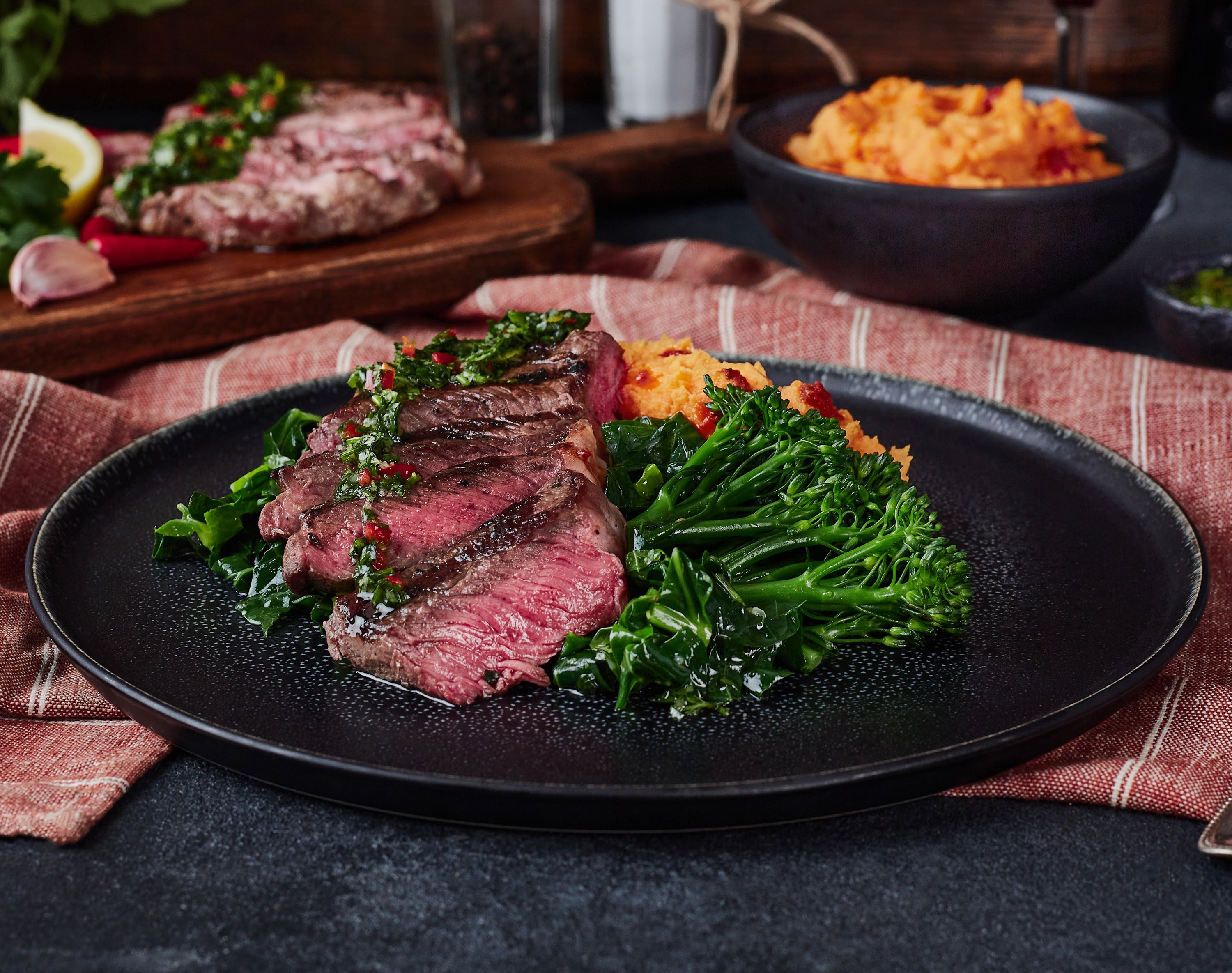 Steak chimichurri
With sweet potato mash seasoned with harissa & seasonal greens
8 minutes
Shelf-life: Day of delivery plus 5 days
Mediterranean, Gluten Free, Soy Free, High Protein, High Fibre
Suitable for home freezing
To maximise freshness put the raw steak straight into the freezer on arrival. Defrost when needed in a couple of minutes in the microwave
How to Cook Print
For best results stovetop
Season steak with salt & pepper. Heat 1 tbsp oil in a frying pan on medium - high heat, cook steak to your liking. Rest steak whilst you cook your vegetables.
Remove Film from tray, reserve chimichurri & remove seasonal greens and steam over a pot of boiling water on the stove top, or alternatively you can panfry in oil on the stove top in the steak pan, or you can microwave drizzled with 1 tbsp of water for 3 to 4 minutes.
Microwave the sweet potato mash for 2 minutes or until piping hot (leave the parchment paper on top)
Serve the steak sliced on a bed of seasonal greens drizzled with the chimichurri (mix chimichurri before serving)with the mash on the side.
Cooking tips:
Our steaks are hand-cut so cooking times may vary due to thickness. Cook steak to your liking with the below temperature guides;
Rare 120F, medium rare 130F, medium 140F, well-done 160F
Rest your steak for 5 minutes before eating to maximise tenderness
Ingredients
Sweet potato, Sirloin Steak (All natural USDA Prime, from Midwest United States), Broccoli, Collards, raw, Extra virgin olive oil, Lemon zest, Butter, Parsley, Red chilli, Red wine vinegar, Harissa paste, Garlic, Sugar, Cilantro, Salt, Lemon juice, Black pepper
Nutrition Facts
Calories 710, Fat 43g, Saturated fat 10g, Carbohydrates 44g, Total sugars 11g, Protein 37g, Fibre 8g, Sodium 570mg
Fantastic!
Amazing! Perfect meal! Loved the spicy sweet potato!!!
Delicious!!
I truly enjoyed this meal! The steak was so tender!
I don't like to cook but this was very easy. I'm enjoying every minute!
Good and not-so-good
The steak was great, and I loved the chimichurri sauce. The sweet potato mash would have been a good counterpart, but I didn't like the spiciness.
The chimichuri sauce ruined the taste
Texture was good and the sides were fine but the chimichuri sauce tasted like it was out of a bottle. The sauce was not good at all
Well rounded
This meal was delicious! The balance of textures and flavors in this meal sing. Heads up the mash has a bit of a kick to it. The chimichurri sauce was superb. Wish I could order it to put on everything-it was that good.