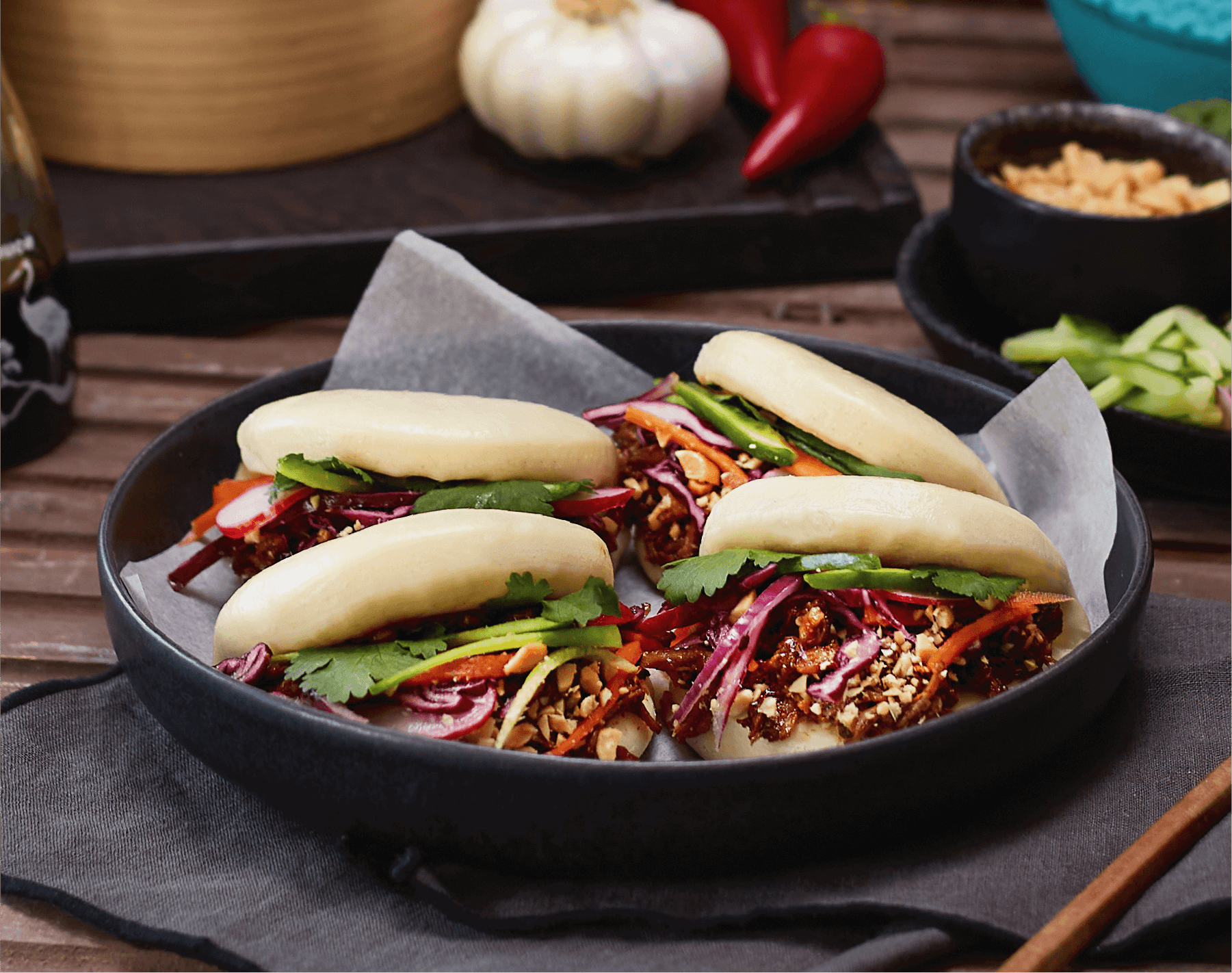 Pork Bao buns
Slow cooked shredded pork in a sticky Chinese 5 spice, ginger, soy dressing in soft bao buns finished with pickled vegetables, cucumber, peanuts & cilantro
5 minutes
Shelf-life: Day of delivery plus 5 days
Mediterranean, High in Protein, Dairy free
Bao buns & sticky pulled pork suitable for home freezing
To maximise freshness put the Bao buns in the freezer on arrival. Defrost when needed outside of the fridge
How to Cook Print
Microwave for speedy results
(4 bao buns per person)
Remove film from wooden tray, remove all contents to leave paper insert. Open pack of sticky pork & transfer to the empty tray. Microwave for 2 to 3 minutes depending on your microwave until piping hot.
Open film from tray of Bao buns, microwave for 1 minutes or until buns are warmed through. Alternatively you can heat the sticky pork in a pot on the stove top and warm the bao buns over a steamer of boiling water.
Slice cucumber into thin sticks.
Place the warmed pork, warmed bao buns, cucumber sticks, pickle, peanuts and cilantro in the centre of the table for self -assembly. Suggested assembly order:

Gently open up the bao buns, spoon 1 dessert spoon of sticky pork into the bottom and spread flat, top with pickled vegetables, cucumber, peanuts and finish with a sprig of cilantro.
Ingredients
Bao buns, Pork(All natural from United States), Hoisin sauce, Cucumber, Ginger,Cider vinegar, Peanuts, Brown sugar, Garlic,Soy sauce, Shoaxing rice wine, Carrot, Radish, Red cabbage, Sesame oil, Sunflower oil, Red chilli, Red onion, Cilantro, Lime juice, Green chilli, Chinese 5 spice, Coriander seeds, Salt, Cumin sees, Fennel seeds, Star anise,Black pepper.
Allergens: Gluten, Peanuts, Sesame, Soy
Nutrition Facts
Calories 740, Fat 26g, Saturated fat 4.5g, Carbohydrates 92g, Total sugars 31g, Protein 34g, Fibre 2g, Sodium 1370mg
Approximately 185 calories per filled bao bun
Rivals Any Fine Restaurant's Version
This is an amazing dish and hard to believe that it's ready to enjoy in under 5 minutes. The pork is very flavorful without being overly seasoned or heavy and marries well with the toppings. Our meal was missing a few key items such as the peanuts and unfortunately the cucumber arrived spoiled however I had items on hand to replace them so we enjoyed the meal as it was intended to be prepared. Compared to some other dishes, we found this to be a large portion with 4 buns per person. In fact, I could only eat 2 of them! I prepared a super simple Korean cucumber salad as a side (this would be a good dish to include) and we had a meal that tasted as if it was from a fine restaurant. Uber easy to prepare and virtually no clean-up. A win win in my book! Won't disappoint!
Love these!
I see some people say the serving size is small, but I personally thought it was perfect. Very tasty, lots of flavor and the mix of ingredients was great together. I will definitely get these again.
Pairs Bao Buns
Pork delicious serving size a little on the small size.
loved it
I love bao buns. Pork was delish.
Delicious!!
This is one of my favorite dishes to order at a restaurant. I think this version actually taste better! Easy and fast prep. Perfect flavor combos for home cooking.