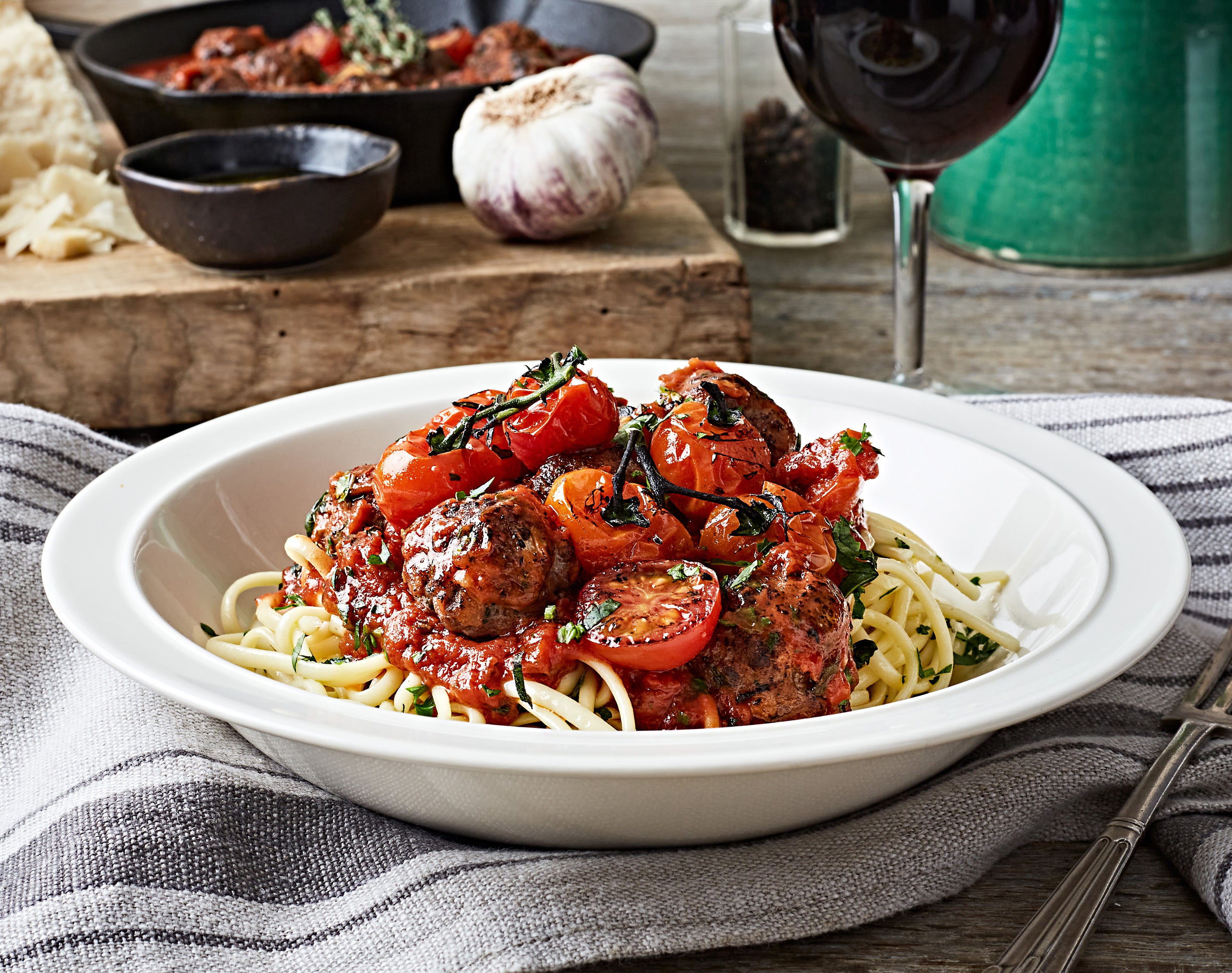 Italian beef meatballs
With a marinara sauce, linguine & parmesan
6 minutes
Shelf-life: Day of delivery plus 5 days
Mediterranean, Soy Free, High fibre

Suitable for home freezing with the exception of the arugula
How to Cook Print
For best results Stove Top
Remove film from wooden tray of linguine & arugula. Reserve Parmesan and arugula for later.
Remove lid from pot of meatballs & sauce, transfer to a large cold frying pan on the stove top. Add 2 tablespoons of water and heat over medium heat to a simmer for 4 minutes.
Add the linguine, mix well to coat pasta and heat for a further 2 minutes
Serve garnished with arugula & Parmesan
Microwave
Remove film from wooden tray of linguine & arugula. Reserve Parmesan and arugula for later.
Remove lid from pot of meatballs & sauce and place back on loosely, Microwave pot on full power for 5 minutes. Remove from microwave and stir well.
Place back in the microwave along with the wooden tray of linquine splashed with 1 tablespoon water and covered with the greaseproof paper for a further 1 minute. Ensure food is piping hot before serving.
Divide the linguine between 2 plates, top with meatballs & marinara sauce
Serve garnished with arugula & Parmesan
Ingredients
Tomatoes, Ground beef (All natural, from Midwest United States), Linguine, Onion, Carrot, Slow roast tomato paste, Slow roast cherry tomatoes, Olive oil, Cheddar cheese, Extra virgin olive oil, Parsley, Parmesan, Arugula, Garlic, Tomato puree, Dijon mustard, Agave syrup, Salt, Oregano, Smoked paprika, Black pepper, Basil, Rosemary, Thyme.


Allergens: Gluten, Milk

Contains mustard
Nutrition Facts
Calories 810, Fat 35g, Saturated fat 8g, Carbohydrates 76g, Total sugars 9g, Protein 40g, Fibre 6g, Sodium 670mg
Really Wanted to Like This
The pasta and tomatoes were fine but the meatballs and sauce, as another user mentioned "were one step above Chef Boyardee". For the price -- and my adult palate--this is not something I would get again.
Fantastic! Meatballs so flavorful and juicy 😄😋😋
This meal was so satisfying I was able to "stretch" my 2 servings to 3.
Veggies so fresh---
awful texture to meat
sauce and pasta is very good the meatballs have a very off texture and not good tasting. terrible meal so unlike every other meal i've received.
Strong Meatballs
Excellent meatballs & good pasta. The sauce was standard. Overall solid dish!
Bland
This kind of tasted like pasta sauce from a jar. It's fine but not up to par with many of the other great dishes from Georgie and Tom's. It's under-seasoned and not very flavorful