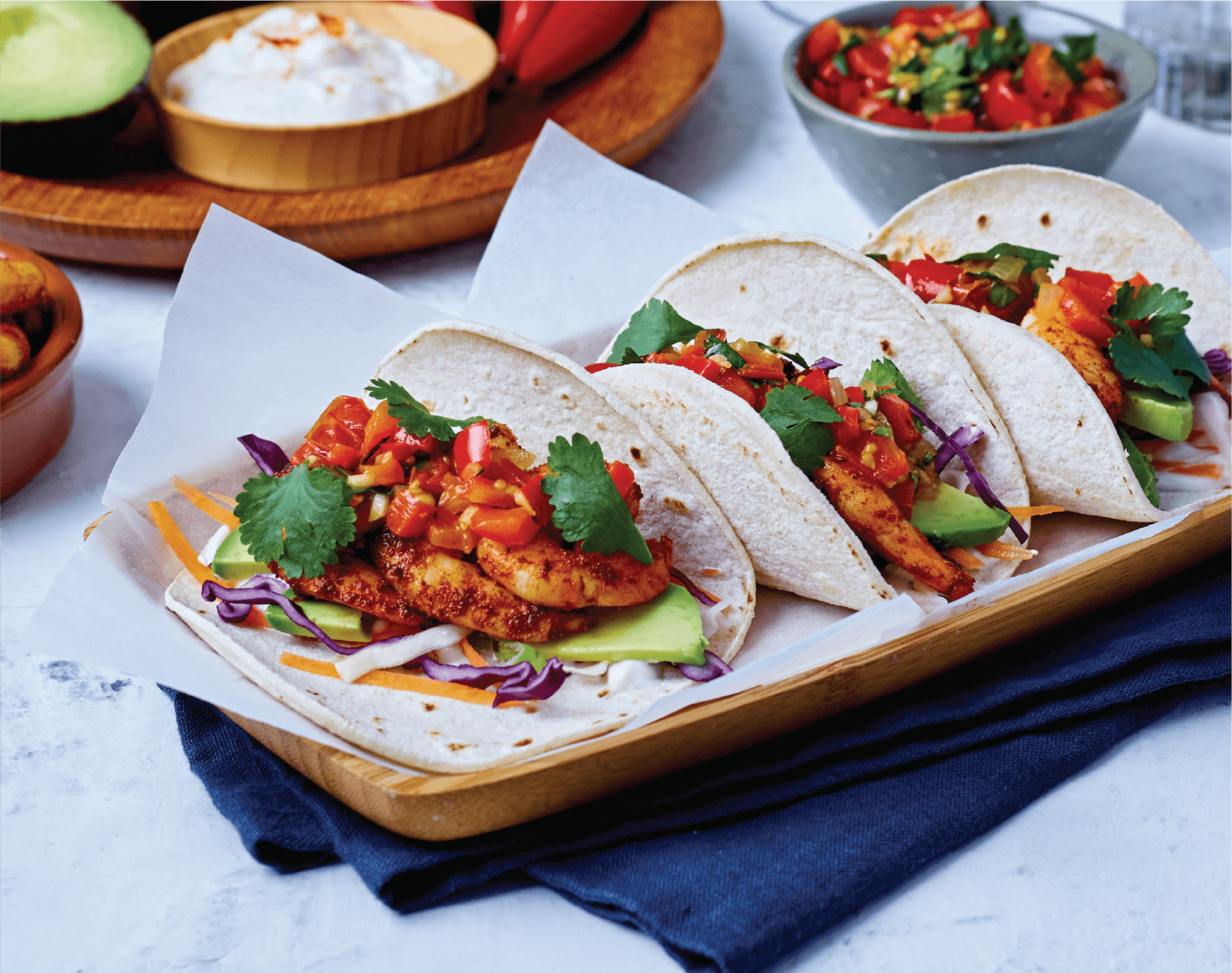 Shrimp tacos
Shrimps roasted in smoky chilli spices with our signature red salsa, chive mayonnaise, avocado & slaw. All served on soft corn & flour blend tortillas.
If you have received an order prior to the 13th of November you will have received our old recipe: for more information and cooking instructions please click here.
8 minutes
Shelf-life: Day of delivery plus 4 days
740 calories per person
247 calories per taco
Mediterranean, Pescatarian, Soy Free, High in Fibre
Dairy free without pot of chive mayonnaise.
Tortillas & Shrimps suitable for home freezing
To maximise freshness put shrimps straight into the freezer on arrival. Defrost as required in a few minutes in the microwave.
How to Cook Print
How to Cook (3 tacos per person)
Heat oven to 350F
Open pack defrosted shrimps & drain off any liquid. Add shrimps, 1 tbsp of oil, the spice chili coating, salt & pepper to a bowl and mix until shrimps are well coated. Place on an baking sheet. Remove tortillas from bag and wrap all 6 together in 1 piece of aluminium foil.
Place wrapped tortillas into oven for 2 minutes then add tray of shrimps into the oven at same time, cook for a further 8 minutes or until shrimps are cooked & tortillas warmed through.
To serve, slice the avocado, spoon a teaspoon of the chive mayonnaise onto the bottom of each tortilla, followed by 3 shrimps, slices of avocado, slaw & red
Ingredients
Shrimps (All natural hormone & antibiotic free, farmed in South East Asia), Avocados, raw - whole, corn & flour tortillas, Mayonnaise - Reduced fat, Yoghurt, Roasted red peppers, Red pepper, White cabbage, Red cabbage, Extra virgin olive oil, Tomato, Carrot, Red Onion whole, Chives, raw, Scallion, Cilantro, Smoked paprika, Garlic, Lemon, Sugar, Cumin, Red wine vinegar, Chilli powder, Coriander ground, Garlic powder, Salt, Red chilli, Oregano, Cayenne pepper, Chipotle powder, Black pepper.
Allergens: Crustaceans, Milk, Egg, Gluten
Nutrition Facts
Calories 740 , Fat 44g, Saturated fat 7g, Carbohydrates 70g, Total sugars 7g, Protein 36g, Fibre 10g, Sodium 1430mg
Approximately 263 calories per filled taco
Very tasty
Really good flavor. I had flour tortillas as I'm not fond of the corn ones and I charred them on my stovetop . Nice and semi spicy . Love the avocado and salsa. I add a little cheese too. Will order again
LOVE THEM
Best shrimp tacos! Really delicious. I cooked in air fryer rather than over and it came out great!
Tasty and not too spicy
I don't like a lot of spice and this dish was just enough to satisfy. The chive sauce and red sauce were delicious and complimented the shrimp well and the cabbage added a nice freshness to the meal. We got home late, so instead of taking time to heat up the oven, I sauteed the shrimp in a skillet and warmed the tortillas in the microwave. Would definitely order this again.
Terrific & Tasty Tacos
Tacos were delicious. Really simple to prepare. I thought the portions were perfect for two servings. I used half the amount of spice seasoning which had a nice kick and flavor. Shrimp were perfectly peeled and deveined. I dried the shrimp with a paper towel first, added spice mix/oil and let sit for about 10 min. Cooked the shrimp in a pan on the stove top. The corn tortilla was soft and better quality than anything I've bought at the store. Heated the shells in the microwave. The red sauce, mayo and cabbage slaw were really brought the dish together. I didn't use the avocado, but I should have as it was ripe and unblemished. I should have squeezed a lime on top. This my first try with a prepared meal delivery service. Living in Manhattan, I order out and cook frequently, so I have lots of choices. However, I wanted to skip the planning and find restaurant quality food without the high delivery prices. I am thoroughly impressed with G&T and will be keeping my subscription.
Elevated Tacos
Quite nice, excellent ingredients as always, shrimp more special than chicken. (Continuing my campaign to swap Flat Leaf Parsley for the overwhelming Cilantro, ugh.)