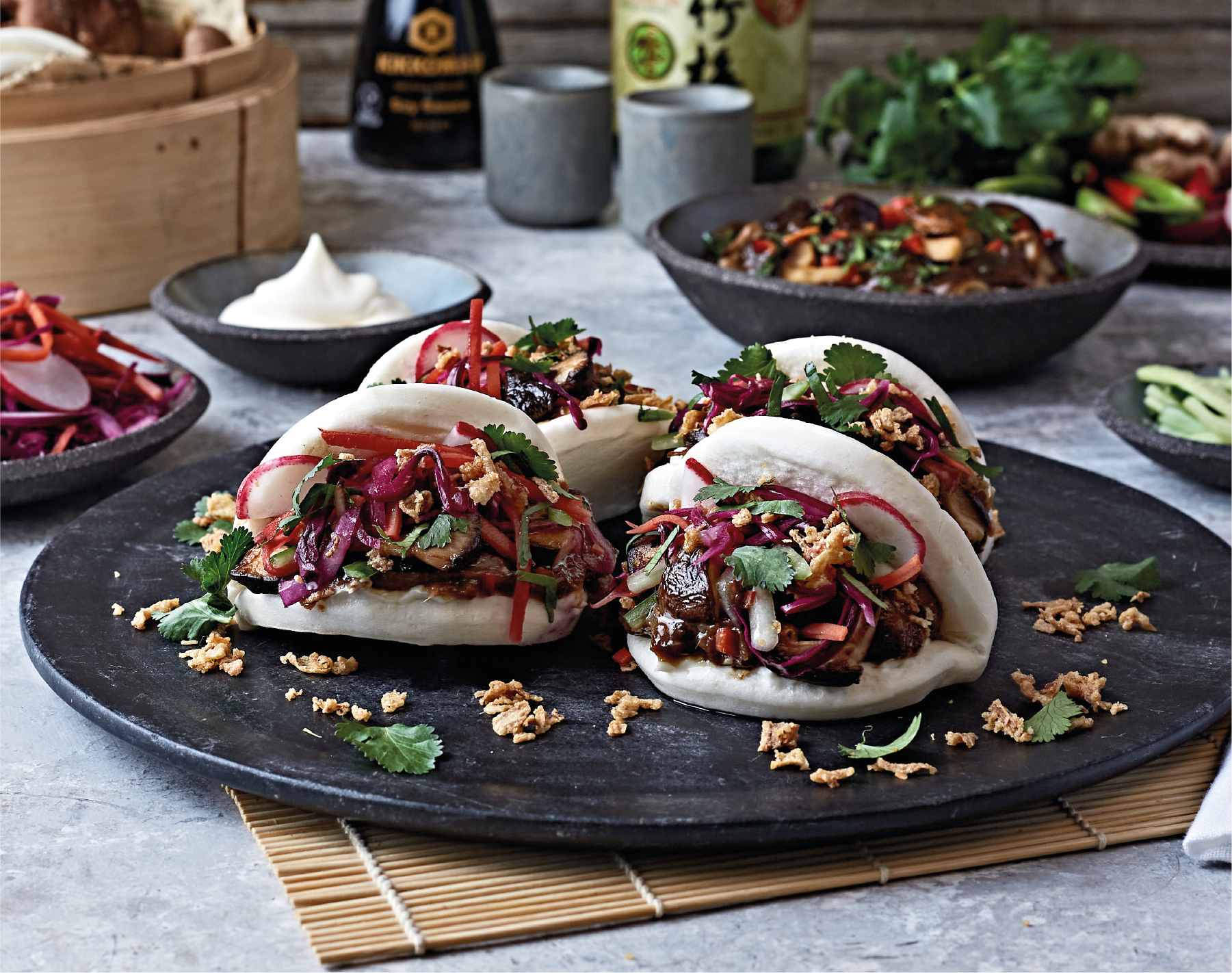 Mushroom Bao Buns
Teriyaki Shitake & Cremini roasted mushrooms in soft steamed bao buns with mayonnaise, house pickle and crispy fried onions.
5 minutes
Shelf-life: Day of delivery plus 5 days
Mushrooms & Bao buns suitable for freezing
Vegetarian, Dairy free, Mediterranean
How to Cook Print
Microwave:
(4 bao buns per person)
Remove film from tray, reserve

pot of mayonnaise, pot of pickled vegetable, cucumber

and

fried onions

.

Empty teriyaki mushrooms into the empty tray (leave paper liner in) and microwave for 2-minutes, remove, stir & place back into microwave.

Remove film from tray of Bao buns. Microwave tray of buns with the tray of mushrooms for a further 1 minute or until all ingredients

are piping hot.

Cut cucumber into small thin strips.

Equally divide mayo between the bottom of the 8 buns, top with teriyaki mushrooms, pickled vegetables, cucumber and

fried onions.
Ingredients
Bao buns, Cremini mushrooms, Onion, Shitake mushrooms, Cucumber, Mayonnaise - Reduced fat, Soy sauce, Vinegar, cider, Sugar light brown, Carrot, Red cabbage, Sesame oil, Radish, Sugar, Ginger, Honey, Crispy fried onions, Red Onion, Mirin, Corn starch, Red chilli, Garlic, Porcini powder, Coriander seeds, Salt, Cumin seeds, Fennel seeds, Black pepper
Allergens: Gluten, Eggs, Soy
Nutrition Facts
650 Cals, Fat 22g, Sat Fat 3g, Protein 21g, Fibre 5g, Carbohydrates 91g, Total Sugars 27g, Sodium 1190mg
Approximately 163 calories per filled bao bun
Outstanding!
This is a must try! Everything was right on point perfect flavor and perfect portion! Definitely will get this again!
Mushroom Bao Buns
Very easy to prepare and very very tasty! The buns are wonderful. Everything I have ordered is well worth it!
Nice filling, but.
I found the filling to be tasty but the buns were way to sweet for me to the point where I just are the filling, so I would not order these again.
Easy Baos
I enjoyed these, but must have overfilled my buns because I didn't have enough. The improved mushroom mix is better, and I'd like to see an authentic tofu version on the future.
Mushroom WOW! Buns
These are amazing, I would love to have these again! Hats off to the Chef