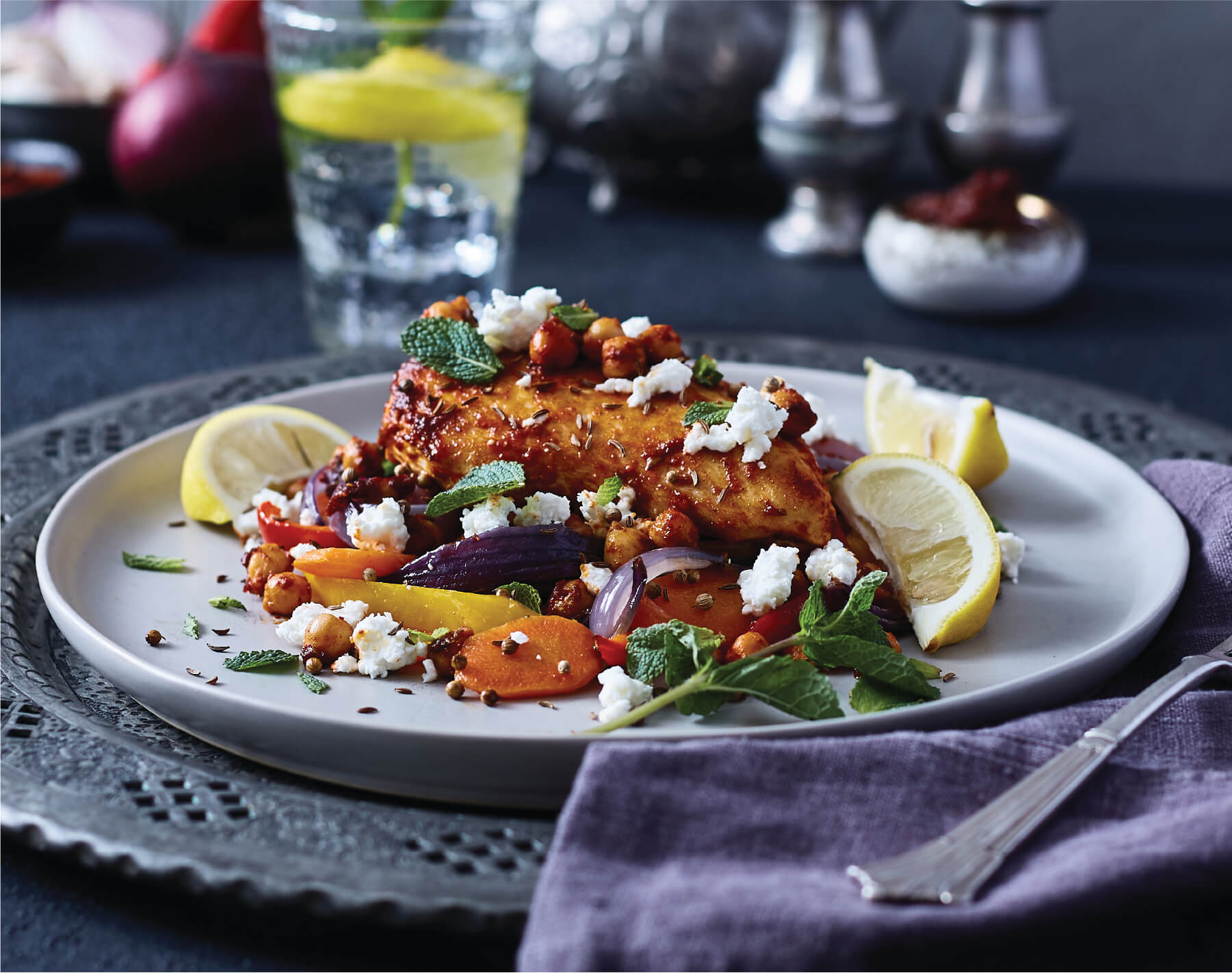 Harissa chicken
Chicken breast in spicy honey harissa marinade with chickpeas, Moroccan vegetables, feta, lemon & mint
8 minutes
Shelf-life: Day of delivery plus 5 days
Mediterranean, Carb conscious, Gluten free, Soy free, High in protein, High in fibre
Dairy free without pot of feta.
Suitable for home freezing, with the exception of the mint & lemon
How to Cook Print
Remove all items from the wooden tray, leaving the greaseproof paper & vegetables. Microwave for 6-7 minutes or until vegetables are cooked.
Heat oil in large frying pan on a medium heat. Season chicken with salt & pepper on both sides, fry
chicken on one side for 2 minutes.
Cut cherry tomatoes in half. Turn the chicken over to cook on other side and at the same time add cherry tomato halves & chickpeas to the pan. Cook for 2 minutes squashing the tomatoes to release their juice.
Smear 1 teaspoon of harissa over both sides of both chicken breasts, adding excess harissa to the pan, mix to coat the tomatoes & chickpeas. Squeeze over juice of half a lemon, mix well & cook for a further 1 minute. Check chicken is cooked through.
To serve divide vegetables between 2 plates, top with chicken & chickpeas. Crumble over feta &
scatter mint
Ingredients
Chicken breast (All natural hormone free from South Eastern United States), Red bell pepper, Chickpeas, Yellow bell pepper, Red onion, Tomato, Lemon, Feta, Harissa paste, Olive oil, Honey, Lemon juice, Garlic, Mint, Coriander seeds, Caraway seeds, Ground coriander, Cumin seeds, Smoked paprika, Salt, Ground cumin, Black pepper
Allergens: Milk
Dairy free if served without the feta
Nutrition Facts
Calories 500g , Fat 24g, Saturated fat 5g, Carbohydrates 31g, Total sugars 13g, Protein 40g, Fibre 6g, Sodium 570mg
Vibrant tastes and color make this a real winner
Yes, this was certainly the spiciest of the meals we've had. It was so tasty, easy to cook, and healthy with all the veggies. My husband loved loved loved the dinner. I really liked it and we will be ordering it again. Next time, I will use less of the harissa on my half of the meal and give more harissa to my husband.
Pan roasted chicken with peppers, onions and cherry tomatoes
I seared the 2 chicken fillets 8 to 10 minutes each side in oil and softened butter added the onions, peppers, cherry tomatoes cooked on medium heat for 30 minutes. Plated both fillets pouring over the juicy peppers, onions, added feta cheese . I too would have liked to have served it over rice
Great flavors!
We love spicy in this house and used the entire packet of harissa sauce and it did not overwhelm all the other terrific flavors and textures in this dish. Delish!
Soooo good too spicy tho
Sooo good but very spicy 5 stars
Spicy
It is good but it's a bit spicy. The adults can handle it but not the kids.