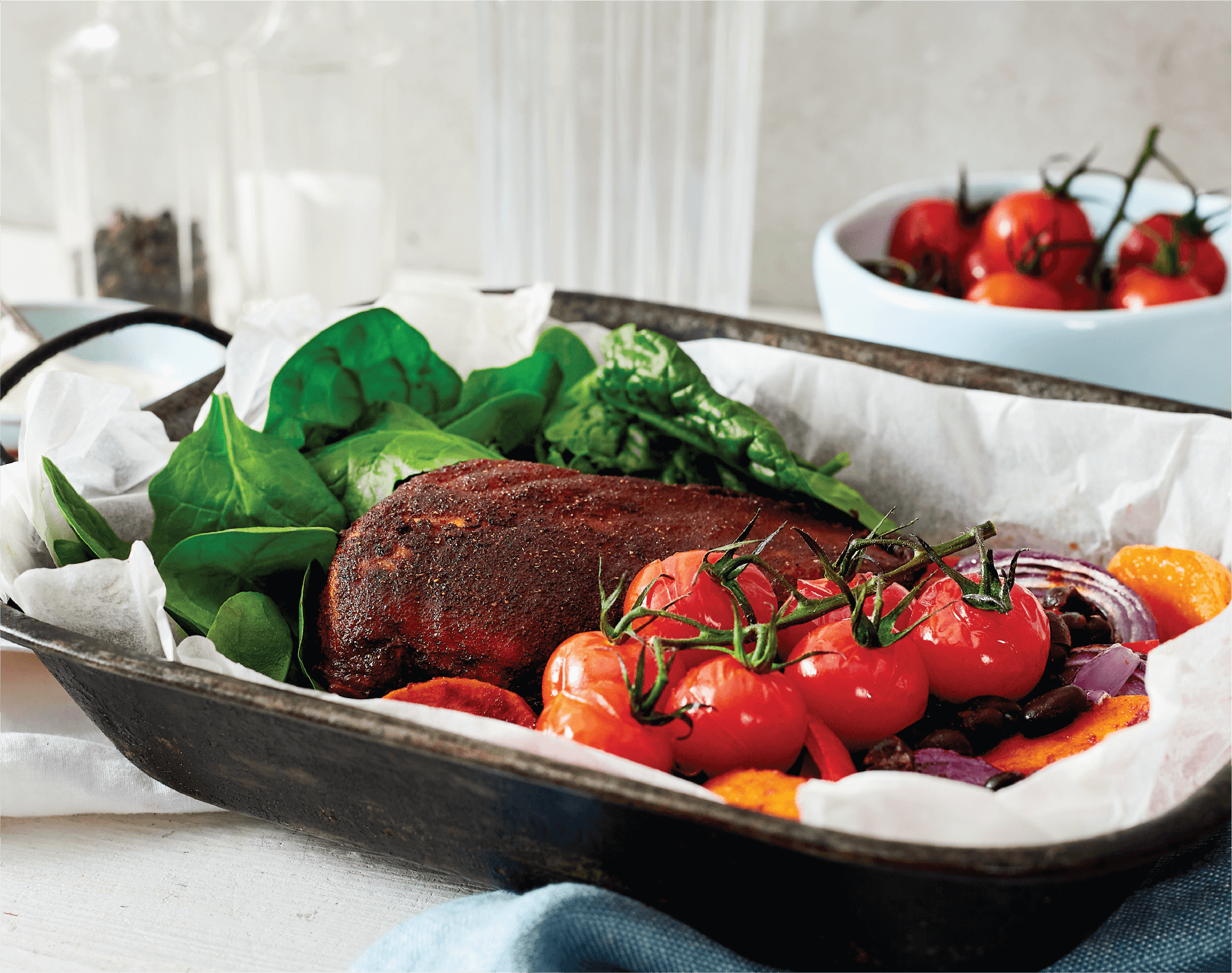 Chipotle blackened chicken
Spicy Blackened chicken chicken on a bed of wilted spinach with steamed sweet potato, cherry tomatoes & black beans.
8 minutes
Shelf-life: Day of delivery plus 5 days
Low calorie, Carb conscious, Mediterranean, Gluten Free, Soy Free, High in protein, High in fibre
Dairy free without pot of yoghurt
Suitable for home freezing, with the exception of the yogurt, spinach & lime
How to Cook Print
Season chicken with salt & pepper. Transfer chipotle spice mix to a large plate & firmly press chicken breasts into the spices on both sides
Remove film from tray of vegetables, microwave on high for 6-7 minutes or until cooked
Heat oil in frying pan on a medium heat and fry chicken on each side for 4-5 minutes or until cooked through
Remove Chicken from pan to rest add bag of spinach & Cilantro to pan with cooked tray of vegetables. cook until spinach has wilted, 1-2 minutes. Plate vegetables between 2 plates and top with spicy blackened chicken, finish with yoghurt and a squeeze of lime.
Cooking tip:
For best results use a non stick-frying pan to cook the chipotle spiced chicken breasts.
Our chicken breasts are hand-cut so cooking times may vary due to thickness. You can check your chicken is fully cooked by ensuring it reaches 165F.
Ingredients
Chicken breast (All natural, hormone free, from South Eastern United States), Sweet potato, Black beans, Tomato, Yoghurt, Lime, Spinach, Red bell pepper, Red onion, Olive oil, Cilantro, Garlic, Smoked paprika, Cumin, Chilli powder, Chipotle powder, Coriander, Garlic powder, Cayenne pepper
Allergens: Milk
Dairy free if you don't serve with yogurt
Nutrition Facts
Calories 450, Fat 18g, Saturated fat 3.5g, Carbohydrates 33g, Total sugars 8g, Protein 39g, Fibre 8g, Sodium 230mg
Blackened chicken with REAL taste
Best version of blackened chicken I have ever eaten. The spices were spot on. We enjoyed every bite. Already ordered for next weeks delivery.
All the ingredients have been fresh and nicely portioned thus far.
Definitely spicy
I'm a fan of blackened meats and fish, so I enjoyed this.
Delicious
Loved the spices. The meal was quick and easy to prepare, as well as flavourful.
Chipotle chicken
Very easy dish. Great spice on the chicken ( I did not use the full amount), yogurt was a nice add. Veggies were wonderful. I decided to pan sauté instead of microwaving. Will definitely order again.
Another good one
Nice way to spice up a chicken dish.