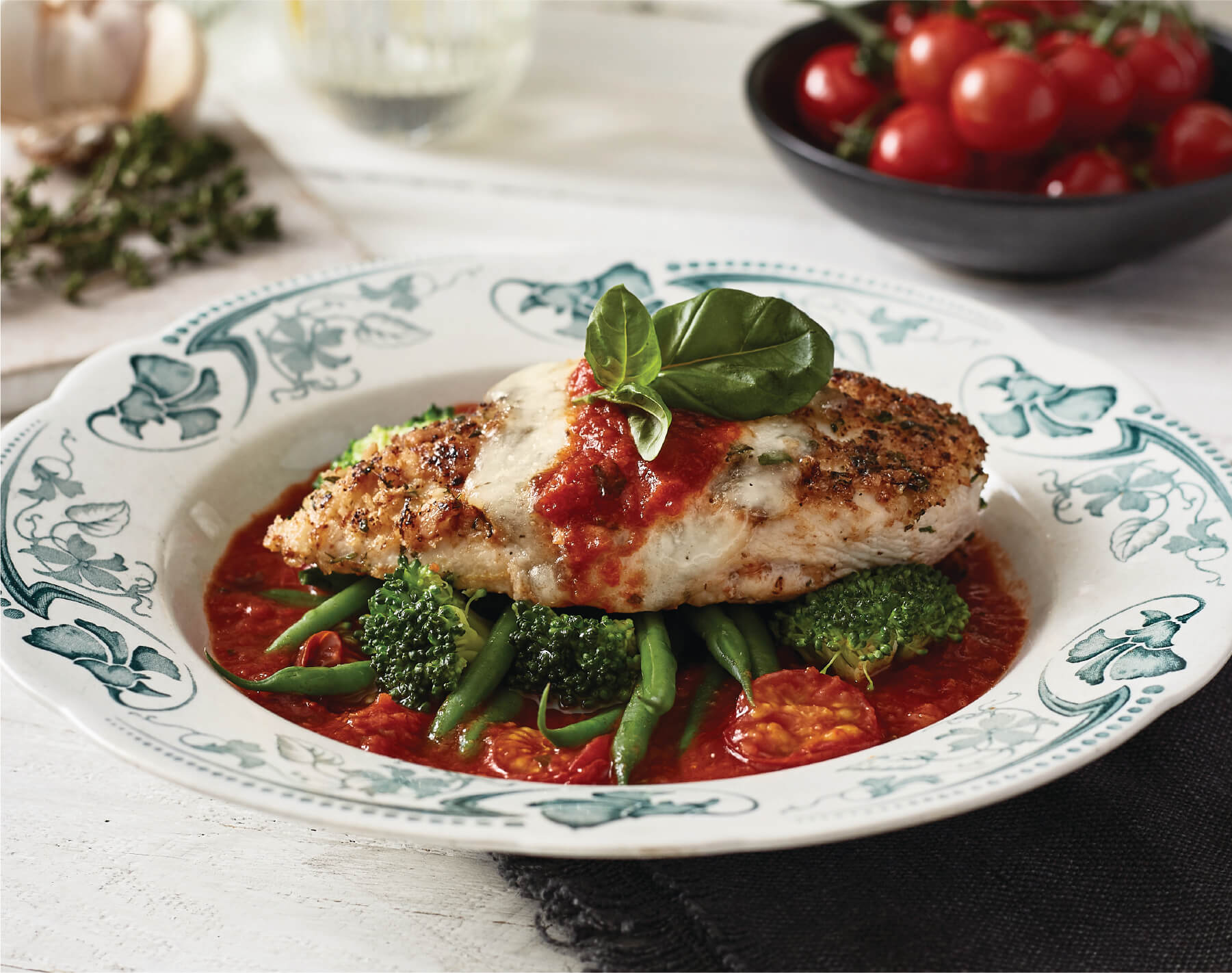 Chicken Parmigiana
Chicken breast in a crispy Parmesan herb crumb served with marinara sauce, zucchini & broccoli
8 minutes
Shelf-life: Day of delivery plus 5 days
Mediterranean, Soy free, High in protein, High in fibre
Gluten Free if served without crumb
To maximise freshness put the raw chicken straight into freezer on arrival. Defrost when needed in a couple of minutes in the microwave.
How to Cook Print
Stovetop & Microwave
Preheat broiler to maximum. Season chicken with salt & pepper on both sides
Transfer crumb to large plate. Firmly press chicken into the crumb coating on both sides
Heat tbsp of oil in large frying pan on a medium heat, fry each side of chicken for 4-5 minutes or until chicken is cooked through and crumb is golden.
Remove lid from pot of marinara sauce, place back on loosely. Empty wooden tray to leave zucchini & broccoli, add 2 tbsp of water. Microwave the pot of sauce & tray of vegetables together for 5-6 minutes until vegetables are cooked & sauce is simmering. Alternatively steam the vegetables on the stove top over a pot of boiling water.
Top chicken with mozzarella & parmesan topping, place under broiler for 2 to 3 minutes until cheese has melted. Serve chicken on bed of marinara sauce with vegetables
Cooking tips:
For best results use a non-stick frying pan for the parmesan breadcrumb chicken.
Our chicken breasts are hand-cut so cooking times may vary due to thickness. You can check your chicken is fully cooked by ensuring it reaches 165F.
Ingredients
Chicken breast (All natural hormone and antibiotic free, from South Eastern United States), Tomatoes, Broccoli, Zucchini, Mozzarella, Onion, Olive oil, Parmesan, Panko breadcrumbs, Slow roast tomato paste, Carrot, Garlic, Parsley, Onion powder, Lemon juice, Salt, Agave syrup, Thyme, Garlic powder, Mustard powder, Oregano, Black pepper, Basil, Red chilli flakes, Rosemary.
Allergens: Gluten, Milk
Contains mustard
Nutrition Facts
Calories 540g , Fat 27g, Saturated fat 8g, Carbohydrates 29g, Totals sugars 8g, Protein 45g, Fibre 6g, Sodium 660mg
Meal was fine
Missed the pasta but the meal was fine.
Excellent - one of the best
Was easy and tasted wonderful - sauce excellent.
Loved it!
Chicken was juicy, marinara sauce was to die for, veggies cooked in the broiler-perfect! What else is there to say? Try this!
Chicken Parmigiana
This was the 1st meal we tried from G&T's. I ordered 2 in order to serve our family of 4 (2 kids/2adults). I did make a side of pasta to please my family, though I think this meal would be equally good and plentiful without it. My daughter (8) declared it the "best meal ever" and insisted I order it every week. We did really enjoy this dish, though I do wish the tomatoes in the sauce were cooked down a bit more. My husband and kids picked them out, as they prefer a smoother sauce. We will order this one again.
Like the Healthier Chicken Parm
This pasta-less version of Chicken Parm was very good... didn't miss the pasta at all. The sauce is delicious. The only thing I would change is to cook the chicken a little less in the fry pan as it does cook more in the broiler.